East Unites for a cinematic cause
'Beyond the Clouds'
View(s):
Two world renowned maestros from the East, one from Iranian cinema and a musician from India have joined hands to make a Bollywood movie.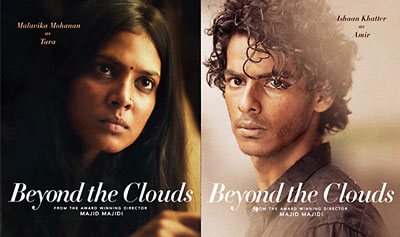 Iranian filmmaker Majid Majidi's maiden Indian film 'Beyond The Clouds', marking the first collaboration with another world famed Indian musician A. R. Rahman, will be launched here on April 20, in line with the international release.
A joint effort by the Oscar nominated and award winning director Majid Majidi and the winner of an Academy Award for "Slumdog Millionaire", A.R. Rahman is going to be anther international achievement for the Bollywood cinema.
Starring Ishaan Khatter and Malavika Mohanan in the lead, the film story is centered around a brother-sister relationship. The film is a grown-up version of Majidi's previously directed internationally acclaimed 'Children of Heaven' (1997), set in Mumbai.
When on the run from the cops, Amir finds his estranged sister Tara, who in a bid to protect her brother lands up in jail. Their entire lives have been clouded by despair as unexpectedly the light shines on them from 'Beyond the Clouds'.
Premiered at the 2017 BFI London Film Festival, the film is a CEL release, and it will be released at Majestic -Colombo, Empire Arcade, Regal -Gampaha, City Cinema – Mt.Lavinia and other theatres around the country.