Dance that fired your imagination
By Francesca Muddanayake
View(s):
Good dancers always make any choreography look easy. It's only when you go home and attempt a double pirouette (not looking at myself or anyone in particular) that you realise every single step is in fact the product of years of hard work and perseverance. In particular, the skills needed to make classical ballet look perfect and polished take a lot of stamina and strength which makes us appreciate this form of dancing even more. This is exactly what it felt like to watch the Russian Chamber Ballet Troupe onstage.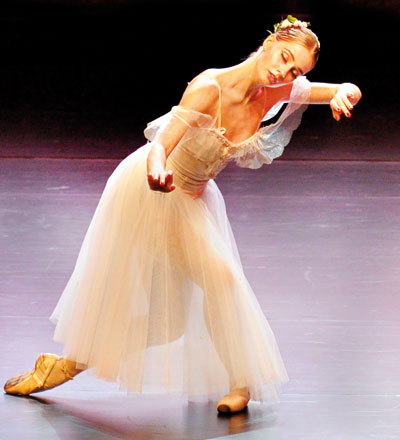 Hosted by the Russian Cultural Centre, the ballet company was led by its choreographer, Natalia Permyakova who is currently the head of the classical department of the Boris Eifman Academy of Dance in St. Petersburg. Performing a medley of ballet pieces at the Nelum Pokuna Theatre over their two night show on March 30 and 31, the choreography drew on well-known performances (Swan Lake, Don Quixote), to the more 'interpretative'(a hilarious 'Chicken Dance').
First off, I think perhaps due to the lack of an orchestra and the fact this was not a huge scale production, the show tried to compensate by projecting backdrops of flowers or paintings on an LCD screen which was an unnecessary add-on and unfortunately came across as garish. But the fact that each ballet dancer carried themselves with such finesse whether in a group or solo, more than made up for the lack of production. Take the 'La Spectre de la Rose' dance which featured two dancers: a young girl who falls asleep and dreams of her rose which blossoms into a man – at least, this is the interpretation I conjured up.It was a delicate performance which was highly interesting to watch and prompted the audience to ask several questions. It's precise moments like these that make seeing ballet performances such a dynamic experience because your curiosity prompts you to use your imagination to figure out what is going on.
But whilst the execution of the dances remained one of the show's highlights, some dancers lacked an emotional depth needed to fulfil the performance. Take the Swan Lake and Giselle segments which featured the same duo. In both dancers I could see fluid movement and a wonderful sense of musicality with the male brilliantly assisting his female partner in several lifts. But after a while it was pretty apparent that they were just doing the moves rather than performing them. The emotion or romanticism between both dancers was not present so the segment felt a bit flat.
However, this was not the case for other pieces such as the Don Quixote gypsy dance and Panderos from the ballet Raymonda – fiery, energetic and with slight hints of flamenco, the male dancers in particular shone the most with their high leaps and exuberant moves that provided that much needed break from the slower, more graceful pieces in the show. Indeed, I particularly loved the Russian Classical Dance from the ballet Taras Bulba which was done as a solo by R.Gavisov who performed with such self-assurance and a spring in his step, it was hard not to be taken up by it. It was only a shame that we didn't see more of these dancers.
While technical ability perhaps overruled emotion in the entire performance, it was nonetheless enjoyable and quite frankly inspiring. Ballet dancers lead a notoriously difficult life where they begin training from a young age and then work up to seven hours a day practising. Being in a company is a six day a week requirement and you're likely to retire around the time you're 35. I have an immense respect for dancers who sacrifice a lot of their personal lives in the name of art and it was quite evident, watching the Russian Chamber Ballet Troupe, just how much work had gone into shaping those dancers.