An Avurudu Message
By Manoshi de Silva
View(s):
Avurudu vacation, finally! Almost a month without school. Nishan was excited, thinking about sweetmeats, new clothes, gifts and most of all playing with his best friend next-door.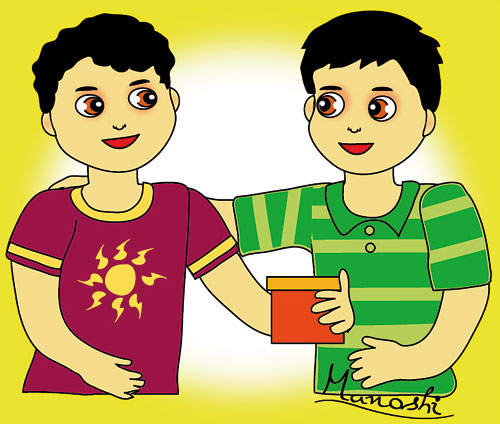 On every Avurudu Day, Nishan invited his friend to spend the day at his place. Nishan's best friend Rizan, didn't celebrate the Sinhala & Tamil New Year. His family celebrated the Ramazan festival.
Rizan enjoyed Avurudu at Nishan's place. Tasting kevum, kokis and other yummy sweetmeats, lighting crackers and so many other fun activities were shared by the two friends. During the Ramazan celebration Nishan was invited to Rizan's place. They enjoyed watalappam, faluda, kulfi and other yummy stuff and played with Rizan's cousins the whole day.
After Nishan came home from school, he decided to start the holidays with a game of cricket with his buddy.
He quickly had his lunch and took his bat, to go over to Rizan's place.
His mother looked at him sternly  and asked him, "Where are you going?"
"To Rizan's, to play," he replied wondering why his mother looked annoyed.
"Don't go anywhere! Play at home," said his mother, taking his bat away.
Nishan couldn't understand why his mother asked him to stay at home.
His report card was good, he hadn't done anything naughty. Feeling confused, Nishan went to the garden. He saw Rizan in his garden. Nishan pointed at his house and gestured that he was not allowed to come to play. Rizan nodded and gestured the same. "What's going on?" he wondered. It was obvious their parents had some issue and didn't want the kids to play together.
The next day Nishan's grandmother started making sweetmeats for Avurudu. She made aluwa. Nishan knew how much Rizan loved aluwa. He was sad he couldn't share it with his best friend like last year. Nishan thought for awhile and asked for two pieces of aluwa from his Achchi. He kept one for himself and put the other one into a small plastic box.
Nishan took the box outside and saw Rizan in his garden. He showed him the box and kept it in the corner of the wall which separated the two houses. In the evening Nishan went to take the box. But the box still felt heavy. "Is Rizan also angry with me? Why didn't he take the aluwa?" he thought sadly. But when he opened the box a smile came to his lips. The aluwa was not there but there was a piece of tasty muscat for him from Rizan.
This went on for a few days. Although they were forbidden to talk or play with each other, they continued to exchange gifts in their small 'friendship box'.
Two days before Avurudu, Nishan's grandmother fried oil-cakes. Nishan sat near his Achchi and watched. As usual his grandmother gave him two before she put them away to drain the oil. Nishan kept his one on the table and put the other one into the box.
Nishan took the box and placed in on the wall. But when he turned back he was shocked to see his mother right behind him. Nishan expected her to scold and ask him to take the box down. But she didn't say anything at all. She just looked at him and looked away. His mother looked kind of guilty, almost sad. Nishan didn't know what to say, so he ran inside straight to his room.
After sometime Nishan's mother came to his room and held out the plastic box. Nishan took it feeling scared. "She must not want me to leave goodies in this box," he thought sadly. He slowly opened the box and there was a piece of halwa.
So this was from Rizan! Nishan felt very surprised that his mother had delivered it to him.
The day before Avurudu, the whole house was busy. Nishan's mother and Grandmother spent the whole day cleaning the house and cooking. Nishan went to the kitchen. The sweet smell of Avurudu goodies made his mouth water. He asked his grandmother for something to eat, hoping to send a piece to Rizan too. His mother heard this and gave him a big piece of bibikkan. "Here, give your friend a piece too!" she said, much to Nishan's surprise. He thanked her and ran off to find their friendship box.
On Avurudu Day, Nishan was busy taking plates full of sweetmeats to the houses in his neighbourhood. Usually the first place he went to was Rizan's. But this time he first delivered to another house on his mother's request. Finally he finished delivering to all the houses except Rizan's house. So he decided to put some goodies into the friendship box and leave it for Rizan.
"Amma, can I have something to put into this box?" he asked his mother showing her the friendship box. He knew she wouldn't refuse because she herself had given a piece of bibikkan the other day to share with Rizan.
"Do you think this will fit into your little box?" asked his mother holding up a big plate full of Avurudu sweets.
"Is that for Rizan's house?" asked Nishan in surprise. "Can I take it to their house?" "No!" said his father, "It's too big for you to carry. So I'll take it. But you can come along!" Nishan went behind his father, who was carrying the big plate.
He couldn't hide his happiness.
"Sometimes children teach adults valuable lessons!" said Nishan's grandmother watching them leave. "These two children gave a beautiful Avurudu message of friendship and peace. Avurudu is a good time to put the past behind and to forgive and forget."