New track at Sugathadasa ready for South Asian junior meet
By Susil Premalal
View(s):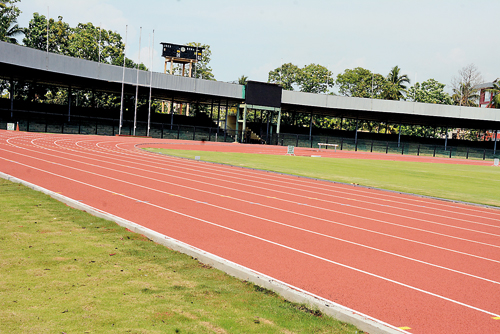 The Sugathadasa Stadium track, which was renovated at a cost of Rs 275 million, will be declared open tomorrow, in time for Sri Lanka's junior track and field athletes to prepare for the South Asian Junior Athletics meet to be held in Colombo in May.
The laying of a new running track began in September last year nearly 18 months after the stadium was closed down due to the dilapidated state of the track.
The track, which was currently in a very bad state, was laid in 2012 ahead of the Asian Junior Athletics Championships in Colombo at a cost of Rs. 113 Million.
However, the track showed signs of physical damage less than 12 months into completion, as low quality raw materials had been used by the contractor.
The new track is yet to get the IAAF (International Association Athletics Federations) certification, which is a prerequisite to host international competitions.
"We have asked the IAAF to inspect the track and give the certificate at their earliest since we are hosting the South Asian junior meet here," said Brigadier Samantha Jayasundara, the Chairman, Sugathadasa National Sports Complex Authority.
However Brig. Jayasundara admitted that even though the new track is ready, they are not in a position to upgrade the other facilities at the venue ahead of the junior meet.
Sri Lanka has hosted several international competition including two South Asian Games and Asian Athletics Championships at the venue.