City Football League President's Cup
View(s):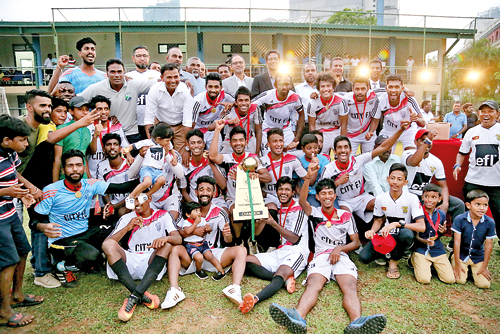 Colombo Football Club clinched the City Football League President's Cup for the third successive year after beating Saunders by 2 goals to 1 in an equally-fought final played at the City Football Complex grounds.
The game, from the first touch, itself was fast pace and in the sixth minute owing to a misjudgment by the main and assistant referees and a non-fair play approach by Colombo FC players resulted in a goal against Saunders.
According to reports Saunders skipper Chanuka Eranga was elbowed on the face by an opposition player and he fell to the ground and was on the ground until the move from 10 metres from the center line had ended being a goal.
As Saunders' veteran goalkeeper Asanka Viraj tried to stop the ball it bounced off his hands to see M.N.M. Fazal slot the ball into the right corner to give the much needed lead for Colombo FC. Organisers of the tournament were not with this incident and were seen discussing with the match official after the match.
Ten minutes later Saunders had flopped two chances in tow minutes as Janith Piyumal and most senior striker N.C. Abeysekare missed the chances from close ranges. However in the 22nd minute Abeysekera amended for his lapse earlier by sending a cool pass to Sundararaj Niresh who in turn sent the ball floating into Colombo FC goal which was the equalizer for Sanders.
From there onwards the momentum of the game changed and both teams tried their best to take the lead.
As the half time was nearing another blunder in Saunders defence line saw M. Safran Sathar put Colombo FC ahead with a perfect goal. At the breather Colombo FC were leading 2 goals to one.
After the turn around both teams were going all out to score but the defencive tactics thwarted the chances of both teams.
In the final moment of the game both teams missed several chances and when the final whistle was blown by R. Prasanth. Colombo FC had won the match with a difference of one goal.
Sundararaj Niresh of Saunders was adjudged the Best Player of the tournament while Lakpriya Fernando of Colombo FC won the Best Goalkeepers award.
Colombo FC won the City League Presidents Cup outright and a cash prize of Rs. 200,000 plus gold medals. The runners-up Saunders pocketed Rs. 100,000 cash prize along with a trophy plus silver medals.
The other teams that took part in the tournament organised by City Football League were Java Lane, Moragasmulla SC, Cooray SC and Victory SC. R. Puvanendiran, the President of City Football League sponsored the tournament and Anura de Silva, President of the Football Federation of Sri Lanka, was the chief guest. Ravi Kumar of Asian Football Confederation was the guest of honour.