Americans on the podium after a while
Stephens and Isner win Miami-Open
View(s):
Next to winning Grand Slam events, winning WTA Premier Mandatory and ATP Masters 1000 are the biggest things in professional Tennis. In fame and prize money it counts. Miami-Open in Florida is one such event.
The event will move to a new location at Hard Rock stadium next year, after staging it in Crandon Park for over 30 years. Apart from other facts, it is this location and event that made Florida home of US Tennis.
Stephens wins
25-year-old American Sloane Stephens is born and bred in Florida. Her mother, Sybil Smith, was the first African-American to swim in the 'All American' for Boston University. With sport as a family tradition, Sloane's playing skills and physical ability earmarked her to be the one to follow the William sisters, a good while ago in 2013.
Her potential was never in doubt, but she had several setbacks with injuries. Success came last year, when she broke the ice and won the US-Open, a Grand Slam at age of 24. She entered the Miami-Open only as the 13th seed. Last week, she won the Miami-Open and it is going to put her in the Top 10 in the world for the first time.
Standing at 5 ft 7 ins, Sloane Stephens' game always showed lot of power with consistency issues. With this inadequacy, she found it difficult to stand up against the Top 10 in the world.
If there was an improvement in Stephens' game in the Miami-Open, it was her ability to return effectively, some of the heavy winners of the opponents, consistently. In the finals, Stephens relentlessly returned powerful winners of Latvian World No.4, Jelena Ostapenko, covering the court effectively. It took Ostapenko out of her explosive game plan comfort. Up to the match against Stephens, Ostapenko, last year's French-Open winner, did not drop a set in the Miami-Open.
John Isner of USA
32-year-old American Isner is 6 ft 10 ins tall. He is about the tallest Tennis player now. Born in North Carolina, he now resides in Florida. While his reach and service have all the advantages from his height, mobility, balance and flexibility to change direction creates issues for him. In 2010, he played the longest professional Tennis match in the history of the game, beating Frenchman Nicolas Mahut in 11 hrs 5 min, at Wimbledon. I don't see this record being broken easily.
The brand of Tennis that came from him in the Miami-Open this year, has never been seen from him before. To reach the finals, he beat World No.2 Marin Cilic, Korean protégé Chung Hyeon, popular, but a little bit tired Martin Del Potro, and in the final the German 'wonder kind' Alexander Zverev. To Isner, none of these matches came easily. Seeded 14 in the draw, he won his 1st Match only in 3 Sets.
Isner confessed that, for the first time, he was in the best mental state throughout the event. That is at 32. The most important factor for him to win in Miami was the control he said, he had, between his ears, that is in his brain. Which all Tennis players know is easier said than done. Isner achieved it in Miami. If he has mastered this mental skill or, better said, 'the Manthra' for good, he is here to stay and we will be talking about a tall American in 2018.
Hard courts are fast surfaces to play on. In the final 3 Matches, Isner showed canny ability to carry his large frame weighing over 100 kg, to cover court and hit numerous passing shots, especially down the line, often from outside the court boundaries. From such positions, Net players await the lob. This surprise shot selection paid high dividends to Isner, while confusing his opponents.
After this success, Isner will be ranked No.9 in the men's ATP, and much will be expected from him. The slow European clay courts will pose other challenges to him from April.
Men's Doubles -
Bryan & Bryan
The USA flag went up again. One cannot forget the 39-year-old twins, Bob and Mike Bryan from California, when talking about Men's Doubles. The pairs signature celebrative chest thumping was seen again in Miami, after an absence for awhile. The once World No.1 won the Miami-Open this year too.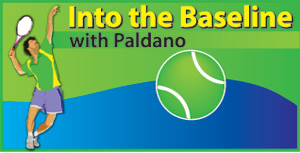 The Bryan brothers' game is difficult to read. Their quick eyes and fast reflexes along with court coverage, have no set pattern, but evolves all the time according to the opponents. They were always that much more flexible than others in their tactics. One thing that is very much noticeable in their Tennis is their excellent court coverage ability. This forces opponents to take high risks in their shot selection. They were the oldest winners in the Miami-Open this year.
Women's Doubles
Here too, USA had its flag flying. 26-year-old American CoCo Vandeweghe partnered 21-year-old Australian Ashleigh Barty to convincingly win the Doubles title in Miami. With this win, 5 Americans were in the winner's list of 6. Americans thrive on hard courts. It was their invention, and the majority of courts in USA are hard.
-George Paldano, Former int. player; Accredited Coach of German Federation; National coach Sri Lanka & Brunei, Davis-Cup, Federation Cup captain/coach–
contact 94 77 544 8880  geodano2015@gmail.com –