14 teams for Sri Lanka T-Cup Cycle Race
View(s):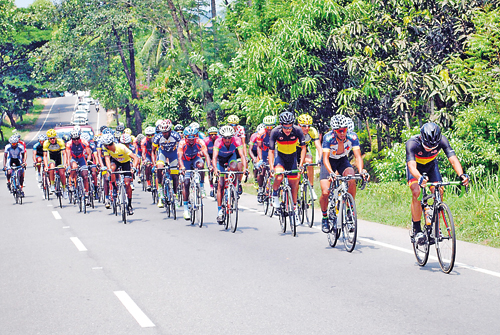 Fourteen teams have confirmed their participation for the 2nd edition of the Sri Lanka (SL) T-Cup International Cycle Race of 350 km to be worked off on May 4-6.
The 14 teams from Thailand, Australia, France, Japan, Kazakhstan, South Korea, Laos, Malaysia, Philippines and Singapore will join the SL National Team and the SL President's Team for this unique event organised by Lanka Sportreizen (LSR).
A total prize money of Rs 3.7 million (US$ 23,785) is on offer to the winners and runners-up of this event, revealed LSR Chairman Tilak Weerasinghe, at a media conference held at Olympic House, Colombo.
The race will commence at the Passi Villa Hotel in Pasikudah and proceed through Mahiyangana and Kandy, to Negombo.
On Day-1 the race will be from Pasikudah to Mahiyangana via Welikanda, Dimbulagala, Pallegama, Dehiattakandiya and Girandurukotte. A distance of about 133 km.
On Day-2, the race will be from Mahiyangana to Kandy via Hasalaka, Udadumbara, Hunnasgiriya, Digana and Tennekubura. A distance of about 92 km.
On Day-3, the race will be from Kandy to Negombo via Katugastota, Galagedara, Mawathagama, Kurunegala, Narammala, Giriulla, Pannala and Dankotuwa. A distance of about 125 km.