PastaMania's here with its own 'Pasta Al Dente'
By Oshani Alwis
View(s):
The cosy interior is the colour of ripe tomatoes, and contains all the authenticity and ambience of a typical Italian restaurant.
PastaMania, the Singapore- based chain opened their flagship restaurant in Colombo on March 30 catering to lovers of pasta and pizza. Currently operating in 14 countries worldwide with over 50 outlets, they serve a wide range of pasta and thin-crust pizzas.
The PastaMania restaurant in Colombo also features an Italian grocery store 'Alimentari', an open-kitchen 'Pasta Al Dente,' which serves as the heart of PastaMania and a newspaper stand 'Edicola.' The mural inside the restaurant showcases the story of PastaMania since its start in 1998 and how the finest ingredients are used to make their pasta and pizza.
"Our unique pasta and pizza are authentic and wholesome. The pastas are prepared and served in 3-4 minutes while pizzas are ready in 7 minutes," says Hilme Azeez, Managing Director, Azeez Brothers (Pvt.) Ltd. the food and beverage company that is the Sri Lankan franchise partner of PastaMania.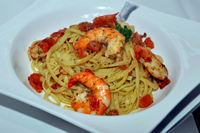 The restaurant also hosts 'DoughWorkz' cooking lessons especially designed for kids from 4- 12 years, where children learn to create their own pizzas and pastas with the help of PastaMania chefs.
PastaMania, the largest Italian food franchise in Singapore comes under Commonwealth Capital Pte Ltd, a Singapore- based investment company in the field of food and beverage.
Authentic Italian ingredients are used in all their pasta and pizza dishes. A special tomato sauce prepared with tomatoes produced in Italy, high-protein durum wheat pasta, extra virgin olive oil and Italian made coffee and gelato ingredients are part of their menu.
Pasta Mania's signature pasta dishes include Salmon with Creamy Tomato Sauce, Beef Zuppa, Chicken Bolognese, Polo Alla Milanese, Prawn Aglio, Meatball, Marinara, Margherita and Pepperoni pizzas, Paprika Wings, Cheddar Cheese Sticks, and Cheesy Beefy Potato Wedges as appetizers, Healthy Frutti Grennie smoothie and Rosehip & Strawberry quencher beverages.
Recommended dishes are their original Carbonara, chunky minced Beef Bolognese, Seafood Marinara, Corn Chicken Slice Cheese Crumble, colourful Mediterranean, their signature classic pasta collection and PastaMania's very own dessert pizzas: Banana and strawberry topped with a scoop of gelato.
Find PastaMania at No.502, R. A. De Mel Mawatha, (Duplication Road) Colombo 03.
Follow PastaMania on Facebook @PastaManiaSriLanka.