Appreciations
View(s):

Remembering a visionary politician on his 90th b'day

 Dr. A. C. S. Hameed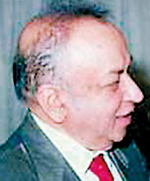 Dr. A. C. S. Hameed was born on April 10, 1928.
He represented the multi- member constituency Harispattuwa in the Central Province in Parliament (from 1960 to 1999) without a break for 39 years, a rare distinction for a Parliamentarian in Sri Lanka.
Harispattuwa had only about 14% Muslim voters and he was highly admired and surported by the Buddhists when there were other Buddhist candidates contesting the constituency.
In 1977 Dr. A. C. S. Hameed was appointed as the first Foreign Minister in J. R. Jayewardene's government, an office held till then by the Prime Minister  of the country.
He was a senior member of the legislature, always contributing valuable speeches on any subject in Parliament.
From 1977 to 1979 he was chairman of the Non Aligned Ministerial Conference and was associated with many difficult and delicate negotiations. He was an ardent advocate of disarmament and a firm believer in the Non-Aligned Movement.
He was member of the United Nations Advisory Board on Disarmament Studies. As a widely travelled Foreign Minister, he had the opportunity of meeting many world leaders.
He stood for greater understanding amongst South Asian nations for the resolution of common problems facing the people of South Asia.
He was conferred a Honorary Doctorate at Hankuk University, Seoul, Republic of Korea.
Though he often travelled abroad as Foreign  Minister he kept a very close connection with the voters whenever he was  in the country, meeting them at his Katugastota  residence till the early  hours of the morning smoking a Havana cigar, while his constituents enjoyed tea, coffee  and malupaan.
In 1960 Harispattuwa was a remote constituency, without roads, electricity, water and toilet facilities and proper school  buildings.
By the late 80s, Harispattuwa was developed – all the  villages connected with paved roads, electricity, water facilities and toilets for all the houses making it one of the most modern and developed  electorates in the country. Thousands of jobs were provided to youths of all communities from Harispattuwa.
Dr. Hameed helped the Buddhist temples, Hindu temples and Muslim mosques in the electorate and district and also built a Buddhist Seemamalakaya in Harispattuwa, the only one in the Kandy district.
His interests were in writing books, poems, and short stories. His works include 'In Pursuit Of Peace', 'The Owl and the Lotus', 'Foreign policy perspectives of Sri Lanka – selected speeches from 1977- 1987', and 'Spring of Love and Mercy – spiritual poems'.
He passed away on September 3, 1999. We pray to Allah to give him a special place in the Jennathul  Firdouse- Aameen.
A.C.A.Ghafoor
---
Memories of a larger than life uncle
Laki Serasinghe
Lakshi Mama, to many of us, Laki to his schoolmates, childhood friends and associates in the tea plantation industry, has left a lasting memory of a person who was very much larger in stature than his towering physical self. A top tier tea planter and sportsman par excellence, his demise on July 5, last year has reassured us of the fact, that everyone who knew him, was very proud of associating with him and that he was much loved and honoured by four generations of persons, who came in contactwith him in his 79 years.
His departure was met with emotion from his immediate family, his much loved sisters Thelena and Ransiri, cousins, relatives, in-laws, friends, colleagues and associates, nieces and nephews, grand nieces and grand nephews as he was an inimitable personality – one of a kind. A person who was generous to a fault, his astonishing qualities of humanity made him a legend amongst us.
Born on April 2, 1938 to Donald Seeya and Daisy Archchi, he started his personal journey in Matara and then moved to No 30, Visakha Road, Bambalapitiya, a second home for many amongst the clan. Educated first at Richmond College, Galle and from 1948 at St Peter's College Colombo, he was a household name in the 50's due to his multiple sporting achievements. He captained St. Peter's at Rugby Football in 1956; was a triple coloursman representing his 'alma mater' also at cricket and athletics, with a challenging combination of events as a high jumper and putt shot thrower. A fast left-arm opening bowler, a hard-hitting No. 3 left hand batsman, an agile and brilliant fielder, he was the versatile all rounder in the Peterite cricket teams in 1953-56. In 1955 he scored the winning runs at the annual Joe-Pete cricket encounter.
He joined the plantation industry soon after school as a 19-year- old and was posted at Hunawala Estate with Carson Cumberbatch & Co Ltd as an Asst Superintendent. He went on to be promoted as Superintendent at Watapota Estate. He continually excelled in managerial responsibility and was next posted to Thalangaha Estate. He played his much loved games of cricket and rugby football with the associated clubs at his locations and in the mercantile league representing Carson Cumberbatch & Co Ltd. A few years later he joined George Stewart & Co Ltd and was posted to Palm Gardens Estate. With the nationalization of plantations he joined the Sri Lanka State Plantations Corporation (SLSPC) and was posted on Pelawatte Estate and later to Hapugastenna Estate. He was then appointed a Regional Director of SLSPC to the Deniyaya Region.
He was reputed for his astute management style both of people and in tea production. Even the minor staff looked up to him as a man of stature who could be depended on. He prematurely retired from the industry to migrate to Australia with his family.
He married Indira Aunty on August 24, 1961 and they had three children whom he adored; Rukshila, Lakshini and Sudesh. Both Indira Aunty and Lakshi Mama were gracious hosts and their home was open to us all, at any time. Every one was at ease with him and whenever he was in a group, the laughter and associated hysteria was as infectious as it could get.
His passions were varied, from travel, wildlife and nature protection, history and family heritage, sports (especially cricket and rugby football), reading, watching movies to listening to a wide repertoire of music. Some of us have had many a memorable travel experience with him and his family.
Even though he left us all and was domiciled overseas, the varied groups of people who attended his funeral in large numbers in Melbourne was a testimony of their desire to pay their respects to a great person. His coffin being draped in the flag of his beloved St Peter's College and the alumni singing the College Song lustily, was a fitting send-off to a person who was much larger than life, to most of us.
As his sporting colleagues and planting professionals would say "may the turf lay gently on him" we, his relatives, wish him eternal peace and to enjoy a brief samsaric journey to nirvana with the grace of our blessings. Thunuruwan Saranai, Devi Pihitai.
R.L. Samarasinghe
---