Russel's completes 30 years in the industry
View(s):

Russel's, one of the renowned Tea Service Companies in Sri Lanka, celebrated its 30th anniversary in Hospitality Business on 25th March 2018.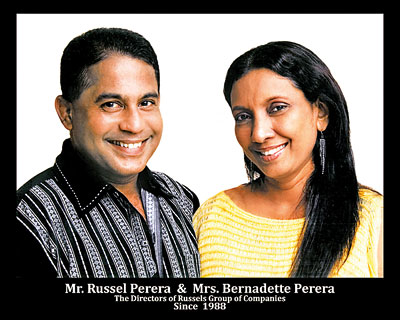 'Russel's' is the brain child of Russel Perera, Chairman of the Russel's Group of Companies, who ventured into small scale tea serving company in 1988 at the Seylan Bank with the inauguration of Seylan bank. After three decades, Russel's has now diversified into Tea, Catering and Garments and Design (SF Clothing).
Located in Punchi Borella in a three story ultra modern office and factory complex, Russel's Group comes under one operation unit with the direction of its group General Manager Lindsay Fernando.
The two sons of Russel Perera, Jehan and Rashane Perera currently manage the Tea Service and the Catering along with Garments and Fashion design sector independently.
The total workforce at the group consists of 220 staff and most of them have more than 20 years in service at Russel's.
'As I started this business in very humble way 30 years ago, my main supporting force was my wife Bernie, staff and the Almighty, I believe' said Mr. Russel Perera.
As a gesture of appreciation for the staff, who have completed more than five years in service, Russel Perera has declared profit shares from the1st of May 2018.
Mr. Perera also take this opportunity to thank all their clients for the unprecedented support rendered to them during the last 30 years.