A New Room-mate
By Manoshi de Silva
View(s):
A Cockroach was scurrying down the drain outside the house. He was hungry and looking for something to eat. He stopped outside Podi's room. The window was open. The Cockroach climbed up the wall and turned his antennas around; alert and ready to run away if someone came.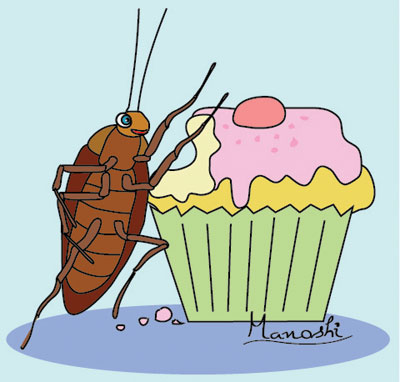 Podi's room was quiet.
The Cockroach entered through the window. From Podi's study-table came the smell of food. He slowly went near there. "What a lovely smell!" It was a left-over piece of cake. The Cockroach took a small bite. It was stale; just the way Cockroaches liked it!
The Cockroach ate as much as he pleased. He was so hungry and this was just what he wanted. "Whoa! What was this?" The Cockroach felt his day couldn't get any better when he saw a plastic cup with a bit of milkshake at the bottom. He swiftly climbed down the straw and drank a little.
The Cockroach looked around while enjoying his drink. Podi's room was a mess. It looked as if a tornado had hit it. Shoes, clothes, toys and books were scattered all over. There were enough and more places for a Cockroach to hide. And the room had not been swept in days. So there were pieces of food and crumbs all over. This looked like the ideal place for the Cockroach to call home!
The Cockroach was taking another sip when Podi entered the room. She walked towards the table. The Cockroach saw her but he was not bothered. He was more interested in his drink. But Podi's reaction was not the same. "Eeek..!" screamed Podi, the moment she saw the Cockroach in the plastic cup, clinging on to the straw.
The Cockroach got so scared of  Podi's scream that he lost all interest he had in his drink. He scurried out of the cup and flew straight at Podi and landed on her shoulder. Now Podi was extremely scared of Cockroaches. There was only one thing that scared Podi more than a Cockroach; and that was a flying Cockroach!
Podi ran around the room screaming and dusting herself, trying to get rid of the Cockroach. The Cockroach had no idea what was going on. He didn't know that he was the very reason why Podi was running around like she had seen a ghost. So he too started running all over her, making matters worse.
Finally, Podi managed to brush-off the Cockroach. He fell on the ground. Actually, there was very little ground to be seen in Podi's room, as it was covered with all sorts of rubbish. The Cockroach crept inside a shoe and stayed quiet. By now he had a small suspicion that he must be the cause for the girl to act so scared.
Podi pulled out a foot-ruler from her table and turned things on the ground in search of the Cockroach. But there wasn't a trace of him. Besides it was not easy finding anything in Podi's room, as it looked like a jungle. She finally gave-up and walked out feeling annoyed. "Yuk, I can't believe it landed on me!" she thought in disgust.
The Cockroach had no plan to leave Podi's room. This was like a carnival for him. There was food, places to sleep and hide. Everything he wanted and more, was in one place. This was like a dream come true for the Cockroach.
So he made a decision. He was not going to leave this room. He decided to become Podi's room-mate.
Podi looked around in the evening trying to spot the cockroach. But he was not to be seen. "Maybe it left!" thought Podi. But little did she know that he had no idea of leaving.
After dinner, Podi switched off the light to sleep. A few minutes later she could hear the Cockroach flying around.
Then she felt him running on her legs! Podi shrieked and put the light on. But the Cockroach was not to be seen. Now she was not sure if she imagined it all or if the Cockroach quickly hid.
Her scream made her mother to come rushing to the room. "There's a Cockroach somewhere in my room," panted Podi. "How can I sleep in here knowing it's around? The moment I switch off the light it'll start to run all over me again!"
Podi's mother looked around.
"How can you see it even if it's here? Your room is such a mess, even an elephant could hide in this pile of rubbish on the floor!" said her mother, "until you tidy your room, you won't find it and it will not leave!"
Podi groaned. She knew her mother was right. So she decided to clean her room the very next day and to keep it tidy thereafter. She knew she would never be able to fall asleep peacefully, knowing there was a Cockroach in her room.
"Hello!" said another Cockroach to the Cockroach that was in Podi's room, "I thought you found yourself a good place to live. Why are you back in the drain?"
Podi's old room-mate brushed his antennas angrily, "that little girl cleaned her room. I was not interested in staying there anymore. So I left that place!"
"There must be another little girl or boy with a messy room" said his friend, "I'm sure that you'll be able to find yourself another new room-mate soon!"