What lies ahead for the coalition?
View(s):

My dear Green Man,
I am writing to congratulate you on demonstrating that you have the confidence of Parliament, even when motions of no-confidence are moved against you. If anything, you have been a survivor all these years both within the Green party and outside it – and you have done it again, for the umpteenth time.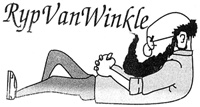 Last week, there was speculation that you may lose your job, what with some Greens such as Rangay, Wasantha and Wije hinting they won't support you and the Blues reportedly deciding 'unanimously' to vote against you. In the end, none of that really happened and here you are, still in your job.
If Mahinda maama thought that he would cause chaos among the Greens by bringing a motion of no-confidence against you, he miscalculated badly. The Greens closed ranks around you, even forgetting the differences of opinion they had about your leadership but the Blues are now at sixes and sevens.
We were told that all the Blues with Maithri will vote against you. Only sixteen did so. The rest kept away. Everyone has a different story about what happened. Some say the sixteen acted on their own. Others say there was no unanimous decision. Whatever it is, Mahinda maama was taken for a ride.
In all this, Maithri maintained a deafening silence. First, he asked you to quit so Karu could be PM. Both Karu and you declined. Then, he presided over a meeting where the Blues decide to vote against you. It was also his henchmen-like Susil, Dilan, Thilanga and SB – who spoke loudest against you.
Now, some are trying to defend Maithri, saying none of this is his doing and that it is all Mahinda maama's fault. You haven't spoken a word in anger against Maithri. That is not your style but I hope you realise he is more of a snake in the grass than Satellite and Mahinda maama put together!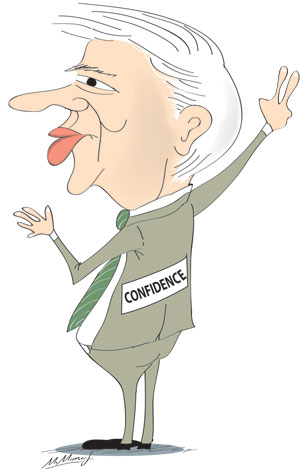 We heard that some Greens had submitted a motion of no-confidence against the ministers who voted against you but that you have asked them to withdraw it. I am not sure what your plan is, Green Man, but you must surely realise by now that carrying on with the Blues will only lead to more grief.
Besides, I can't imagine how those ministers who voted against you can now to sit in the same Cabinet with you, with any sense of shame or dignity. But then again, people like SB, Thilanga, Susil, Dilan, Dayasiri or even that Punchinilame chap are not known for their dignity or integrity, are they?
There might be some euphoria in the Green camp, following the defeat of the no-confidence motion, Green Man, but I hope you realise that the real test lies ahead, two years from now. That is because voters have told you in February, in no uncertain terms, that they have very little faith in you now.
Green Man, you turned 69 recently. You will be past the biblical span when the next elections are held, so it will be your last tilt at the top job. If you don't want to go down in history as the man who was always runner-up instead of the winner, you will need to reinvent yourself, and do it fast too.
You told us again this week that you will give the Greens a new look and appoint new leaders to take the Greens forward. Unfortunately, whenever there is a crisis, we have heard this from you many times – but nothing happens. Then you usually appoint a committee and everyone forgets about it.
If you want to win the next elections, you must appoint people who can relate to voters and their problems to carry the message of the Greens instead of men in suits who speak a language that most people do not understand. And remember, free wi-fi is not the answer to the problems in our country.
You must also keep your promise of punishing culprits of the previous era instead of parading them before the courts or the FCID every other day. I can't see how you can do so while the Blues are still a part of your government because they will sabotage your every move – and Maithri will do nothing.
You must also discipline your own miscreants. Every time Ravi says he is still the 'assistant leader' you will lose a few thousand votes – and eventually, the elections. If you really want to appease him, you can give him a diplomatic post after you win. That way, he will still get an apartment to live in!
So far, we have only seen promises about reforming the Greens, implementing new policies and appointing new leaders. Nothing has happened. Even though you survived the vote of no-confidence, you have a long way to go to restore voters confidence in you – and time is running out, fast!
Yours truly,
Punchi Putha
PS: Your survival reminds me of the chap in that famous story 'hath pana' who came back to life after believing he was dead many a time. Even so, this is your last chance. The next time around, neither the 'Pitipana' committee or the 'Marapana' committee will be able to give more 'pana' to you.