Traditional chic and tropical vibes
Text by Shakya Wickramanayake and Tera Jayewardene. Pix by Indika Handuwala, Sameera Weerasekera and Amila Gamage
HSBC Colombo Fashion Week 2018 came to a close last Sunday for the 15th year of a successful drive to expand and develop the country's fashion industry. The week saw various collaborations with art, music, and food but the focus of course was the Main Designer Showcase. Both established local and international designers took the stage at the Grand Ballroom of Hilton Colombo from March 22 - 24. Following are highlights of Day Two and Three:
View(s):
HSBC CFW @15
Day 2
Day Two started with a collection by Parisian haute couture designer, Eymeric François whose  evening wear featured corsets, asymmetric hems and wide messy fringes. The use of leather and worked shoulders in some of the designs gave the collection its edgy yet sultry feel and  femme fatale aura.
LICC jeans featuring designs by Chalukya and Kaushalya centred  mainly around denims, with floral embroidery on sheer panels, patchwork, metal embellishments, as well as the classic ombre-washed denim look.
Designer Catherine Rawson's brand 'The Old Railway' collection was inspired by South London street style. An eclectic mix of designs, the collection featured loose and oversized silhouettes, a cacophony of prints and styles to create a funky vibe.
Indian Designer Urvarshi Kaur presented traditional Indian fabrics and patterns given a cosmopolitan twist with the use of modern cuts and silhouettes. The brown and black palette gave the collection a sombre yet refined look.
Annika Fernando for 'Maus' unveiled a collection that featured A-line silhouettes, tapered waists, and a muted colour palette. The more notable designs were the loose fitting male jumpsuit, which gave a relaxed tropical yet chic vibe.
The second evening wear collection for the night was presented by Indeevari Yapa Abeywardena's brand, 'Indi'. Inspired by all things bohemian, the collection saw elegant gowns accented with intricate embroidery, lace, net frills and textured handwoven fabrics.
Drawing on the rich art and tradition of ancient Ceylon, Asanga De Mel's collection for 'LOVI Ceylon' wowed the crowds that night. In addition to a range of chic 'upgraded' sarongs the collection saw several intricately worked jackets as well as bomber jackets. The use of traditional Sri Lankan patterns on the jackets invoked a regal feel.
Capping off the night's showcase was a stunning batik collection by Sonali Dharmawardena. Using a range of techniques from batik to foil print to patchwork-esque patterns, Sonali ensured that her collection won't be referred to as just another batik collection.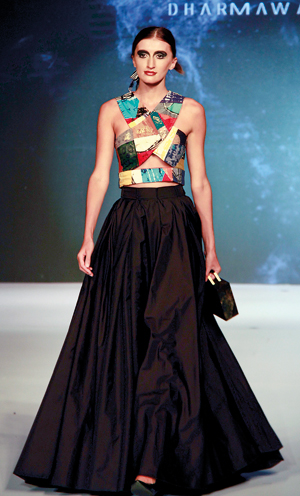 Day 3
Bangladeshi designer Bibi Russell opened Day Three with a casual wear collection that used a green palette and hand-woven patterns to give a bohemian look to the sheer shirts, tops, and pants.
Charini Suriyage's collection saw bright strong colours and exaggerated sleeves in flowy dresses and elegant sarees–the masterful blend of colours a standout.
Fouzul Hameed's menswear collection combined formal jackets and shorts to create a fusion look, providing food for thought for the  daring young male.
Dimuthu Sahabandu's collection had been inspired by Joan of Arc and the vintage feel of medieval France was created by translucent elements, floral weavings, glistening embellishments and unique sleeve designs.
Ponds presented a collection of white and beige casual as well as formal pieces to the tune of Gyles Dharmaratne. The collection possessed glistening embellishments and simple patterns woven into lace to complement the natural makeup line that Ponds is promoting.
Conscious showcased a men's wear collection perfect for an active sporty lifestyle, with men's pants with asymmetric folds tucked into each other or flaring out at different angles.
Buddhi Batiks by Darshi Keerthisena saw the designer's signature batiks in a gorgeous collection of sarees and casual wear on the ramp. The collection highlighted a message of peace with anti-war slogans on the tops "Make Love Not War" and "Peace" in English, Sinhala and Tamil.
Wrapping up Day Three Indian designer Hemant Trivedi made a statement in pure white with a strikingly elegant collection  featuring  interwoven fabric as a highlight.