The elegance of sand washed silk at Dilly's
View(s):

Dilly's latest collection unveiled for the season, is born of founder Dilani Wijeyesekera's quest to find the perfect timeless fabric for her customers. "In one of my travels to Hong Kong many years ago, I came across a beautiful sand washed silk palazzo pant that was so soft and sensuous on my skin making me feel easy and comfortable, yet it was the epitome of elegance. After years of searching for the exact fabric, I finally found it and decided to make it an affordable luxury at Dilly's."
The process of sand washing the silk gives it muted hues and a fluid suede-like feel, which results in incredibly soft and beautiful drapes. No wonder it is called the "Queen of Fabrics" all around the world. Dilly's newest collection made of this sophisticated material consists of contemporary minimalistic silhouettes that can be incorporated into your everyday wardrobe. These can also be dressed up as elegant evening wear considering the beautiful fluid drape – after all, silk is silk.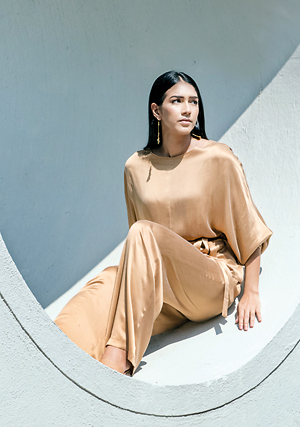 "In a world where people are using blended silks and linens we remain true when we say 100% silk and 100% linen. We don't believe in buying too many clothes, we prefer to buy only the best. We encourage the customers to look after the clothes so that they will last longer, and to never worry about wearing them over and over again, especially if it sparks joy in them," says Dilani.
Dilly's Sand Washed Silk Collection is now available at their flagship store in Flower Road and also at Crescat Boulevard.