Carrying on the legacy of a veteran scribe
By Yomal Senerath-Yapa
Chethana Liyanage, daughter of the late Gunadasa Liyanage launches her memoirs
View(s):
Gunadasa Liyanage, journalist, author and distinguished editor, left behind him a great legacy, not least among his children; one of them a paediatrician and the other three following their father's footsteps as journalists. The most public face among them is Chethana Liyanage, who as a news anchor is immediately recognizable, her photogenic allure added to immensely by her strong personality.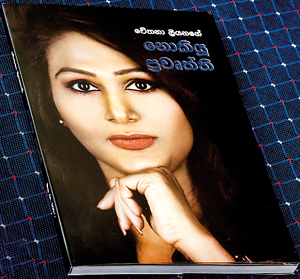 The 20th death anniversary of Chethana's father coincided with the launch of her memoir, 'Nokiyu Pravurthi'; 'The Unread News'. During a convivial evening at the Foundation Institute, memories of a legendary scribe were evoked while it was also the occasion to toast someone, his daughter, who is often too much in the public to be celebrated as herself.
Father and daughter, apparently, had much in common. Gunadasa Liyanage is remembered by contemporaries as a headstrong, short-tempered and rather wilful person. These however were the manifestations of his strong, independent and unbending personality, driven by a determination to do right against all odds. All the speakers of the evening were to note that Chethana has inherited the same integrity.
Having been editor of the newspapers and journals Riviresa, Lankadeepa, Davasa, Sathdina, Sinha Kodiya, Kalpana, Dashaka and Sivdesa, Gu-li as he was fondly christened was also the author of many biographies, novels, children's books, collections of poetry, critiques and translations. Some of his most memorable works are Dona kamalawathi, Mulu hadin mama eyata pem kota, Theveni sil padaya nokadami, Sith santhosin guwanedi bendi hada and Ko mage daruwo.
Floral tributes to the portraits of Gunadasa Liyanage and his wife Chandralatha were paid by their children, Upeksha, Srimath Indrajith, Vajira and Chethana. The keynote speaker for the evening was Emeritus Professor of Sinhala J. B. Disanayaka. He recalled nostalgic tales which brought to life, vividly, the charismatic figure of Guli.
The distinguished academic praised Chethana's memoirs as possessing abiding interest, from tales of childhood onward. "She has obviously inherited the flair of her father, who was a great short story writer. Incidents in the memoir are narrated in the style of the best short stories; the climax, the revelation comes at the end, making sudden sense of all that was narrated before."
Chevaan Daniel, former colleague of Chethana and Group Director at Capital Maharaja, spoke of her as an exemplary news anchor. The book, he stated, is essential reading for journalists. The last speaker for the evening Sundara Nihathamani de Mel, consultant editor of Lakbima, pointed out a home truth that however faithful readers are to a newspaper, very few are aware of the name of the paper's editor. "Yet, in whatever newspaper he was at the helm, Guli stamped his unique hallmark, so that each reader could tell who it was that edited."
Chethana, he reiterated, has been bequeathed with the same way with words. "This will not be her last book; she shows so much flair for me to easily make that prediction," de Mel stated.