Appreciations
View(s):

Snapshots of a life lived to the full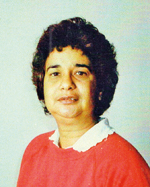 Audrey Roberts
My sister Audrey Roberts passed away in Oxford in February, a little before her 84th birthday. A divorcee, bearing the name of her second husband as Audrey Maxwell, she had no issue, but can claim to have lived a full life marked by remarkable energy, wide-ranging friendships and a camaraderie that has etched her memory in many minds.
Audrey was one of eleven surviving children from the two marriages of T. W. Roberts, a Barbadian who was an Oxford scholar and cricketer before he entered the service of the British raj as a Ceylon Civil Servant, and whose first English spouse passed away in Ceylon – leading to a second marriage with a Ceylonese lady who bore four more children. "TW' ended his Ceylon Civil Service career as District Judge in Galle on the south-western tip of Ceylon, and it was at the imposing Judges' Bungalow beside the ramparts that Audrey was born. Her father retired when she was a child, but the family continued to live in Galle, and that was where Audrey grew up.
As her younger brother, I present this account of Audrey's early life with help from our nephew Guy Sirimanne (in Canada now) and niece Ann Abeywardene (Colombo). Guy has contributed the following account: "This whole Roberts thing goes back pretty far. I remember playing ring-a-ring roses in the sea at the Girls Bathing Place when I was about 4 or 5. I was absolutely terrified of the water going up my nose, yes, and the four of you doing the honours. Fast forward to a later stage to a ramble on the ramparts where some boys made a comment. Audrey led the charge for them with dried cow-dung as ammunition.
"Later Audrey joined Ladies' College, Colombo and was a boarder. She would come to De Fonseka Road (the Sirimanne household) for some week-ends. Her exploits were myriad and we would hang onto every word. Midnight feasts in the dorm with roast chicken from a friend's home and mango slices eaten out of soap dishes and bets to see who would call Miss Simon (the head mistress) "Sweetie-pie". And Audrey's version of Swiss Family Robinson was better than any current day soap."
Ann writes from Kirulapona: "When I think back on her life I can only say she lived a full and most varied and exciting life! We looked at her in awe wondering what she was going to do next! We ran behind her but never quite could keep up."
I vividly recall our juvenile days in the Fort. She was four years older and I benefited substantially from her tomboy leadership. As a late-developer in cycling ability, I was initially carted around double on a men's bike by Audrey when we went on jaunts with friends. We had an energetic circle of friends from a range of ethnic backgrounds: among them the Wickremasinghe brothers from Lighthouse Street, the Roosmale-Cocqs from Hirimbure, Elmo de Alwis from Kalahe, the Conderlags, et cetera. We swam and surfed often at Closenburg Bay (alas no more in the interest of harbour development). We went on cycling trips to Unawatuna beach, Buona Vista and even further afield to the abandoned wartime airport at Koggala where we climbed the control tower and swam in the "seaside 'swimming pool' which had been blasted out from the shoreline-reef by RAF explosives.
Audrey acted in plays at Southlands College before moving to Ladies' College in Colombo for the University-Entrance classes. When she entered Peradeniya University and pursued a General Degree in Arts in the mid-1950s, she appears to have sustained her reputation for unorthodoxy while establishing deep friendships. She was a livewire among the theatre set at Peradeniya working under the renowned tutelage of Professor Lyn Ludowyk, who also happened to be a family friend from the Fort of Galle.
Back in Galle as a teacher at Southlands, she fell in love with Tony Obeyesekere, a neighbour at Middle Street Galle. They moved to England in 1957 to carve out new careers. The tasks of earning bread in this unfamiliar environment meant that any efflorescence of her acting capacities was cut off. But their house in Maley Street at Tulse Hill became a thriving hub of camaraderie for numerous Sri Lankans, several Germans and the odd Scot or Englander. Several marriages were forged there. Her home was my home during my postgraduate degree stint in the years 1962-66 and my research work at the Public Record Office in London would not have been possible without this fundamental support from Audrey and Tony.
When her bonds with Tony deteriorated and she married one Maxwell, she moved to Wolfson College with him. New chapters in her life story developed. Following their divorce in 1978, her flat in Bardwell Road became a pied a terre for her brother and other visitors ranging from Iceland and Scotland to Mexico, Sri Lanka and Australia.
At this point perhaps the most far-reaching and fruitful pathways in her life commenced through her ardent embracing of the Anglican faith and, above all, from her several activities in the local church of St. Andrews. These steps also led her to engage in humanitarian work in the Sudan and teaching service in the Honduras.
She assisted numerous students from Sri Lanka, India and elsewhere during the last 30 years of her life and there have been Danes, Icelanders, Ghanians and Trinidadians who have expressed their admiration for her during the past few weeks. Her aging infirmity was severe during the last few years and it was the profound reach of her good works that ensured conscientious and caring support for her, and her affairs, from several St. Andrews' church people – as sturdy, kind-hearted British folk as one can find. Amen.
I cry, I cry: my sister  Audrey has passed away.
Michael Roberts
---
Wonderful memories of fun, love and laughter
Ninette Perera
Aunty Ninette impacted many lives as she lived her life to the fullest, leaving with us many fond memories of fun, love and laughter.
A pillar of strength and encouragement during my wedding, she gave me all the support and advice I needed in a gentle and loving way. My children were always welcome in her home, their mischief and naughtiness were of much enjoyment and they were always encouraged to roam and play to their heart's content in her "Garden of Eden."
A versatile woman of grace, who loved the Lord, her interests were numerous ranging from  nature to sports, music to movies, art and craft, history to current affairs, and an ardent animal lover. Indeed there was nothing she didn't know! As her niece, we shared many common interests. I was blessed to have spent time with her praying and being there during the last days of her sickness. God knows best when to take His loved ones home and that He did, without letting her suffer more than she could bear. I take comfort in knowing she is at peace with all her loved ones and that I will see her again one day.
Rest in peace dear Aunty Ninette. Your life blessed mine! We will miss you and love you always.
Nirma Tranchel
---
Akka, you have left a great void in our life
Amitha Galagoda-Atugoda
Amita Akka, we cannot bear your loss, and the void created in all our hearts. You left us on March 18, as the sun went down over Ethugala Rock. Your dear husband, Sisira (Heen Aiya), sons Asanka, Sanka, their wives, Thishani and Sashi, daughter Sankhika and grandchildren, the Atugoda and Galagoda families, your students, friends, and all those you associated with, Pema and Chandra, still grieve. We feel you are still with us, although, merits you accrued in this life took you nearer and closer to Nirvana.
As I write this short remembrance, tears well up. You hailed from a historic family in Kanda Uda Rata and you enjoyed a happy childhood. Studying in Sanghamitta and Science College Matale, and trained at Guru Vidyalayas, you entered the teaching profession to serve the young ones in education, and that too in a difficult discipline like Mathematics. You served in the native city, providing knowledge in Mathematics and also ethics and values, to children through extra-curricular activities. The students of Sanghamitta and Science College adored you. You brought such good results
You married my second brother, Sisira in 1976 and came to Kurunegala to settle down serving thus a wider group in family, friends, and in an area less privileged like Uhumiya, joining the Central College there. Your effect on students was evident by the stream of grateful persons who came to pay respects to you for four days.
My first reminiscence of you   Akka, too was when I was in the College hostel when you came to see me with Aiya and advised me to study well, more like a mother-teacher and sister. We looked up to you for our further education and you coached us in difficult Maths-Science subjects. During holidays, we the schoolgoing children were taught the difficult subjects, and we were able to succeed in the examinations. Our professions owe a great deal to your directions.
Your own children were educated at leading schools and after higher studies they became bankers, and investors working abroad, now, but serving the motherland. They looked after you and Aiya when you were indisposed. You helped them to bring up their children and looked after Heen Aiya. Your ailments were forgotten when you had to help my children in their studies. So, Akka yours was a life dedicated to education and through education helping the country's young ones. Amitha Akka also became a source of inspiration to all in the family and friends.
Akka, you helped the Buddhist Viharas in the Malkaduwawa village immensely  and you were a dayaka in them. The happiness you derived from the services you rendered in the form of Kusal will shorten your journey in Samsara.
May you Amitha Akka attain the bliss of Nirvana,with the blessings of the Tri Ratna, and understanding of the Four Noble Truths.
Your Malli,  Deeghayu  Atugoda
---
 A God-fearing man, friend and mentor
Malcolm Peiris
It's 15 years since Uncle Malcolm was called to be in the arms of Jesus and I felt it's fitting to remember and appreciate on this Easter day the life of a gentleman who was not only a friend but a true mentor to me, and many others, including his family and friends.
My friends and I, young Thomians at the time, met Uncle Malcolm purely through an acquaintance and it took no time for us to realize what a hardened Joe's Old Boy Uncle Malcolm was. He would never let us have the final say when it came to his alma mater.
I got to know what a truly God-fearing human being and gentleman Uncle Malcolm was when tragedy struck me in the late 90's. I was in a coma for two weeks and when I woke up, the nursing staff informed me that I had a visitor. He came to see me every single day during the period. He would only leave my bedside after a brief prayer to our Saviour Lord Jesus seeking healing hands to be placed on me. His prayers were answered.
When I was out of hospital Uncle Malcolm was in regular touch with me, always giving me advice and helping me take control of my situation. There were times that I  would look at the phone until his call came through. To this day I follow his advice that has helped me identify who I really am.
Uncle Malcolm was devoted to his family, especially relations and friends in need. His devotion to his faith was unbelievable – he never missed a Novena at St. Anthony's on Tuesday and at Infant Jesus on Friday. Despite his heavy workload managing Supreme Printers, he ensured that he never missed the novenas.
Not a day has passed since his death without a prayer for his soul. I recall a famous saying by Homer, that Uncle Malcolm would regularly quote, "The difficulty is not so great to die for a friend, as to find a friend worth dying for."
I thank God for his life and it is my belief that we will meet each other again on that "beautiful shore", across the bridge.
Dilshan
---