Half-century and still counting
Kool and the Gang continue to make the world dance
View(s):
The funk classics of Kool and the Gang have found eternal life in everything from stadium pump-up songs to hip hop samples to wedding parties. Yet more than 50 years after formation, the group itself has hardly slowed down. Being together for more than fifty years, having sold 70 million albums, won many Grammy Awards and American Music Awards, Kool and the Gang still alive and kicking.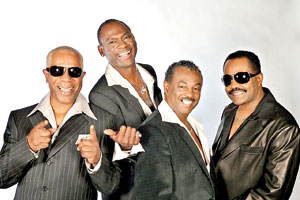 'We do about 100 shows a year, all around the world, in every place you could imagine' said Ronald Bell, one of the four founding members of the group who is still active, as Kool and the Gang passed through New York. Hailing from just across the Hudson River in Jersey City, Kool and the Gang have toured North America, Europe and Asia incessantly, sometimes playing three or four shows in a single weekend.
The group has also found fans playing in countries less frequented by US musicians including Algeria, Cuba, Kenya, Peru and Uganda. 'That is phenomenal to me, to have that music cross all cultures like that' Bell says.
'To me, that's unexplainable. I had nothing to do with that. That's the Creator. Music is a universal language' adds the 66-year-old Kool Bell. On a recent Friday night at the BB King Blues Club and Grill near Times Square, fans – some of them young – were singing along to 'Fresh' before the lyrics to the song even started. Other hits of Kool and the Gang include 'Celebration' – which has become a standard at New Year's Eve parties and in stadiums – and the dance-floor favourite 'Jungle Boogie'.
JT Taylor, the front man from 1978 to 1988 when Kool and the Gang enjoyed its commercial peak, is no longer the face of the group, but the latest singer, Walt Anderson, resembles him both in appearance and voice. Kool and the Gang has achieved its staying power by remaining foremost a collection of musicians, whose roots are in the hardworking world of jazz rather than celebrity pop.
Kool and the Gang, whose members started playing as a group in 1964, brought together jazz with the sounds of soul, Motown and funk. But the style has shifted over the years from largely instrumental works in the 1970s such as 'Jungle Boogie' as well as 'Open Sesame' and 'Summer Madness' before Taylor came in as a vocalist. The group's initial sound provided a rich base for early hiphop which was sampled liberally from Kool and the Gang – who had little say in the matter and initially earned nothing from rap tracks.