Delving into Lens Distortions
Pix and text by Mahesh de Andrado
View(s):
With a plethora of image editing and manipulation apps, one would think that you would have seen them all. There's Mix by Camera360, Prisma, Snapseed and even apps such as B612. All of them make your images look better, offering features for image editing and filters. However, another app to make the headlines amongst photography enthusiasts is Lens Distortions. Available for Android and iOS, Lens Distortions is relatively new to smartphone mobile photography. In fact, the Google Play store lists the app as "Unreleased".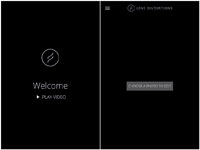 What does Lens Distortions do?
Well, the answer is quite simple. As per the listing on the product page of the respective apps stores, Lens Distortions will add lens or light effects to your images. Now while it may seem a tad pointless to create an app to just add lens flares or light effects, we decided to take the app for a spin anyway.
Introductory steps to Lens Distortions
As you launch the app, you're greeted with a welcome screen that also has a video link. The video opens up in a separate browser and is essentially a rundown of how Lens Distortion works. We decided to skip the video and dive right into see what makes Lens Distortions tick.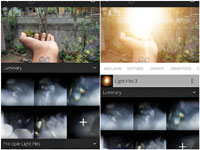 Learning the ropes
The main screen for Lens Distortions is pretty straightforward. There are no options to tweak or advanced settings to configure. You simply pick an image from your device's gallery, and start adding filters. Speaking of filters, Lens Distortions offers a number of high quality effects to create the look that you want to create. According to the developer page, each overlay in Lens Distortions is created by capturing real-world elements in-camera. This gives the user a filter that is not only highly detailed, but also extremely realistic.
Trying your hand out
The filters and effects range from glass, to natural sunlight, rain, snow, and even fog. Each Filter category has a number of filters to its name. They are individually viewable so that you know exactly what each effect will look like. The free version of Lens Distortions gives you a total of five filters free from each pack. Additional filters or packs can be unlocked for a monthly rental of 0.99USD per month, roughly equivalent to Rs 175/- per month.
Taking Lens Distortion for a spin
Having gone through all the formalities, we decided to take Lens Distortion for a walk around Colombo. Our test device was a OnePlus 2 running Android 8.1 Oreo. It was a fairly old device but still had a good camera. According to the developers, a high end modern device was required for best performance. So we decided to see what we could achieve with a flagship killer of 2016. We first tried out the Luminary filter.
This essentially adds a blurry effect to images making it seem like the photo was taken with a slightly blurred lens While it seemed pretty cool as a filter, it didn't really appeal to our tastes. So we decided to try out a different filter. As stated earlier, each filter pack consists of 5 filters with others being unlocked via payment.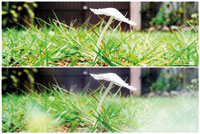 More Filters
Moving on, our attention then fell on to the Principle Light Hits and Light Hits filters respectively. These provide a sort of solar flare or lens flare which is also manipulable. As such, the size of the filter can be enlarged or made small by simply using two fingers to pinch in or expand. It can also be dragged around the image till you find the perfect spot.
The Fog, Rain and Snow Filters are pretty self-explanatory. They give your images a rainy, snowy or foggy look. It actually does a really good job of making your images look like they were captured in the rain or fog or snow.
The Shimmer pack gives your images a star struck look, especially if taken in a dark environment. It also looks like your image was captured through a stained window. They are essentially light fragments and particles that can be used to artistically improve your images. Lastly, the Legacy pack gives you glass textures with a hint of blurred lines (pun intended).
Who can make use of Lens Distortions?
Well, if you're a budding mobile photographer who wants to try out these filters, then you can give Lens Distortions a go. In the event you feel that the filter packs included are not enough, you can even unlock them all by paying for the subscription.
If you're a professional photographer, you can take Lens Distortions for a spin and see how it holds up against actual lens distortions that can be achieved through hardware or by software using applications such as Photoshop and Lightroom.
The author is a senior tech writer at ReadMe – a leading tech news provider.
For more information log on to readme.lk