Behind the scenes of 'Aarthi the Amazing'
Comic artist Isuri, whose illustrations featured in this year's Google Doodle for International Women's Day, tell the lesser known story of Aarthi - an extraordinary fisherwoman of limitless strength
View(s):
This year's Google doodle on International Women's Day paid tribute to the voices and stories of women told by artists from across the globe. Twelve female artists including Sri Lanka's own comic book artist, Isuri was chosen to tell these stories in forms that were abstract, fictional and some of a personal nature. As a young illustrator based in Colombo, Isuri spends much of her time painting murals, drawing comics and picture books. She studied Illustration at Columbus College of Art & Design and is currently working on her first graphic Novel, Podi (written by Deshan Tennekoon and Navin Ratnayake) forthcoming from Oni Press. In the following exchange over email, she fills the Mirror Magazine in on being invited to share her art on the Google platform and more.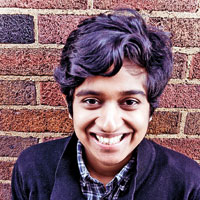 On the progress of Podi
Isuri : Podi work is going full steam ahead! We've finished thumbnailing all 150 pages of the comic and I'm currently in the middle of penciling and inking. We're hoping to publish Podi towards the end of 2019. I've also been working on a few picture books over the years for the non-profit organizations – Room To Read and Think Equal. My most recent picture book, The Girl Who Climbed The Tallest Mountain (written by Deshan Tennekoon) was published by Think Equal (Sri Lanka) earlier this year. The Girl Who Climbed The Tallest Mountain, based on the true adventures of Jayanthi Kuru-Uthumpala.
On being invited to contribute to the Women's Day doodle
Isuri: Art directors Alyssa Winans and Lydia Nichols from Google emailed last October inviting me to be a part of this year's International Women's Day Doodle. Google wanted to showcase a selection of comic/narrative art pieces from women around the world and the goal for this year's doodle was to bring forward unheard stories and voices, and to celebrate collective stories. Twelve female artists from different countries were invited to take part this year and each were given different themes (Adventure, Audacity, Chance, Connections, Growth, Heal, Homeland, Love, Possible, Strength, Together and Trust) to work with. My art directors liked that my work had a strong sense of wonder and adventure and wanted me to base my comic narrative around a theme of 'adventure'.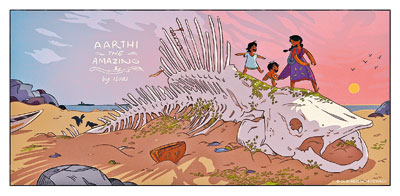 On the doodle storyline
Isuri: The project brief was to create a 1-5 page story under the theme of 'adventure'; the story could be inspired by a personal story, that of someone close to me, a mentor or a community. The story could have moments of whimsy and implausibility but I was advised to base my narrative on a non-fictional core. Each artist had to first submit 3 story ideas, out of which a final story would be selected to be finalised. The final comic you see on the doodle is a result of four months of work; from the initial story script and thumbnails to color roughs and final artwork. The biggest problem to solve with this project was to figure out a way to tell a complete story within 20 panels (6 pages) or less. Since the Google doodle was to be translated into many languages, we were encouraged to keep the dialogue/text in the story to a minimum; this was easier to solve than the first, given how my work takes on a laconic tone more often than not.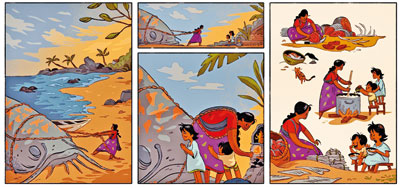 On Aarthi's character and inspiration in the comic
Isuri: 'Aarthi the Amazing' is an adventure story about a day in the life of an extraordinary fisherwoman. She braves the rough seas to catch fish; works day and night and earns the extra Rupee to feed and support her children. Aarthi's story was inspired by the daily lives and struggles of fisherwomen in Sri Lanka. For me, Aarthi's story is about a woman's strength on every level: the interpersonal, love and perseverance of a single mother who works tirelessly to feed and support her two children; the emotional, fears and struggles of a woman who goes out to sea every night to catch a giant fish; and eventually, the nonconformity. In its heart, Aarthi's story is an adventure story about an extraordinary fisherwoman, whose strength is limitless.
On the creative journey and discovering her artistic voice and if she feels she has matured
Isuri: Without a doubt, yes; over the years, I've learned so much about myself and my work from the projects I've taken on and those projects have helped me improve my craft. For me, artistic maturity is a lifelong process; five years in the illustration industry and I still feel as if I haven't even scratched the surface of who I want to be as an artist. My main goal is to continuously strive to push myself as much as I can to improve my craft.
Words of advice to other
aspiring comic artists
Isuri: Learn the fundamentals of drawing and colouring, read as many comics and graphic novels as you can and keep drawing!

For more information on Isuri and her work follow her on
artofisuri.com or
www.instagram.com/isurimh