NOCSL will keep close tabs on attempts at decamping
By S.R. Pathiravithana
XXI Commonwealth Games
View(s):
The NOCSL authorities will take all possible precautions to prevent any Sri Lankan athlete who is included in the Commonwealth Games competitor list or officials from decamping during the game.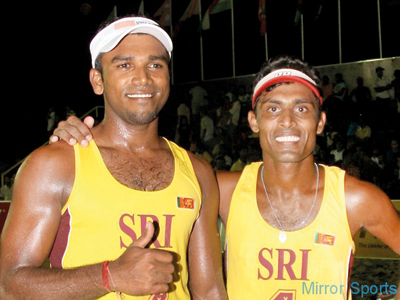 The newly elected NOCSL President Suresh Subramanium told the Sunday Times, "Sri Lanka's Commonwealth Games athletes and officials will have to make their entry and exit points at the Brisbane Airport and the Gold Coast Air Port.
"There were several requests made for the members of the contingent to break journey at Melbourne and so forth, but, we have been very firm about breaking journey.
"Besides once they are in the athletes' village, all movement will be in the team bus and there will be a lot of control. So, we are fairly comfortable that we would be able to prevent such occurrences from taking place."
The games contingent is expected to be 119 strong with 80 athletes and thirty nine officials in attendance and the list would officially be released tomorrow once Sports Minister Dayasiri Jayasekera places the signature of approval. However already the athletic contingent and the swimming team are in Brisbane – engaged in training and acclimatising at the Commonwealth Games Village.
Weightlifting is a top medal hope for Sri Lanka at the Commonwealth Games. The Lankan team will be represented by 80 athletes in 13 sports at the April 4-15 Commonwealth Games – athletics, badminton, beach volleyball, boxing, cycling, gymnastics, rugby sevens, shooting, squash, swimming, table tennis, weightlifting and wrestling.
Meanwhile in a press release, NOCSL Secretary General Maxwell de Silva stated, "Sri Lanka's weightlifting squad for the 2018 Commonwealth Games was paid a surprise visit by international anti-doping officials on Friday in Colombo.
The out-of-competition testing for drugs was carried out under the authority of the International Weightlifting Federation's Anti-Doping Commission and with an eye on ensuring that the sport is clean at the April 4-15 Gold Coast Commonwealth Games.
The 11-strong weightlifting squad of men and women was so surprised that they kept the two foreign officials waiting for a few hours – simply because they couldn't provide the urine samples immediately.
"They had to start drinking water. It will take some time before they can pass urine," smiled Teamlanka weightlifting coach Bandaran Wickramasinghe. 2006 Commonwealth Games gold medalist Chinthana Vidanage was the first athlete to answer the call of nature.
"As of now, all these athletes are clean. We have tested them and I can say that they have nothing to worry about," revealed Dr. Shiromi Pilapitiya, director testing and education, Sri Lanka Anti-Doping Agency.
The two Hungarian anti-doping officials flew into Sri Lanka on Thursday night. They had got in touch with officials from the Sri Lanka National Olympic Committee to find the whereabouts of the weightlifting team – a fact which NOC secretary general Maxwell de Silva was critical about.