The "Rat Pack" comes alive with Gananath and En Route
By Music Watch
View(s):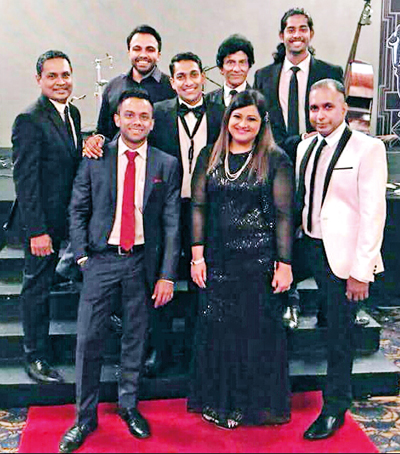 Despite a few hiccups in the "sound", Gananath Dasanayaka with his versatile band "En Route" kept an audience of 500 plus enthralled with music and song at Volume 3 of "The Great American Song Book" at the Hilton Ballroom on Sunday, February 25.The concert was modelled on the lines of the old "Rat Pack" with the irrepressible comic Biman Wimalaratne "Beeman" playing host in a Sammy Davis Jnr like manner and Kovindu De Saram now a regular in the "En Route" team performing a lively Dean Martin act with Italian standards such as "Amore" and "O lare". It was a pity however that the wit and humour  of  the spoken word was lost to the audience at times due to sound aberrations.
Lead vocalist and band leader Gananath brought out the best of American Ballads and swing including evergreen hits such as Smile, San Francisco, Mack the Knife, Under my Skin, My Way and a medley of songs on a New Orleans street beat. To oblige the audience encore at the end he came out full throated with Sinatra's version of "New York" with a Vegas-like panache for the final applause to continue loud and long. Few would ever have guessed that Gananath was fighting a bout of Laryngitis only that morning!
Reputed singer Shanelle Fernando added glamour to the evening with a classy rendering of  "Orange coloured sky" and  joined Gananath in duet with "It had to be you". Sri Lankan audiences will for sure be happy to see Shanelle  perform more often.The surprise for all, including the band came in the form of Sam Paris a African American entertainer well known in the European music circuit. Towards the end, he nonchalantly walked on to the stage to partner Gananath in singing "Beyond the Sea". Having met the band on a few occasions in the Cinnamon  Grand lobby he was however, no stranger to them and when on stage he simply said "I just could not resist it." This was thoroughly enjoyed by all.
What held the evening's excitement together was the music.En Route has certainly come of age as one of the best jazz outfits in Colombo. The magic of Dilip Senewiratne on piano,  Ramesh Nonis on guitar and the youthful Charith Fernando on drums were in a class that will rank  them among the best in the industry in Colombo. The evergreen Maxwell Pierterz on bass proved he could be a serious  contender for a jazz  band in New Orleans! To cap it all Gananath put the icing on the jazz with his saxophone.
Lovers of American music of yesteryear will certainly be looking forward to more concerts of by Gananath. Many wanted to know when the next concert would be. That being so, 'En Route" will need to pay more attention not just to "sound" but to hall arrangements as well. It seemed that some of their best fans had not been allocated the seats they expected to sit in. Was it all due to a last minute change in the seating style by the organisers? That Gananath  has taken this into serious account was clear when this writer received a call next morning to say sorry for any mix up. Just another tip, never have heavily carpeted floors when good "sound" is required!