Appreciations
View(s):

Her fragrance will remain in our memory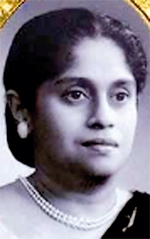 RUKIE  EHELIYAGODA
As the curtain finally came down on March 19, last year, Rukie Eheliyagoda, at 90 years of age, stepped off the stage of life.  Love that transcended biological ties was snuffed out leaving in her trail a colourful luminescence which the passing of time can hardly diminish.
My mother was content with herself just the way she was and allowed her soul the freedom to love, sing, dance and praise God. An exceptional feature in her character was her calm temperament taking everything with a smile, be it hard times or jubilant times; she was never tremulous or ruffled.
She was richly endowed with "Joie de vivre" and a radiant smile which glowed from within. Outward beauty and the beauty of the soul were both hers in abundance.  She was a raconteur par excellence and together with her great sense of humour set alight a sparkle to her lively conversations. It is no secret that my mother endeared herself to anyone who met her for the first time within a few minutes.
She had an inseparable connection with her family that was deep and symbiotic. It was characterised by an axial relationship. Her family mattered to her the most, evidenced by the abundance of love, care and giving that surrounded her happy home of spouse, five children, four grandchildren and three great grandchildren. During my junior school days, I would constantly fall ill during exam times and each time, I never failed to find my mother armed with a flask of koththamalli and Disprin waiting near the school gate for the morning interval. She gave each of her 5 children her undivided attention, even as 4 out of the 5, came in pairs !
Hers was a life full of selfless care for others. Kindness, compassion and altruistic generosity rained like confetti. She offered a sincere and unbridled friendship especially in the darkest hours. Her heart remained flooded with kindness to the very end.
She possessed an indefatigable zeal for labouring in God's Kingdom and was equipped with a seemingly inexhaustible supply of energy and enthusiasm.
God's blessings beyond measure were showered on this gracious and indomitable lady from the beginning to the end of her glorious life.
During our growing up years, our home was filled with prayers as she would gather her family around her daily after dinner. Her faith in the Lord Jesus Christ was so deeply rooted that no storm in life ever succeeded in paralysing her faith. Her conversations hardly ended without her boasting of how great and good, the Lord was.
Her well lived and fulfilled life is our legacy. Her deep and unfathomable love was her gift to us and our endless fond memories of her is the comfort in our hearts that will linger on.
Charmaine Eheliyagoda Madurasinghe
---
A lady of grace and abundant talent
 Dagmar Mendis
"The grace of such womanhood…a quality too precious to measure…
She is a wife, who doth delight her husband; her abilities add strength unto him…
Her children surround her and honour her…
The beauty of so good a woman in her well- kept home is as the noonday sun shining in the Lord's sky…(adapted from Sirach Ch.26)"
Stanzas of ancient wisdom which epitomize a life of grace and beauty…of a woman of nobility. So I picture her in her beautiful home in times past…and more rarely in recent years…as shades of twilight quietly shadowed her earthly life.
My thoughts must retrace in time to decades past… to reminisce how well my mother and her siblings must have loved her…. for it was at Westland House, Panadura, her holiday home, that young Dagmar – an only child- came to  know long days of joy, bonding and sharing with kin and closest family. She was 'sister' to all the children of Westland house…a lifelong bonding which became a treasured bequest to us.
Pictured in memory too is aunty Dagmar in her gracious home at Inner Flower Road. Among those earliest reflections arise pictorial memories of her parents: a gracious lady, immaculately attired in chiffon saree, with countenance as fair as the dawn whom my parents called 'aunty Jessie' whose hospitality was boundless, while her command over her household was amply reflected in her spotless abode embellished with shining crystal and burnished silver; and the aristocratic gentleman, oft seen lounging in his favourite chair amidst the greenery of his patio, lovingly called 'bappa' who did hug us out of breath!Yes, Dagmar was the only child of  William Nathaniel and Jessie Hendrina Goonewardene.
Perhaps the most benign presence was Dagmar's well beloved husband- whom we came to know and love as 'uncle Ernest'; a gentleman of the noblest qualities: quiet, gentle and truly good. Aunty Dagmar once recalled: 'he would never allow harsh words within the home… not even a helper was to be reprimanded, but be quietly corrected with understanding….' Though an advocate by profession, what I do more readily recall is his advent into Local Government politics; the quiet services of E.L.P. Mendis found favour both with his peers and the people he served, for he was bestowed the mantle of Deputy Mayor of the Colombo Municipal Council. His services there were quietly supported by Dagmar in several ways: worthy of mention is her work among basic women's groups, as with her home grown skills of culinary expertise, sewing, embroidery, lace making, she enabled them to acquire vocational- self employment skills; while the innovative talent competitions born of her organizational abilities, saw their gradual empowerment as worthy human beings.
Often accompanied by our father, we would participate at events at his kind invitation. Here within my mind profoundly arises the depth of affection the Goonewardene family had for so good a man… for my uncle Roy did campaign so diligently for him- a candidate of the UNP, despite the family's fame for having brought forth distinguished pioneers of the Left Movement. Indeed, this bonding of Ernest Mendis with the Goonewardenes was eternal, for as was his wish, his ashes lie at rest within the family vaults at Panadura.
Yet, most profound was the eternal bonding of Dagmar and Ernest; as their son Prasanna once expressed at one of their many family celebrations…'theirs was a love affair… a deep companionship… which would have gone on for ever… if nature of life had not intervened…' Here comes to mind Dagmar's many talents: Her culinary expertise was unmatched, her prowess as master baker and decorator was near legendary.. as it was she who was specially requested to create the celebratory cake for the opening of the new wing of the Colombo General Hospital(as it was then known…)  by Prime Minister Sirimavo Bandaranaike. It is said- though a miniature of the original, it was a detailed, researched, effort, guided by architectural expertise.
A fine anecdote accompanies so fine a creation: '…as the 50 kg. structure required an ambulance for transportation, its unnaturally slow journeying had given cause for curiosity… as to the grave condition of the patient therein…!'
Another delightful attribute of Dagmar was her talent laced with humour and joy which she poured out in creative verse for happy occasions, good wishes…and likewise in thanksgiving… specially for those who helped her in times of need, as her children recall:'… doctors, nurses, attendants, helpers… were so uniquely thanked…' Perhaps crowning all these talents, must have been her innate gift of music, she was a fine pianist with Diploma qualifications from Trinity College London… a divine gift which bound Dagmar and Ernest in heavenly harmony. As their daughter Tarini says: "…I yet recall a fine baritone blend in unison with the beauty of the piano, to the strains of 'Oh! Danny Boy' and 'I'll walk beside you…"
A life of grace and abundant talent which touched family, friend and her deep faith alike. On a personal note, I recall how often her home was our home… not only on those delightful Christmas visits, but oh so often. Her fondness for my sister- her 'God daughter' was lifelong… symbolically expressed at her coming of age with an exquisite gift of a key-shaped cake, just as my sister requested! And to me- her piano was ever available for hours of practice. Surely, these grateful thoughts must find echo in the minds of friends, and the elders group of the Methodist Church Kollupitiya, where she joyously contributed so well.
The greatest delight within that gracious home remained her children; the eldest Prasanna, enshrining much of the quiet dignity of his father; Ianthe and Tarini diversely endowed with their mother's attributes; Ravi the much loved youngest!
Yes, to Dagmar, family was treasure… now grown and extended, where each was uniquely valued with pride and joy… and so as Sirach says "….her children surround her and honour her…" and so they surely did, caring for her needs with depth of affection…wherein each passing decade of her life was meaningfully celebrated- the core of each celebration being a manifestation of a family's deep faith and thanksgiving unto God.
Mithrani
---
A tough cookie, but one with a compassionate heart
 Mary Susila Elizabeth Devasirvadham
Susila Devasirvadham passed away on March 14, last year.  She and I were the only children of Sam and Rose Devasirvadham.We were born in Colombo, when mom and dad were living at the Lock Gate Lane church annexe.  I still remember Susila's baptism, the long white baptismal dress she wore, and the following year, in 1953, the train journey that brought us to Peradeniya as the University was started here.
Susila grew up in Kandy, and also for four years in South India while mother was doing her degree.  She had several close friends in Girls High School, Kandy, who called themselves the "Famous Five" and have been close throughout their lives, one of whom came to visit her in the hospital.  She joined the English Language Teaching Unit (or ELTU) of the University of Peradeniya, in 1982 and worked there until she retired six years ago.  The University was the centre of her professional life.  She was innovative and organized several exhibitions of students' work, which were applauded by the university.  They also gave her students new and challenging ways to express themselves in a language they were learning, and unleash their creativity.
Susila was also a bold teacher.  One hot afternoon, when everyone was having a hard time staying awake, she decided to shake things up a bit.  "Stand up," she said to the class.  Everyone struggled to their feet.  "Sit down," she said and everyone sat down.  "Stand up," she said again, and then "Sit down," again.  When the class had settled down she said "now that you are wide awake, let us focus on the lesson."  She said the whole class started laughing  and they never had a problem after that.
She took her job very seriously and did not stand for any nonsense.  Her spunk and determination made her a memorable teacher.
But Susila was no mere academic.  She had a very compassionate heart and was a prolific writer to the newspapers on a variety of subjects including people she wanted to help.  She worked with the Buddhist Society to find or build housing for some poor families.  She arranged for a free eye clinic where several people in the village came and had their eyes checked and glasses fitted.  She worked with the church to get someone a three-wheeler to make a living.  She was involved in and wrote about the disabled, the poor, and many other causes.
When Susila came to the US in September 2016, she danced the baila at her nephew's wedding and taught it to her nephew and nieces, and also to cook a wonderful dhal. She was a lover of animals.  She petted deer in Idaho.  She returned with several vitamins for dogs.  She would approach the village dogs fearlessly and give them medicine hidden in food.  Her trusted driver was charged with cooking chicken necks and feeding vitamins to all the strays around.  In fact, every morning, her house was the target of a parade of dogs.  Apparently she fed them all.
I found a lot about Susila through others.  Even the workers at home said "Madam baninawa,sarai;namuth api ganang gannena. Api dhannawa eyage hithaa adare kiyala.  Apata hongak salakanawa". ( Madam scolds, is harsh, but we don't take it to heart.  We know her heart is loving.  She cares about us very much)
So they stayed with her faithfully to the end, without looking for other positions.  Yes, she was a tough cookie; but beneath that tough exterior was a compassionate heart that cared about them and all living beings.  So they loved her and were devoted to her.
She left a considerable part of her resources to the church, the elderly, the needy, cancer patient services, animal care, and to her loyal staff.
May Mary Susila Elizabeth Devasirvadham rest in peace with her mom and dad, Sam and Rose, whom she loved very much, and the hosts who came to greet her at her end.
 D.M.J. Devasirvatham
---