Producers claim Ministry bad eggs soiling domestic industry
By Chrishanthi Christopher
View(s):
There is a surplus of eggs in the country and imports ahead of the Sinhala Tamil New Year are not necessary, egg producers say.
They say they have evidence that the Ministry of Trade and Commerce had attempted last week to import millions of eggs from India, but the ministry denies the claim.
The All Island Egg Producers Association, said that while there is a glut of eggs in the country, the ministry is attempting to import six container loads of eggs from India.
The association said that Raj Exim, a Dubai owned company in Tamil Nadu, had made arrangements to ship eggs via the Kerala Port and that timely information from India had helped the industry to avert a major calamity that would have befallen poultry farming families.
There are around 6,000 poultry farmers and 450,000 persons employed directly and indirectly.
They said that the Ministry of Livestock and Rural Community Development, has halted the shipment of two 40 foot container loads comprising more than 472,000 eggs.
The trade ministry is said to have ordered six container loads comprising 2.8 million eggs.
The eggs were to be sold via the CWE and Sathosa outlets during the Sinhala and Tamil New Year.
Livestock Minister P Harrison had intervened following representations made by the egg producers.
The Department of Animal Production and Health, said there are enough eggs in the market.
Director General Dr Nihal Wedesinghe, said there was more than what is needed.
"Sri Lanka needs around six million eggs a day and poultry farmers are producing more than the requirement. In fact, at a meeting held last week we requested the hatchery producers to slow down on chick production,'' he said.
Dr Wedesinghe said that they are in talks with hatchery farmers and are looking at the possibility of exporting the surplus.
He said that the ministry had issued notices to the customs and the port and will maintain surveillance of inward shipments.
Meanwhile, the Ministry of Trade and Commerce refuted the imports claim.
"I do not know from where these rumours came but we did not order for any eggs to be brought into the country,'' ministry secretary, Ranjith Asoka said.
The Egg Producers Association President, Sarath Attnayake, who has a copy of the L/C of the shipment, said that the eggs had been purchased and kept ready for shipment . Each egg, he said, cost Rs. 3.70 in Indian currency and eventually would have cost Rs. 9.70 each (including the shipping and clearing charges).
He said local poultry farmers are ready to sell eggs at a cheaper price, even at Rs 9 to the Sathosa because of the glut.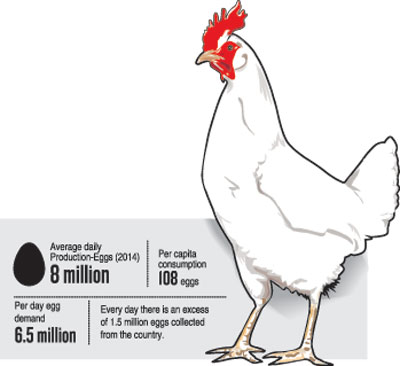 "We will give a credit line of 10 days for the payments during which time they can check the eggs for quality. We can even supply up to 5 million eggs,'' he said.
Association secretary, H. M. B. R. Alahakoon said that Sri Lankan farms are producing an excess of 1.5 million eggs. Sri Lanka produces around 8 million eggs a day with the demand being only 6.5 million a day.
The surplus he said, was due to the imports of excess parent chickens in 2017. "Last year, the Livestock Ministry imported 200,000 parent chicks when we needed only 75,000 chicks and this has led to the excess production of eggs.''
Mr. Alahakoon assured consumers that there will be no price increase in April.
In fact, he said, consumers could expect to pay Rs 2 less. An egg could cost between Rs 12 and Rs 14.
The recent civil crisis in Kandy also had contributed to the surplus of eggs as shops shut down and the transport of eggs came to a standstill.
According to the egg producers group, an average Sri Lankan consumes 108 eggs per year. But the excess supply means there are about 300 eggs per year available for every person.
The group says eggs from Sri Lanka cannot be exported to the European Union, the United States, or Japan, which impose stringent regulations concerning over animal welfare and public health.
Mr. Alahakoon also said Sri Lankans should be encouraged to eat more eggs, which can be a substitute for fish, chicken, meat, and canned fish, prices of which are skyrocketing. "Also the plague of malnutrition in this country can be eradicated,'' he said.
The All Island Poultry Association chairman, Mathalie Jayasekera, said the group will maintain vigilance against imports.