Muck piles up again while the CMC wastes time dumping blame on people
By Kasun Warakapitiya
View(s):
Once again, nearly a year after the deadly Meethotamulla garbage mountain collapse, Colombo and its suburbs have turned into a stinking mess because household solid waste is not being collected.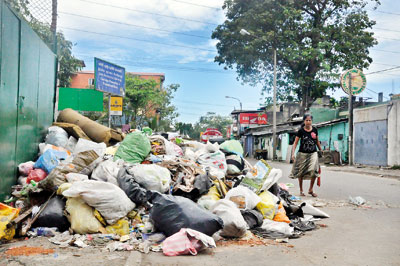 No new dump sites have been identified either by the Colombo Municipal Council or other government authorities. The short-term dump site at the Muthurajawela wetland sanctuary, is now nearly filled up.
The excuses from officialdom are aplenty.
Municipal officials are blaming households for not separating the trash, while the Ministry of Megapolis says the waste piles are the responsibility of the CMC, not theirs.
Some residents have told the Sunday Times that municipal workers are demanding Rs 1,000 to clear the mess.
The Sunday Times visited areas where garbage has been rotting near lamp posts, public places, canals, and junctions over the past two weeks. Residents have complained on TV networks that CMC collectors are not turning up.
At the Muthurajawela site, where garbage is being dumped, officials say only separated waste is accepted.
Along roads in Dematagoda, Kolonnawa, Kuppiyawatte and Maligawatte piles of rotting waste have accumulated. Stray dogs, cats and swarms of crows are ripping up the garbage bags and creating a public health nightmare.
Garbage has been piling up near homes. A family living on Kolonnawa main road, is worried about the waste pile eight feet away from their home.
Resident Ms Sriyani Kuruppu, said CMC garbage collectors are deliberately leaving behind unseparated waste, but they do make exceptions.
"Whenever VIP's pass through the area, the CMC forgets the rules on segregation and removes the whole pile of garbage,'' she said.
Ms Kuruppu said people living in small homes such as hers do not have space for separate garbage bins. She pays a street cleaner Rs 20 to remove the garbage and help her separate the waste.
Angodage Justin, another resident in the area, said that he was once arrested by police for protesting against a man who dumped garbage at the site at night.
"I told the man to stop dumping garbage in the front of my house since I fear the garbage will make my daughters get sick. He assaulted me, but he complained to the police that I was the one who attacked,'' he said.
Meanwhile, a businessman in Dematagoda, complained of the insanitary conditions.
Abdhul Bhari an owner of a poultry products shop at Dematagoda Sri Dhamma Mawatha, said: "The foul smell, swarms of mosquitoes, and flies are repelling customers.''
He said that when a complaint is made to the CMC, workers separate the waste and collect a portion and also leave some of the garbage.
Another resident of the area, Tharindu Liyanage, who runs a communications business, said CMC workers demand money, as much as Rs 1,000 sometimes, to remove the garbage.
He said that most people pay bribes to sanitation workers while others pay three-wheel drivers to dump garbage in some other areas.
"CMC labourers sometimes make impractical requests. They want people to wash even the polythene bag used to collect garbage and even the food wrappers,'' he said.
Municipal Commissioner L R Wickremaratne, said that the Muthurajawela sanitary landfill only accepts degradable waste to create compost fertiliser, while plastic and other materials are also collected for recycling.
Mr Wickremaratne said 300 metric tons of segregated garbage per day is collected from the 650 tons of waste produced in Colombo.
He said unsorted garbage can not be collected because there is no dump site.
"We accept that there is an issue,'' he said, adding that the CMC is making plans for ways to collect roadside garbage.
The former chairman of the Sri Lanka Land Reclamation Development Corporation, Asela Iddawela, said that the 28-acre sanitary landfill at Muthurajawela was almost filled up and the area is used as a compost plant and a storage site for plastics. He said Muthurajawela is a short-term solution that will last a year.
"They [the CMC] have supervisors and engineers. Why can't they use their expertise to resolve the issue during the given time," he asked.
Meanwhile, the deputy general manager of wetland management, Dr. M.S Wijeratne said the CMC had been told in November to only transport separated waste and that the site is fast filling up.
He said that at the start, 45 percent of the waste bought in had been separated but it did not continue.
Dr. Wijeratne also said that 450 MT to 500 MT of compost has been produced so far.
He said that a temporary solution was needed since the proposed Aruwakkalu sanitary landfill in the Puttalam District and Kardiyana waste power plant in the outskirts of Colombo are expected to come on line in 2020.
The director of the National Solid Waste Management Centre, S M Madawalagama, said data on garbage and segregation are being collected.
Mr Madawalagama said that by promoting segregation among local authorities and the CMC, 20 MT of mixed waste could be reduced per day.
The director of Environmental Police, SSP H H Chulasiri, said the police too are campaigning against littering by educating the public.
He denied claims that police are not vigilant, adding that legal action is being taken against people who cause a public nuisance. SSP Chulasiri said that the government too must devise garbage disposal plans.
But, residents claimed that the inaction of the Environmental Police was worsening the problem of waste piles.
A spokesperson for the Kolonnawa Urban Council said that the government should look for a alternative ways of garbage disposal.