A heart-felt dance, march and walk
View(s):

A blast of music and as the 'infectious and catchy' melody and words of 'By the rivers of Babylon' and many others stream out last Sunday morning, there is a spontaneous crowding of the 'floor' by both men and women.

MediScene is not at a dance class but at a 'Cardiac Rehabilitation' Programme on the first floor of the Centre for Diabetes, Endocrinology and Cardio Metabolism (CDEM) down Norris Canal Road in Colombo 10.

There is laughter and banter, as the group marches and dances, thoroughly enjoying themselves on this lazy Sunday morning, with the health staff keeping a close eye on them. Earlier, we had seen people, one at a time, walking briskly along a line while being timed by the staff.

This is our introduction to a Cardiac Rehabilitation Programme, though essential but rare in the country. It has been initiated at CDEM in the private sector and the National Hospital in Colombo and the Kurunegala, Kandy, Kegalle and Avissawella Hospitals in the state sector.

Quoting the World Health Organization (WHO), it is Consultant Cardiologist Dr. Sampath Withanawasam who reiterates that 'health' is a state of complete physical, mental and social well-being and not merely the absence of disease or infirmity.

However, when a person falls victim to heart (coronary) disease or is struck down by a heart attack (myocardial infarction or MI), not only that person's life but also that of his/her family changes forever.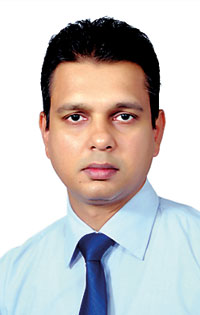 There are tears and fears and Dr. Withanawasam throws light on the common psychological reactions to a heart attack — low mood, tearfulness, sleep disturbances, irritability, anxiety, acute awareness of minor somatic sensations or pain, poor concentration and memory and phobias and depression.
"This is the 'forgotten side' that we don't address in Sri Lanka," he says, focusing on Cardiac Rehabilitation which in other countries begins days before the patient who has suffered a heart attack is discharged from hospital.
The Cardiac Rehabilitation Programme is: "The coordinated sum of activities required to influence favourably the underlying cause of cardiovascular disease, as well as to provide the best physical, mental and social conditions so that the individuals may, by their own efforts, preserve or resume optimal functioning in their community and through improved health behaviour, slow or reverse progression of disease," he says.
He reiterates that Cardiac Rehabilitation is a multidisciplinary and multifaceted intervention that aims to restore wellbeing and retard disease progression in a patient with heart disease.
This multidisciplinary and multifaceted intervention or simply put 'team effort' is what we see at CDEM, during the Cardiac Rehabilitation Programme introduced with the support of Senior Consultant Cardiologist Dr. Vajira Senaratne and being carried out by Dr. Withanawasam along with Dr. Manori Jayawardena as well as other health staff.
The team under whose care the rehabilitation takes place includes cardiologists, physicians, medical officers, nurses, a physiotherapist, a psychosocial therapist, an occupational therapist, a pharmacist and also family members
Cardiac Rehabilitation, points out Dr. Withanawasam, improves the quality of life, functional capacity, early return to work and self-management.
Those who need Cardiac Rehabilitation include patients who have had a primary diagnosis within the previous year of one or more of these conditions:
Angina — chest pain, discomfort, pressure or even a feeling of the chest being squeezed. This occurs when the heart muscle does not get adequate oxygen-rich blood. There could also be discomfort in the shoulders, arms, neck, jaw or back. Even though angina is not a disease, it is a red signal that the heart is not getting enough blood flow and oxygen and could lead to a life-threatening heart attack or stroke.
Acute coronary syndrome — an 'umbrella' term for situations where the blood supplied to the heart muscle is suddenly blocked.
Coronary artery bypass grafting (CABG, bypasses or heart bypass) – this is a surgical procedure to restore the normal flow of blood in an obstructed coronary artery.
Percutaneous coronary intervention (PCI, earlier known as angioplasty with stent) – this a non-surgical procedure in which a catheter is used to insert a stent to open up the heart's blood vessels narrowed by a build-up of plaque.
Heart-valve surgical repair or replacement
Heart or heart/lung transplantation
Chronic stable heart failure
It is not just one aspect but the whole picture that Cardiac Rehabilitation covers, MediScene learns. It involves the assessment of personal risk factors, education and support to make healthy lifestyle changes including weight control, heart-healthy eating and quitting smoking, starting and maintaining a personalized exercise plan and also monitoring and better control of diabetes, blood pressure, cholesterol as well as a psychological assessment and counselling.
Pointing out that it is not just PCI, CABG and/or drugs that improve health, the quality of life and productivity, Dr. Withanawasam adds that there is a lot more to consider……and he speaks with evidence in hand, for research in other countries has shown that Cardiac Rehabilitation reduces all-cause mortality (death) by 11-26%; cardiac mortality by 26- 36%; and unplanned hospital admissions by 28-56%.
This clearly points the way – if Cardiac Rehabilitation cuts death rates and hospitalization that is the path to tread.