Keeping things simple
By Purnima Pilapitiya
A venture by three school friends into men's apparel, the 3.5.3 clothing brand takes a new look at the humble t-shirt
View(s):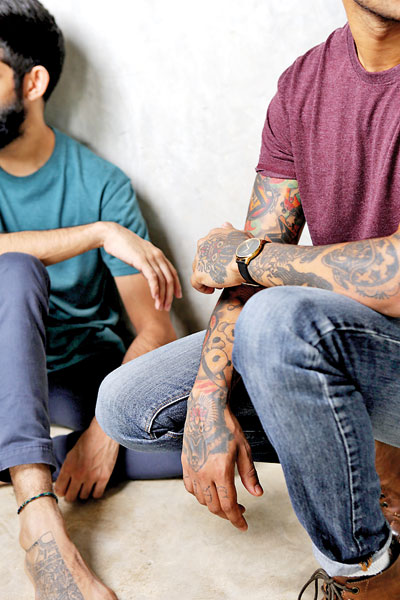 "The formula for success has always been 'Simple'. So, why embrace 'Complexity' " reads the 'About' section of 3.5.3's Facebook page. One of the newest clothing brands around, 3.5.3's philosophy is simple, like its focus- the t shirt. A venture by three school friends turned business partners, they introduced their dreams of becoming entrepreneurs to "what we knew best"- men's clothing, explains, partner Anish Thadani.
Based on their own experiences with shopping and the often overlooked t shirt, the enterprising trio knew they found their niche while browsing stores for their own apparel needs. "Every store we went to had no plain t shirts," they explain. The concept behind a 3.5.3 t shirt was what they themselves as young 20 something's would want to wear. "We wanted to keep it simple but formal." Since their very recent launch the positive feedback has been the reaction to the solid coloured, plain t shirts which at the moment come in colours of white, blue, grey, burgundy, green and black (a limited edition)- with a new set of colours coming in with every new collection,
Their understated t shirt stays true to the laid back, minimalist approach the brand takes. But take a closer look and the detail to fabric, texture and fit is what makes a 3.5.3 t shirt ideal for day to night- casual or formal, but always unassumingly classy. Their secret they divulge goes back to the fabric and design. We are told they wanted it to be the perfect t shirtand so they went through four different blends before coming up with the perfect blend. Their ideal material is durable, wearable and ideal for the Sri Lankan climate. With their local market in mind, the fit was designed to be relaxed and catered toward the average Sri Lankan body type.
With just a week into business 3.5.3 has been off to a good start. The three man team hope to expand into women's wear and their current menswear line in the future, while sticking to their concept of simple over complex which is reflected in the reasonably priced t-shirt which goes at Rs.1300 for 1, Rs. 1100 for 6 and Rs. 1200 for 3.
For more information visit their Facebook page 353clothing, or 353clothing.com
Their office and pick up point is located at
15/2C, 10th lane,Kollupitiya,
Colombo 03.