Good Friends Good Times!
By Ramith Dheerasekera
View(s):
They had not seen Vincent that entire week and when they had last seen each other a week ago, to teach Vincent how to write, he had not been able to concentrate on anything.
"What's wrong?" questioned Marshall.
"Nothing!" replied Vincent.
Although he had said nothing,
in a few minutes he had started speaking,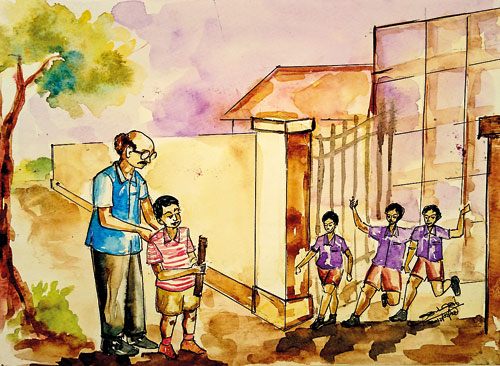 "My Grandfather, who lives in the circus, is seriously ill, seems like he won't recover."
Vincent's grandfather performed at a wandering circus. He was a very jovial fellow. There was nothing that he didn't know. He knew how to juggle, how to play cricket with the elephants and most of all he was a very kind man.
"I need to find a way to see Grandpa," said Vincent.
"How can we?" questioned Praveen.
"I really don't know what to do. My mother is really sad as well. I heard her crying the whole night," replied Vincent.
Last night Vincent had read the telegram that his old grandpa had sent. Through this he had found the old man's address and the following morning he had set off on a journey to meet his beloved grandpa. He had written a letter to his mother and with the little money that he had collected from doing odd jobs, he had set off.
Now you must be wondering how Shane, Marshall and Praveen had helped Vincent. Well, they had given Vincent some money and also what they had in their tiffin boxes. Their mothers had sent them some food the day before and they had given a good portion to Vincent to take with him on the journey.
Things had been pretty quiet from that day onwards. Marshall, Shane and Praveen had been rather silent at school. They had gone to Vincent's caravan every day for the past three days, but his mother had the same reply, "He's not here yet!"
They had not been able to concentrate on anything else while at school. Their minds weren't at ease. They were all very worried.
They finally had to talk about the matter and they decided to get the address of Vincent's grandpa from Vincent's mother and go there to see them.
This was when their English teacher had overheard their conversation.
Their English teacher was a kind old gentleman in his mid-sixties. He had been a teacher for more than three decades and he had helped shape the lives of a good number of children.
Children of all ages loved and respected the old man. Past pupils would still recall the interesting ways that he had taught them.
He had been listening to the boys' conversation intently and with a smile on his pleasant old face, he had joined their conversation.
"Now, young men, I happened to overhear a few things you said. Let me advise you a little on this matter. I don't think you have to go to meet Vincent. Going to visit him would get you into a lot of trouble!" he continued.
"If something dreadful had happened, Vincent would have sent a telegram to his mother by now. What you should be doing is helping some other old people with the money that you have collected."
"Do that and pray for Vincent's grandfather. Believe me the blessing of your good deeds will take care of the old man," ended their English teacher. Shane, Marshall and Praveen had been listening intently. They promised their English teacher to act according to what he had said.
So with the money that they had, they bought some food for some old gentlemen at an elders home close by. They also bought some clothes for them and went there with some of the other boys from their class. They had sung a few songs with the old gentlemen. The old gentlemen had smiled the whole time and enjoyed their visit.
The boys waited patiently for a couple more days but nothing had been heard of Vincent or his grandpa. Finally they decided to talk to their English teacher and borrow some money from him to visit Vincent. With this thought in their minds they walked towards the school gate.
All three of them had soon seen a familiar face that made them stop moving. It wasn't just one familiar face it was two.
Vincent had come back. He had not come back alone. He had come back with his grandfather.Vincent had a rolled up poster with him. He showed it to them and it was then that the excitement began. Vincent's grandfather's circus had set up in a field close to their school and his old grandpa had recovered enough to perform at the circus.
Dear friends, kindness can make a bad day good, and a good day, better…!