A vision for the Blind to become one with society
View(s):

Discussions are currently underway with the Higher Education Commission on a Policy Manual for Vocational Training (VT) for the Differently Abled & the Disadvantaged Communities of Society, disclosed Ratmalana School for the Blind Principal Desmond Perera.
In an interview with the Education Times, Mr Perera said he discussed matters pertaining to these aspects also in terms of minimising the VT on traditional items and, at the same time, create a market for items of traditional skills.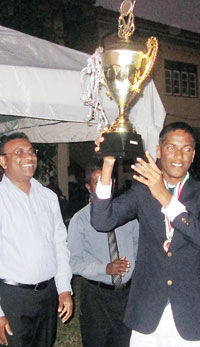 "We have provided these children with weaving machines and the required materials but, how will they sell these items walking around the streets, with the prevalent congestion, chaos and danger, where even the sighted find it difficult to cope. We also need to create a honest mechanism to sell such items at a reasonable price where, currently, these items are bought at low prices and then sold at very high prices. We need to implement a mechanism to stop such activities," he stressed.
"I joined the School for the Blind as its Principal one-and-a-half-years ago and, ever since then, my main focus is to give these children an English Education, as the medium of instruction in our school is Sinhala, similar to any other government school," stated Mr Perera.
"With an English Education, we enhance their employability, especially, in the front line of work such as Telephone Operators and so forth. We also need to improve their soft skills at the same time, as these children totally depend on us for their personal individual needs, from eating habits onwards. Whereas, we learn these things simply by imitating our parents or, what we see," he said.
"Hence, it is very important we provide the correct training so that, these children are moulded into more acceptable individuals within society. Thirdly, we need to give them a basic knowledge in IT, as it is compulsory in today's computerised world. We have programmes to teach these children on how to operate a computer," he further noted.
He said, traditionally, blind people were trained in rattan and handloom weaving. "I am not saying it is wrong but, that alone will not be adequate to find employment for all and now, with the power-loom further minimising the demand for related employment, we need to diversify job avenues", he added.
"Most of our children are quite studious when taught in Sinhala. When they secure Degrees, they are only able to become Teachers. However, with English and IT skills their employability increases. Now John Keells is assisting us through their Corporate Social Responsibility Project(CSR) by providing 2 programmes. One is for very young children in Language and Vocabulary Training, and the other is a 3-day camp in English Language and Soft Skills for our Ordinary Level students," he elaborated.
"However, my next hurdle is to give our teachers a training programme in English, as the key to the children's education lies there, and the secret behind Vocabulary is through continuous practice. As such, I have requested John Keells for a programme for our Teachers, which is quite challenging, as the grownups tend to hold a different pattern of thinking, and are somewhat reluctant to change," he said.
"It would be most helpful, if some volunteers can help these children with the Vocabulary Training by speaking with them and reading books to them. These children are very good in singing & now I am desperately seeking a Part-Time Western Dancing Teacher where by the culture will be eventually developed where it is needed, the aim being to polish & prepare them for today's society. This is exactly what the missionaries did way back when Mary Chapman opened the school a hundred years ago the children were given a complete English Education and were moulded into complete individuals. The school is proud to be the creators of the first blind lawyer in Sri-Lanka; Mr Wimal Wickramsinghe who possess knowledge in braille music which is now dying away but which I want to keep alive and I am bringing him to teach these children", he further enlightened.
"I am trying my hardest to give them the best I can and help them come up in life so that, their impairment is not an handicap towards acceptability by the society at large. I hope I will somehow succeed in my mission, with God's blessings and goodwill," he concluded with eyes gleaming with determination and hope. - Nilanthi Wickramasinghe