When Motorola pulled out due to political instability
View(s):
In the field of Economics, there is hardly any need to give an introduction to Prof. Premachandra Athukorala, who served as a Professor in Economics at the Australian National University (ANU) in Canberra. I am also proud to be a student at one time to learn economics from him.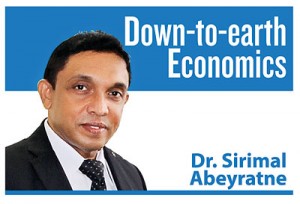 I was astonished by the 'Story of Motorola' – the international brand name in electronic industry, as Prof. Athukorala explained to me during the time I stayed with him at ANU.
In fact, he used to refer to this story and many other similar cases in most of his research writings and conference speeches on the Sri Lankan economy. I knew him as an economist who used to search at the roots of information rather than relying merely on statistics.
Story of Motorola
According to him, Motorola Corporation visited Sri Lanka in 1980 to invest and expand its electronic industry in Sri Lanka with initial job opportunities for over 2,600 people.
The team even visited the Engineering Faculties of Peradeniya and Moratuwa Universities, accompanied by Prof. Mohan Munasinghe, then Senior Energy Advisor to the government and the Chairman of the Presidential Commission on Computer Policy.
After searching at the universities, it was understood that these tiny faculties had no capacity to produce a large number of electronic and computer engineers that Motorola wanted to recruit. With this finding, however, the company was willing to invest in expanding the engineering faculties of the universities as well.
Motorola leaves
At the end, in spite of all the preparations done, Motorola left Sri Lanka. It in fact decided to shift that investment to Penang region in Malaysia where it continues to play a major role even to-date in production and its export expansion in this area of electronic and computer industry.
According to Prof. Munasinghe, even other multinational corporations that had come to Sri Lanka such as Harris and Sinclair also left the country.
At a time that "open economies" were not common in Asia, liberalisation policy reforms in 1977 had brought Sri Lanka to a unique position in the region. The reforms had made Sri Lanka a "new investment centre" of the Asian region.
The importance of the arrival of an internationally reputed business company like Motorola was not at all in respect of its own investment in Sri Lanka. Rather it would have triggered many more investors to follow and overflow the Sri Lankan economy. However, the inverse is also true; when such a company left, it also triggered many more to follow suit and backslide.
Political instability
As recorded in a book authored by Prof. Athukorala and Dr. Sarath Rajapatirana, the Vice President of Motorola W.D. Douglas had stated that the number one priority in their list of concerns for investment was the "political stability" in the host country. When we says, "political stability" it is not just the absence of civil wars.
As we understand the Motorola story ended even before the eruption of the separatist war in 1983. Although the country looked peaceful by that time, there were evidence to suggest that it was politically unstable: there were many protests and tensions in the country; widespread public sector strikes had brought life to a tragic standstill; there was less unity even within the government as some were looking forward to the opportunity to pull each other's legs; sporadic violent incidences and even killings were reported intermittently throughout the country.
These incidences and situations were more than enough for an investor who wished to see the long-term political stability to judge the gloomy future of the just opened economy of Sri Lanka. Finally, the gloomy picture was completed with the eruption of twin wars – one in the North in the Tamil community and the other in the South in the Sinhala community.
Malaysia and Sri Lanka
"Malaysia was perceived as a country that would plunge into communal violence; Sri Lanka was perceived as a country that would soon become developed," one of my Malaysian friends once told me in comparing the two countries as they were perceived in the 1950s. What actually happened later in both countries was exactly the opposite.
If you try to find another country in Asia which is similar to Sri Lanka in terms of economic and political spheres, it is Malaysia. Just like Sri Lanka, it had a thriving plantation economy based on rubber and palm plantations introduced by the British. At the time of independence in 1958, the country had been continuing with simmering ethnic conflicts.
Quite similar to the Sri Lankan ethnic composition, there are three main ethnic groups in Malaysia too – Malay – the majority, the Chinese – whose economic status was higher, and the Tamils from India. In Malaysia too the popular slogan "Malaysian Malaysia" and the "Bhumiputra" sentiments reflected a glimpse of the country's ethnic conflict just like in Sri Lanka.
Year of turnaround: 1970
1970 was the year of turnaround for both Malaysia and Sri Lanka to move in two different directions. While Malaysia did not reverse its open economy after independence, the New Economic Policies (NEP) introduced in 1970 laid the foundation for accelerating economic growth and export expansion with foreign capital.
During the 20-year period from 1970-1990, Malaysia was one of the fastest growing economies in the world, though it slowed down thereafter.
Sri Lanka had already moved away from its open economic policies after the mid-1950s, the government made a declaration to march towards a "socialist" country, as reported in the Budget Speech 1970. During the seven year period from 1970-1977, Sri Lanka recorded its worst historical economic performance and people's hardship.
There is a major distinction between Malaysia and Sri Lanka: Malaysia could lessen the possibilities of its potential for widespread communal violence primarily through the rapid economic development process of the country. Having failed to achieve a development process in a sustainable manner, Sri Lanka in a deep and prolonged economic stagnancy nurtured its political conflict.
After 1977
Did Sri Lanka do well in its open economy model? The answer depends on where you are standing on. Apparently, Sri Lanka would have sustained around 8-10 per cent annual average rate of growth, but the country had actually maintained only about 5 per cent. This was still higher than the country's average growth rate for the previous 25 years!
What was lost from our economic growth was the price that we as a nation paid for violence that grew into large scale twin wars in the North and in the South. For the same reason, Sri Lanka's reform process discontinued and, in some cases reversed, affecting economic performance.
Nevertheless, many have been impressed by the fact that unlike most of the other war-stricken countries, Sri Lanka has still maintained its moderate growth performance in the midst of civil wars. This is because, Sri Lanka had already established its open economy before the outbreak of civil wars. If the civil wars had erupted prior to the 1977 policy reforms, the Sri Lankan experience could not have been different from that of other conflict-ridden countries.
Vicious cycle, repeated again
Even after all the wars ended and peace returned in 2009, the Sri Lankan economy has been still struggling to become a high-performing economy. It is because investors are not in a hurry to make their long-term investment decisions. Almost all countries in the region are competing today than ever before; Sri Lanka has to show its competitiveness.
In spite of all that, as it was reported last week, there were negative repercussions of the communal violence in many areas of the economy; investors held back on their decision-making and reverted to their "wait and see" attitude. Tourists cancelled their visits and journeys to Sri Lanka in general and, to Kandy in particular.
Markets slowed down with a decline in financial investments.
The long-term repercussions of the communal violence are much bigger: Nobody could even imagine that how many Motorola-like companies changed their mind after hearing about the communal violence here. Anyone who perceives the sporadic incidences of communal violence as signs of bigger things in the future would think again before deciding.
Prosperity of a nation does not come out of the blues; it is a choice of the nation and a progressive process made possible by the nation.
(The writer is Professor of Economics at Colombo University).