Hot air, as usual, to douse fires of communal violence
By Chandani Kirinde- Lobby Correspondent
View(s):
As the fires of communal violence burned across several areas in the Kandy District, Lawmakers attempted to put up a united front in Parliament this week.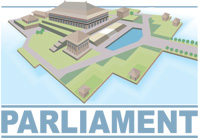 Speaker Karu Jayasuriya led the call for unity and called upon religious leaders to raise their voices against racism, and condemn those bent on dividing the country on communal lines.
The scheduled business of Parliament for Tuesday was put on hold for an adjournment Motion to discuss the incidents of violence targeting members of the Muslim community.
Chief Government Whip and JVP leader Anura Kumar Dissanayake moved the adjournment Motion to discuss the incidents in Kandy. "These incidents have shattered the unity among members of the different communities in the country, We have, as a country, failed to stop the rise of communal disharmony, but who has triumphed today, they are those who seek to sow the seeds of disunity in our country," he said.
He also said these incidents cannot be taken in isolation, as there is a political agenda behind such incidents. "We have seen those in power use communal politics to consolidate their positions, while it is also used by those out of power, to capitalise on such incidents to seize power," he said.
Leader of the Opposition Rajavarothiam Sampanthan who seconded the Motion, said the occurrence of such incidents are clearly unacceptable and are indicative of a sense of impunity. "People seem to have the confidence that they can engage in such acts and think the arm of the law would not reach them, and that, the rule of law would not be enforced against them," he said.
The Opposition Leader also pointed out the State must ensure that the system of governance in this country is altered in such a way as to ensure that all people of this country feel equal.
"We have brought this situation upon ourselves by not doing what we needed to do at the right time. If what had to be done was done at the right time, this country would not have come to this situation. This country would have been a very advanced, developed country like Singapore or Thailand. Other countries are moving forward. We are moving backwards. This situation must change, and one of the primary changes that we need is that, there must be a change in the structure of governance" he said.
Prime Minister Ranil Wickremesinghe strongly condemned the incidents in Kandy and said he would not allow racism to succeed. "There has been a systematic buildup of incitement against members of the Muslim community, using social media to propagate such ideas. There has been an exchange of many extremists' ideas through these sites. While this is a Sinhala Buddhist country, we are bound to safeguard all other communities living in the land and safeguard their right to live in peace and freedom," he said.
The JO Parliamentary Group Leader MP Dinesh Gunawardena too condemned the incidents and said the incidents were a black mark on the whole country. "We have to safeguard all people, irrespective of which community they belong to. It's the duty of the government to do so, without trying to point fingers at others," he said.
Leader of the House Minister Lakshman Kiriella said he regrets the incidents as there has been a lapse on the part of the intelligence agencies, and a proper investigation must be held regarding these lapses. . "There are many cheering this turn of events. They may escape prosecution in this life, but will have to pay for it to a higher authority one day," he said.
Minister of Provincial Councils and Local Government Faiszer Musthapha said that everyone needs to work towards a Sri Lankan identity. "If you incite racial hatred, it is a non bailable offence. No government has had the guts to enforce this regulation to which we are bound under the International Covenant on Civil and Political Rights (ICCP). This country has suffered continuously because politicians use private incidents for their political gain. Religious hatred is the easiest political tool for politicians to use to achieve their political objectives. Our government could have acted more swiftly in this instance," he said.
During the adjournment debate, several Muslims MPs also engaged in a protest in the Well of the House, seeking adequate security for those affected by the violence in Kandy. These included MPs Rishard Bathuideen, H.M. Hariz, Ameer Ali, Faizal Casim, Mujibur Rahuman, M. Thowfeeq, Imran Mahroof, Ishak Rahman, M.N. Mansoor, A.L. Nazeer and M. Navavi .
However. after assurances from the Prime Minister that investigations are being conducted to ascertain the lapses on the part of the Police, that led to an escalation of the situation, they returned to their seats.