A case for legalising abortion in Sri Lanka
View(s):

I am writing this article in view of the recent hue and cry by various religious organisations against legalising abortions in Sri Lanka. I have read the global literature on the subject and consulted some international authorities to gain more knowledge. I am distilling my thoughts for the information of the public. Some of these international authorities have been working with the Irish Family Planning Association and the Citizen's Bureau on the issue of Liberalizing Abortion in Ireland.
I have also drawn my findings from some of the presentations given to the Citizen's Bureau and to the parliamentarians requesting them to change the Irish law related to abortion.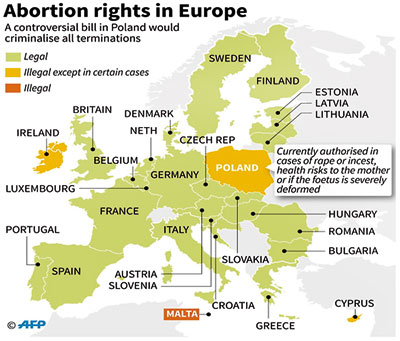 After a debate in the Irish Parliament, it was agreed to have a referendum in early 2018 to repeal and redraft Act 8 which will allow abortions under certain conditions and up to certain gestation including social reasons. It is time for Sri Lanka to consider this question to abolish illegal abortion — a major cause of maternal mortality and significant number of admissions to our gynaecology wards with the attendant morbidity.
In considering this issue the key questions that need to be answered are:
n What is the healthcare rationale for providing legal abortion services?
n What are the human rights standards that must inform any future abortion law in Sri Lanka?
n What policies must be in place to ensure good reproductive healthcare in Sri Lanka?
Answers to these can be drawn from the declaration of FIGO (International Federations of Gynaecology and Obstetrics) Committee on Ethical Aspects of Human Reproduction. Some of the key points of the declaration are:
Abortion for medical indications (risk to health and life) is considered as part of good reproductive healthcare in almost all countries.
Abortion for non-medical reasons : FIGO considers that, providing the process of properly informed consent has been carried out, a woman's right to autonomy, combined with the need to prevent unsafe abortion, justifies the provision of safe abortion
Most people, including physicians, prefer to avoid termination of pregnancy and it is with regret that they may judge it to be the best course, given a woman's circumstances.
The committee recommended that after appropriate counselling, a woman has the right to have access to medical or surgical induced abortion, and that the health care service has an obligation to provide such services as safely as possible.
Why do International bodies such as the FIGO and the WHO favour greater access to safe abortion services?
Unsafe abortions cause suffering and deaths
Criminalisation of abortion only increases mortality, without decreasing the incidence of induced abortions
Decriminalisation dramatically reduces mortality
Decriminalisation does not increase abortion rate
Unsafe abortions are a well-known cause for suffering and deaths globally and in our own country. The Health burden of unsafe abortion is due to complications of:
Haemorrhage
Sepsis
Peritonitis
Trauma to the cervix, vagina, uterus and abdominal organs
Secondary infertility
Global estimates show that the annual number of women admitted in hospitals for unsafe induced abortion complications were 5,047,540. This amounts to loss of 2,138,000 productive years of life (DALYS).
Decriminalisation can dramatically reduce mortality:
In South Africa before the legislative reform in 1994 there were 425 deaths each year due to unsafe abortion in public hospitals. In 1996, the choice on termination of Pregnancy Act was introduced. The legislative reform (1998-2001) resulted in only 36 abortion-related deaths a year – a significant reduction i.e. 91% decrease in deaths from unsafe abortion.
After legalisation in France and Italy in 1975, the abortion rates have come down by 20 to 10%. This is mainly due to the possibility of offering intra and post-abortion contraception thus preventing another pregnancy leading to subsequent abortion.
The public health imperative
"….Abortions and the high maternal and child mortality rates constitute a serious public health problem in many countries." – World Health Assembly Resolution 20.41, 23 May 1967.
Unsafe abortions threaten the lives of a large number of women, representing a grave public health problem."
Actions should be taken by Governments, in collaboration with NGOs, employers, workers organisations with the support of international institutions to reduce/ abolish illegal abortions in line with the United Nations Beijing Platform of Action, September 1995 i.e. "Recognise and deal with the health impact of unsafe abortion as a major public health concern…"
Human rights and reproductive rights should be upheld although it is a long march:
The Universal Declaration of Human Rights (1948): "The enjoyment of the highest attainable standard of health is one of the fundamental rights of every human being without distinction of race, religion, political belief, economic or social condition".
The WHO Constitution (1948): "Health is a state of complete physical, mental and social well-being and not merely the absence of disease or infirmity".
The UN International Conference on Human Rights (Tehran, 1968) developed "reproductive rights" as subset of human rights.
Report of the UN Special Rapporteur on the right to health to UN General Assembly 2011
"Criminal laws penalising and restricting induced abortion are the paradigmatic examples of impermissible barriers to the realisation of women's right to health and must be eliminated. These laws infringe women's dignity and autonomy by severely restricting decision-making by women in respect of their sexual and reproductive health."
Right to safe abortion in the context of human rights should be considered under the following headings:
Right to life
Right to health
Rights to equality and non-discrimination
Rights to be free from cruel, inhumane and degrading treat ment
Rights to liberty, security of person and privacy
Rights to information and education
UN Committee on Economic, Social and Cultural Rights – general comments on sexual and reproductive health 2016
Preventing unintended pregnancies and unsafe abortions requires States to liberalise restrictive abortion laws, guarantee access to safe abortion services and quality post-abortion care… and respect women's right to make autonomous decisions about their sexual and reproductive health.
Elimination of discrimination requires States to repeal or reform laws and policies that impair people's ability to realise their right to sexual and reproductive health…for example criminalsation of abortion or restrictive abortion laws.
States should aim to ensure universal access … to a full range of quality sexual and reproductive health care, including … safe abortion care.
UN Working Group on Discrimination Against Women 2016
To end discrimination against women, States should:
"Recognise women's right to be free from unwanted pregnancies and ensure access to affordable and effective family planning measures. Noting that many countries where women have the right to abortion on request supported by affordable and effective family planning measures have the lowest abortion rates in the world, States should allow women to terminate a pregnancy on request during the first trimester or later in the specific cases listed above."
What is required for a better understanding of safe abortion provision?
To make clear that it is not promoting abortion and there will not b e less abortion if women are punished
Recognise that the foetus exists and has moral value
To establish clear limits of gestational age
Establish the conditions when abortion is permitted
Promote interventions with proven capacity to reduce abortions
Planning and managing safe abortion care
Constellation of services
Evidence-based standards and guidelines
Types of abortion services, where and by whom they can be provided
Methods of abortion
Certification and licensing of healthcare professionals and facilities
Referral mechanisms
Respect for informed & voluntary decision-making, autonomy, confidentiality & privacy, with attention to adolescents & women with special needs
Informed and voluntary decision-making
Third-party authorisation
Protection of persons with special needs
Confidentiality and privacy
Special provisions for women who have suffered incest or rape
Conscientious objection by health-care providers
Creating an enabling environment
An enabling regulatory and policy environment is needed to ensure that every woman who is legally eligible has ready access to good-quality abortion services.
Additional barriers to access that should be removed:
Lack of access to information
Restricting the type of health-care providers and facilities that can lawfully provide services
Mandatory waiting periods
Restrictive interpretation of laws on abortion
The above map of Europe indicates that except Poland and Ireland, abortion has been legally allowed in Europe. Now Ireland is going to have a public referendum this year to legally allow abortions up to certain gestation on request and different gestations based on the condition for which abortion is requested.
Abortion Laws can be brought in, in a controlled manner as was done in the UK; i.e. gestational limits, indications, who can do it, where it should be done, who should certify, collection and auditing of data etc.
Good reproductive health should be viewed as a public health concern which, apart from the provision of safe and high quality abortion care, must include having Sex and Relationships Education (SRE) in the national school curriculum and access to family planning and contraception services.
Let us join Europe and rest of the world to provide the sexual and reproductive health and rights for women, which they richly deserve.
How does this article help this country to solve our abortion issues?
Births, abortions and deaths have been part and parcel of what is happening in the human race since its existence. Deaths, we can't prevent. During the last century with the advancement of medical knowledge, deaths from child birth have been brought down to one digit figures per 100,000 births, in the developed countries. Sri Lanka is still lagging behind with 32 per 100,000 births and we are unable to come down to figures like Singapore due to unsafe illegal abortions. Abortions take third place in the list of maternal mortality in the country. Why is this so?
In Sri Lanka abortions have been criminalised by the British in 1883 by an archaic and antiquated Ceylon Penal Code which still exists. Whereas, all the developed countries have legalised abortions and made them safe for over 50 years, and thus brought down the deaths to almost zero in many of those countries. This, I consider, is a very great achievement for the reproductive health and welfare of women. No country in the world will ever be able to make births 100 percent safe. There will always be maternal deaths. It is unfortunate that opinion leaders in this country have not realised what Obstetricians in other countries have achieved.
We have around 320 members in our specialty in this country. Throughout the world we obstetricians and gynaecologists are the sole custodians of the reproductive health and welfare of women and we are duty bound to look after them, with tender loving care. We agree that abortion is an evil, the taking away of a life, but millions of people are killed in this world for which there is no solution. I would like to ask a question. Which is more evil, the death of a 30-year-old young mother with two or three children dying after complications of an unsafe abortion or the termination of an unwanted pregnancy, illegally and unsafely? It is obvious to anybody that the first is a much greater tragedy and evil than the second. Therefore, the developed countries have discarded anti-abortion laws and legalised abortion by choosing the lesser of the two evils.
On the other hand I would like to pose another question to the readers. What will you do if your only unmarried 16-year-old daughter becomes pregnant? I have had in my private practice many parents coming to me with this problem. Am I to ask them to send the child to an institution where unwed mothers are looked after for nine months and the child is given up for adoption after delivery and the mother returns home or will I tell them to opt for a safe abortion in a country like Singapore where abortion is legal, thereby, safeguarding the parents and the child, who can get back to school within one week as if nothing has happened.
What do you think will be the future of the child who went to an institution for nine months and then returns to the school after that? It is obvious that the child will be ridiculed by the classmates and teachers. She may be pushed to take her own life due to depression.
I am the oldest living obstetrician in the country and have seen a large number of women dying in our wards from severe bleeding and infection following unsafe illegal abortions, performed by quacks at a high cost, when these can be performed legally and safely at no cost in our hospitals. We have more than a thousand births a day and probably a large number of unsafe abortions, based on various surveys carried out in the country. Around 10 percent of these involve unmarried young women.
All these years no one made a hue and cry about these unsafe abortions, till the issue of legalising abortions came up recently. Obviously, the religious authorities never thought anything wrong with the killings of the foetuses and the deaths of mothers following abortions. Why is it that there is such a hue and cry when the government wants to bring legislation to legalse abortions and make them safe in our country and bring down the deaths due to abortion to zero, like in the UK??
If we don't legalise abortions, illegal abortionists would be most happy to carry out their trade without any hindrance from the Church or the State. Religious leaders are unknowingly supporting the abortionists to carry out their trade and fleece the poor women of their hard earned money and killing some of these women and causing permanent disability to their future reproductive health, for which we as gynecologists are much responsible in this country.
I would like to end this article with two quotes – "No law that has ever been passed and no law that ever will ever be passed can prevent a determined woman from trying to end an unwanted pregnancy. Society and hospitals must accept their role in keeping women safe in that process."- John J Sciarra, Emeritus Professor of Obstetrics and Gynaecology, past president of FIGO (2013).
"If one does not support legal abortion, indirectly one supports illegal abortion to thrive." S Arulkumaran (2017) – Emeritus Professor of Obstetrics and Gynaecology and Past President of the RCOG, BMA and FIGO.
I hope I have convinced the readers enough "WHY ABORTIONS SHOULD BE LEGALISED".
(The writer is Past Patron and Past President of the Sri Lanka College of Obstetricians & Gynecologists and Past President, Sri Lanka Medical Association. He can be contacted on wilfred.perera@yahoo.com)