Touching lives, the Chitra Lane way
By Yomal Senerath-Yapa
View(s):
The Chitra Lane School for the Special Child was founded in 1967 by Delysia Gunewardene. The institution grew and its mission helped an overlooked section of children immensely over the next 50 years. So it was fitting that the school would choose to celebrate half a century of altruistic service with The Chitra Lane Way: A Definitive Approach to Empowering Children with Special Needs in Sri Lanka.
A practical guide, the book charts the progressive approach of an organisation that learnt, "through trial and error, laughter and tears," its own way of reaching out to children with special needs; empowering them with necessary skills to maximise their potential.
In sharing years of experience and methodology, this collective work seeks to provide useful insights to the importance of early detection and early intervention of disabilities; understanding children with Autism, Down's Syndrome, Cerebral Palsy and other special needs; managing attention deficit and challenging behaviours; developing specific educational and life skills including speech and language, number, creative arts, self-help skills, vocational skills and much more.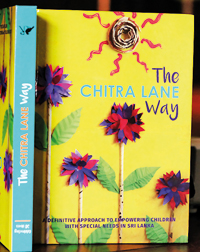 The book is a compilation of articles by different writers. Among them Nishalie Fernandopulle, consultant psychologist at the Chitra Lane Children's Resource Centre, who hopes that "by sharing what we have learned with others, we will be able to empower many more children with special needs from across Sri Lanka."
The uniqueness of the book is summed up by Nishalie when she adds 'sometimes what we learn from books from abroad may not work for Sri Lanka. In this book we have given what has worked for us, the Chitra Lane School, over the years.'
Delysia Gunewardene reiterates that "the book is important to us because there are far more children in Sri Lanka who may benefit from our methods than we can reach via our organization alone."
The school has made great strides so far in benefiting the lives of special needs children. Delysia quotes especially the success of their unique programme to overcome Attention Deficit Hyperactive Disorder. Yet ,"every day we learn, as new methods arise, and the children teach us to expand the boundaries of what is possible."
Delysia inscribes the book to "the special children who helped us find their way."  "To all who passed through our doors and continue to do so, this book is dedicated to you."
An R. Parker publication, The Chitra Lane Way is available at the Chitra Lane Children's Resource Centre, 45/3 Chitra Lane, Colombo 5.