Priya returns with an exhibition in her inimitable style
View(s):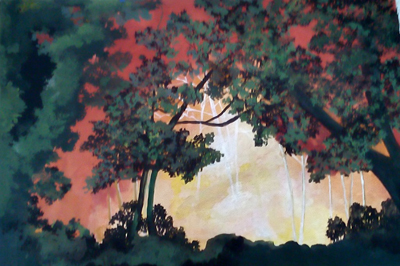 'Escape 02', an exhibition of paintings and drawings by Priya Goonetilleke will be held over the weekend of March 10 and 11 from 10 a.m. to 8 p.m. at the Lionel Wendt Art Gallery in Colombo 7. Priya has been showcasing her work since 1972 with annual exhibitions of the Ceylon Society of Arts, at the Xll Biennal de Sao Paulo and at Kala Pola.
Educated at Visakha Vidyalaya and very much a self-taught artist, Priya says her greatest inspiration was her father the art critic, journalist and diplomat, the late L.P. Goonetilleke.
Frequent visitors to the Goonetilleke home at Dehiwela included artists such as LTP Manjusri, George Keyt, Justin Deraniyagala and ACGS Amarasekera. "I'm fortunate to have been exposed to the work of these great artists at a very early age," she says.
This exhibition features around 100 pieces of work, both large and small, done in the past year, with poster colours and gel pens on Ferigoni art paper and Canford cartridge paper.
The exhibition showcases a varied genre of paintings and portrays her dexterity, simplicity and spontaneity. In her inimitable style she paints with her inner feelings, portraying a depth in images of tree-scapes and land-scapes in a host of vibrant colours and line drawings in emphatic patterns and movement.