Mannar's splendour: To explore and protect
View(s):

When presented with a wealth of material, one may wonder why this review begins with a reference to photographs but it is hard not to get carried away by the beauty of the images in this new coffeetable book on Mannar. If you wanted to know why many consider Mannar unique here is the photographic evidence, stunning aerial shots and fascinating close-ups of a truly breathtaking part of the country, albeit one less explored than other attractions and perhaps thankfully so.

The publication of this book may however, bring more of Mannar's attractions to light yet the clear thread that underpins the chapters is that in doing so, we need to tread carefully for Mannar's unique biodiversity and natural heritage must be protected.

Former diplomat Sarala Fernando has edited the book and it follows the pattern of her previous books– 'Gardens of Lanka', 'Sri Pada', 'A Heritage of Water' where she used her knowledge and interest in the subject not only to contribute but to bring together a collection of writers, experts in their field. This time too, she has gathered an impressive list of contributors to write on the area's history, culture and biodiversity. Her editorial consultants are a formidable trio – Rohan Pethiyagoda, Sriyanie Miththapala and Malik Fernando, and add to that the contributions from the likes of Roland Silva, Ashley de Vos, Anouk Ilangakoon, Gehan de Silva Wijeyeratne, among others and you are guaranteed a comprehensive volume. The photographers merit special mention – Luxshmanan Nadaraja (a long-time collaborator with Ms. Fernando), Gehan De Silva Wijeyeratne, Ajith Ratnayaka provide most images with others by Studio Times, Devaka Seneviratne, Sampath de A. Goonatilake, Himesh Dilruwan Jayasinghe, Nishan Perera and Niroshan Mirando.

Eminent architect and archaeologist Roland Silva sets the book on a solid platform, with his opening chapter 'Mantai as a maritime hub'. Looking at what he terms a 'blessed geographical setting', he describes the unique place the port of Mantota occupied as a trading point in ancient and medieval navigation and the much documented historical foreign contacts that existed.

Writing from a contemporary perspective, Architect Ashley de Vos in 'The architecture of Mannar town' not only describes its historic ruins but also development challenges and conservation strategies. He sounds a note of warning that large scale development would totally destroy the quality and quaintness of the town – a case in point the proposal to widen the main access road to Talaimannar that would impact the last of the more interesting period architecture that is left.

In 'Mysteries of the Malwathu Oya' Somasiri Devendra presents  a compelling chapter on the origins of this oldest river mentioned from the time of Vijaya presenting historical evidence and writings from Knox onwards.

Intriguing information crops up in each chapter. Sriyanie Miththapala writing with her usual flair brings scientific detail to the layman in a most readable manner. The 'Bizarre Baobab' a native of Africa is also known as the 'upside down tree', she writes, because its sparse foliage and meagre crown gives it the appearance of bearing roots instead of branches. The legend in this country, she records, is that the baobab was not satisfied with its looks- it wanted pretty flowers like the flamboyant, fruits like the banyan and in exasperation, the gods uprooted it and planted it upside down to teach it a lesson! T. Jayasingam also touches on Baobabs in his chapter on Mannar's vegetation and coastal habitat.

Dr. Miththapala also briefly explores the geography of the Gulf of Mannar looking at Adam's Bridge and the coastline-the historic Kudremalai where a customs official of Emperor Claudius landed and Tammana Nuwara or Tambapanni where Prince Vijaya first set foot on this island.

Whilst aspects of Mannar like the Baobab and its abundance of birdlife may be familiar having been featured in newspapers with some regularity, there are the little gems like the brief account on 'The Chay root' by Jennifer Moragoda which enlightens us on this plant native to Mannar which produced a red dye that was highly prized by the artisans of old. In fact the plant appeared as the heraldic emblem on the Dutch coat of arms of Mannar, the author reveals.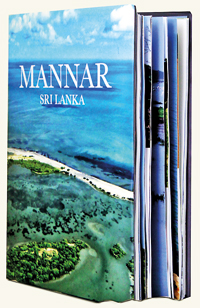 Conservation biologists Gajaba Ellepola and Samitha Harischandra draw attention in their chapter not just to the formation of the Adam's Bridge islands and the sand dunes but to the coral reefs and the underwater world around the Gulf of Mannar, highlighting the severe threats facing these important habitats. Anouk Ilangakoon writing of marine mammals in the seas around Mannar throws light on the elusive and endangered dugong that may not be as familiar as the much publicised whales and dolpins.
'Dragonflies in Mannar'- with images by Gehan de S. Wijeyeratne will have the reader turning the pages back and forth for interest is kindled to explore the world of the Scarlet Basker, the Marsh Dancer and the Pink Skimmer but a lack of text disappoints. A brief note informs only that the full text is in an Archaeological Department publication of 2013! However Gehan's chapter on Birdwatching in Mannar is packed with information: what birds can be seen and where to see them, a useful guide. Stressing that Mannar is an internationally important migration hot spot he cautions that Mannar's wild spaces may disappear and internationally important wetlands habitats be lost if development is not integrated into a biodiversity conservation framework.
A comprehensive chapter on Mannar's famed pearl fishery strikes one as a lack in this book, even though there is a focus on pearls from a more personal perspective in Ramla Wahab-Salman's chapter on the family collection of Mannar pearls. Doric House, the Governor's mansion built on the cliff to supervise the hugely profitable industry which today is sadly, a crumbling ruin, also surfaces only in pictures.
The National Trust must be commended for its continued efforts to produce books that contribute to our knowledge and appreciation  of our heritage.
In a book replete with stunning photography, the last image is particularly well chosen – a capture of the life of the people of this peninsula: A man in an obviously improvised contraption – a cart of sorts being drawn by a bullock across a shallow waterway. It is a reminder of a vanishing lifestyle and what will forever be lost if development comes ill-conceived to this important part of our country.
-Renuka Sadanandan
Book facts
Mannar Sri LankaPublished by the National Trust of Sri Lanka

Edited by Sarala Fernando

Sponsored by Palmyrah House

Price: Rs. 4,800