Delightful reading and food for thought stories
View(s):

Not all reach the top. But "Impressions" is written by one of Sri Lanka's greatest entrepreneurs who started an enterprise and reached the top in his profession during his lifetime and made his product a household name. These were observations made by  D. C. R. A. Goonetilleke, Emeritus Professor of English, University of Kelaniya to a distinguished  audience at  the  launch of the book  in a grand setting at the Union Ballroom, Colombo Hilton Residences last Tuesday. He said the author's vast experience  is reflected  in his short stories which stimulate thought and benefit employees and consumers  while making it good reading.

Prime Minister Ranil Wickremesinghe commented on the author's achievements as an entrepreneur the benefits of which he said should be drawn while Professor G. L. Peiris who commented on the contribution Wickramasingha has made to public life said he was  a little too advanced for the times
we live in.

Mineka Wickramasingha ( Micky, ) is an adherent of the Yoga and Philosophy of Aurobindo Ghose and the Mother of  Pondicherry, South India whose spiritual discipline is evident in his writing. "Impressions" is the author's third book which is a compilation of discourses and articles on spiritual, political, personal and national topics interspersed with sports and short stories. It is compared by a reviewer to a vibrant human personality with stories ranging from down- to- earth to mystic. The major part of the book is devoted to political development and other topical issues pertaining to Sri Lanka where the force of his conviction and patriotism when treating the issues are apparent. His literary style sparkles in his short stories while his reminiscences of a few of those who are departed display his dignified humanism. Particularly interesting is his own story, the venture of this indefatigable entrepreneur which will serve as an inspiration to many home-grown companies.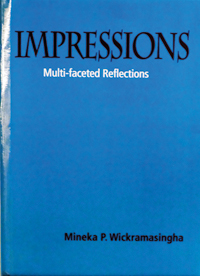 Versatility being the forte of the author, he, upon handing over the business to his family, has turned once again to writing. In 1995 his collection of short stories, 'The Playmate' won him the State Literary Award in the Short Stories (English) Category. His novel 'E-Danda' (2010) based on the 1987-1989 insurgency, was an insight into the blatant disparity between the rich and the poor and the impact of historical, sociological and political forces on a small rural community.
Wickramasingha who does not fit into the traditional mould of a businessman nor a literati however provides the thinking of what goes to make a successful entrepreneur and a writer concerned with the thoughts and aspirations of ordinary people. Having started life as a tea-taster in an old British firm, he soon abandoned tea- tasting and tried to break into selling tea in the local market. Abandoning that as well, he proceeded to Bombay where he underwent training in two biscuit factories which inducted him to mechanized manufacture. Thereafter, in London, he studied Food Technology for two and a half years with short stints at two of the then famed biscuit factories which included Peak Freans.
Back in Sri Lanka, he started his own company Ceylon Biscuits Ltd. (CBL) which he headed for 48 years amidst financial constraints, competition and numerous road blocks. He brought it not only to the forefront of the confectionery industry but made it a conglomerate producing eight brands in ten factories here and a factory in Bangladesh. And he went on to become a leading Sri Lankan exporter to 54 countries. His innovations are illustrative of the fact that without being confined to biscuits, he broke into several other branches of food production such as cereals, chocolates, soya products and venturing into hitherto unheard of avenues such as the manufacture of biscuits using "kotala himbutu," the well- known Ayurvedic herb used by diabetic patients and herbal porridge ("kanda") out of gotukola, karapincha, hathawariya, walpanella and mixed herbs.
Book facts
'Impressions – Multifaceted Reflections' by Deshamanya Mineka Wickramasingha

Reviewed by Rajitha Weerakoon

A Vijitha Yapa publication