Appreciations
View(s):

A leading planter  who went places but never lost his humble touch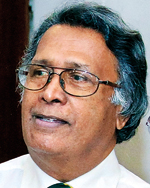 Leslie Dharmaratne
It is one year since the friend and mentor of so many, Leslie Dharmaratne, departed this earth on that fateful day – March 3.
Leslie after an illustrious career at his alma mater – Kingswood College – joined that exclusive agency George Steuart & Company Limited and soon made his mark as a planter.  After a spell in Uva, Leslie moved over to the Dimbula district where he spent the rest of his days as a planter.
Leslie's ability as a planter was recognized by Upali Wijewardena when he was handpicked to be the Superintendent of Derryclare Estate, Kotagala from where he moved as Manager to Drayton Estate, Kotagala.  When he was on Drayton, estates were nationalized and Leslie thus became an employee of  the Janatha Estates Development Board (JEDB).
Soon after nationalization, Mr. Wijewardena was able to succeed in litigation whereby all estates owned by him were re-vested with him. This resulted in Leslie being requested by Mr. Wijewardena to take over some estates on his behalf which action of Leslie's was not viewed favourably by the JEDB who initiated disciplinary action against Leslie. The Government of the day also enacted legislation nullifying the ruling of court that Mr. Wijewardena should be handed back the estates previously owned by him, which left Leslie in a spot.
Mr. Wijewardena immediately stepped in and employed Leslie, providing him with everything and more that he was entitled to and received as a planter, even though Leslie had no specific function to perform. Shortly thereafter when he launched the Island Group of Newspapers he appointed Leslie as its founder Managing Director.  Leslie's pioneering efforts with the Island Group are probably what has made the Group what it is today.
As a "Newspaper Baron", Leslie immediately became a VIP but his simplicity never left him.  One instance stands out in my mind and needs mentioning. The year was 1992 and Leslie was at the height of his power.  I was then in-charge of some estates in Pundaluoya and was driving back there from Colombo when I noticed my Chairman, Stanley Unamboowe and G. C. Wickremesinghe, Chairman of Aitken Spence, on the road with their vehicle having had a flat tyre.  I immediately stopped and while assisting them, a BMW and a white Pajero, which was serving as a back-up vehicle, whizzed past.  The BMW and the Pajero having passed us, and obviously having seen us, stopped, reversed up to where we were and lo and behold who alights from the BMW – none other than dear Leslie.  He had seen me standing on the road and assumed that my vehicle had broken down.  Though Leslie learnt that the problem was nothing other than a flat tyre, he however stayed behind till the tyre was replaced chatting amiably with M/s Unaboowe, Wickremesinghe and myself. I can well recall, Mr. Wickremesinghe requesting Leslie, whom he had not met before, to support, through the Upali Group Newspapers, Aitken Spence's decision to build the Kandalama Hotel which, Leslie immediately agreed to.
After his tenure at the Upali Group ceased, Leslie ventured into the field of education and was the founder of the British School in Colombo.  Leslie's generosity and kindness was however taken as a weakness by some and this resulted in him being compelled to divest control of the school subsequently.
Leslie and I were Freemasons and we both derived immense joy in participating in the activities of Freemasonry.  In the late 1980s, the Deputy Grand Master of the Grand Lodge of Ireland was visiting Sri Lanka for a very short stay and Leslie being determined to ensure this distinguished personality visited Leslie's and my mother Lodge, Dimbula, in Talawakelle, arranged for the Deputy Grand Master to be transported to Talawakelle and back by helicopter, all at Leslie's cost.
In 1998, Freemasonry in Sri Lanka was again privileged to welcome the Grand Master and Assistant Grand Master from the Grand Lodge of Ireland.  Leslie was the obvious choice to chair the committee to make arrangements for the visit. In recognition of his contribution to Freemasonry, he was elected an officer of the Grand Lodge of Ireland. Sadly, Leslie's affiliation to Freemasonry in general and his mother lodge Dimbula, ceased in around 2010 due to unfortunate but avoidable circumstances.
Leslie's generosity and his steadfast belief to help those in distress knew no limits.  When a dear mutual friend was suffering from a very serious illness requiring treatment abroad and the family was short of a considerable amount of money, my wife and I took my friend's wife to Leslie's residence.When the problem was explained, he excused himself and returned with a cheque for the total amount required to meet the shortfall!
Leslie was also instrumental in getting employment for over 450 persons as well getting over 50 children enrolled at reputed schools.
He was a popular personality who enjoyed socializing and was a member of many clubs in Colombo – the Capri Club and the Colombo Swimming Club being his favourites.  Leslie served as Secretary of the Capri Club when his dear departed friend and colleague, Lasantha Fernando was President, and what a team they made.
Leslie was also elected as the President of the Association of Ex Planters – Sri Lanka in 2000 and he steered the Association with his inherent efficiency for two years thereafter.  He also had the distinction of being invited to be Chairman – Pro Tem at the 53rd Annual General Meeting of the Ceylon Planters Society in 1989.  In his address the message he conveyed to all planters was "all of you who have chosen planting as a profession will accept that, this is the time for all in our profession to stand up and be counted, to set about a rehabilitation of the industry and its restoration to its past glory."  Words of wisdom indeed!
When the post of Secretary of The Mascots (an Association of Ex Planters of the Maskeliya & Upcot Districts) fell vacant, the unanimous choice was Leslie. He was elected at the Annual General Meeting on February 25. 2017 and was brimming with ideas but sadly, this did not turn out to be a reality as he was cruelly taken away from us just six days later.
Leslie also served as the Basnayake Nilame of the Kotte Raja Maha Viharaya, a post he held with much distinction and acceptance.
No words on Leslie would be complete without mentioning his beloved wife Dhakshini and their two sons, Shanker and Dulan who were all a tower of strength to him through good times and bad.
May his soul rest in eternal peace!
 Devaka Wickramasuriya
---
The Lankan behind the success of Royal Oman Police
F. FELIX DELIP DE SILVA
Many Sri Lankans may not be aware of the significant and outstanding contribution of this illustrious son of Sri Lanka and versatile personality.
Felix Delip De Silva did Sri Lanka proud in the Sultanate of Oman. Appointed Inspector General of Police and later as advisor to the Sultan on Police Affairs he was bestowed the highest awards of the State for his contribution to the Royal Oman Police. He guided the destinies of the Royal Oman Police for over two and a half decades and was highly respected by its people.
A multi-faceted personality, indomitable police officer and administrator of the highest calibre, philanthropist, sportsman and above all a human being with rare qualities, it is not easy to cover all the salient aspects of his personality and outstanding achievements.
His education at St. Aloysius College Galle under the Jesuit priests had a great impact on him. Discipline and devotion to duty which were synonymous with the Jesuits became his guiding principle and in no small measure contributed to his remarkable success. Felix was proud of his alma mater and loved his school dearly. Leaving school he took to planting. Adventurous and daring by nature, the life of a planter did not appeal to him much. In search of a more exciting and challenging career he joined the Tanganyika Police Force and soon excelled in his duties. He was awarded accelerated promotions. In the '60s he joined the Royal Oman Police that was in its fledging state.
In the early '70s he assumed duties as Inspector General of Police and Customs. At this time Oman was witnessing an unpredicted growth and he systematically planned for the expansion and simultaneous modernization of the Police Force. Apart from the traditional and conventional police duties, Customs, Emigration and Immigration, Motor Vehicle Registration and administration, Coastal security, Desert Surveillance all came under his purview of the Police.
As the Inspector General he wielded powers and was answerable only to Sultan Qabbos who had implicit faith in Felix. Felix organised the various branches of the force providing for specialisation in their respective fields of activity setting up a Marine and Mounted Division as well as an Air Wing to effectively serve the needs of a fast growing modern society. When he relinquished his duties in early 1983, the Royal Oman Police was recognised as an efficient, sophisticated, highly equipped force with the most up to date techniques/systems and procedures and an abundance of expertise. It was the best in the Gulf States.
One significant and commendable feature of the force was the close affinity with the people. He zealously attempted to identify the Police Force as "Friend of the People".
For his significant and remarkable contribution to the Royal Oman Police and National Security he was bestowed prestigious awards by  Sultan Qaboos Bin Said and conferred distinguished citizenship.
On his retirement, he was appointed advisor to the Sultan on Police Affairs and required to undertake some sensitive diplomatic assignments.
Serving the Royal Oman Police in the late '70s I was fortunate enough to closely observe his imitable style of management and his code of high professional rectitude. He epitomized the model officer and perfect gentleman, in his work he displayed a rare dynamism and exemplary zeal and set a very high standard. While many expatriates including Sri Lankans were recruited to provide the necessary expertise during the formative period of the Police Force he continuously impressed upon them the need to blend with the indigenous culture, to be receptive to the religious susceptibilities and continuously reiterated the sacred obligation to train the Omani staff to take over duties performed by expatriates.
Felix De Silva passed away in the U.S.A. on October 23, 2001 and his ashes were interred in Dadella cemetery in Galle. He was 74. Sri Lanka lost a great man, Oman a friend who loved the Sultanate and its people. He was a rare personality who epitomized one who would walk with equal harmony with beggars and kings.
Sqn Ldr Rex Fernando
---
Tribute to an exemplary life and illustrious career
 M.J. Tissainayagam
I consider it a great honour and privilege to have been afforded the opportunity of paying a tribute to my one-time colleague and friend the late M.J. Tissainayagam, and to commemorate his exemplary life and illustrious career.
Mr. Tissainayagam lived a healthy, fruitful and blissful life of very nearly 97 years which in itself is ample testimony to the sober, principled and disciplined life he led. The secret of his longevity lies in the fact that he did not over indulge in the temptations of life.
He was born on  July 12, 1920, into an aristocratic Tamil family from Jaffna. His father was the late G.S. Tissainayagam who was one of the earliest Ceylonese to hold the post of District Engineer in the Public Works Department (the forerunner to the Highways Department). Thanks to the spread of missionary education under British rule Mr. Tissainayagam was able to obtain a wholesome and liberal education from three of the best known educational institutions; namely Trinity College Kandy, St. John's College Jaffna and S. Thomas' College Mount Lavinia. His educational pursuits earned him two degrees from the London University; a  B.A. in Arts and B.Sc. in Economics which at that time was a rare feat indeed.
After graduation he chose a career in journalism and served with distinction as Columnist and Sub-editor in the Times of Ceylon in the late 1940s. His writing caught the eye of Editor of the Times, Frank Moraes, who sent him to England for further training in 1947. He worked on the Manchester Guardian among other newspapers in England. He returned to Ceylon in 1950, and entered what was his most productive period as a journalist. He wrote the column "Not that it Matters" for the Times of Ceylon. He moved from the Times Group to its rival, Lake House, as Leader-writer, Columnist and Sub-editor of the Observer and Daily News. There he wrote a column known as "Men and Matters" under the pen name "Thissayan".
In October 1953 Mr. Tissainayagam entered the Government Civil Service by joining the Government Information Department as an Assistant Director. He was promoted as Deputy Director in 1968 and reached the top as the Director, Government  Information  Department (D.G.I as it's known today) in 1977. He retired in 1978 after serving in the Department for 25 years. He also functioned as the Director Government Film Unit (GFU) between 1972 and 1974.
I first met 'Tiss' (as he was fondly called) 55 years ago in 1962 when the Departments of Information and Broadcasting were amalgamated and brought under one roof and under one Director General.  At that time radio broadcasting was a state monopoly and I held the post of Director of Broadcasting, National Service and 'Tiss' was Assistant Director, Government Information Department.  During his tenure of office in the Government Information Department he was called upon to function as the Chief Co-ordinator and Press Liaison Officer during Queen  Elizabeth II's visit to Ceylon in 1954, the Asian Prime Ministers' Conference in 1955 and the Non-Aligned Heads of State Summit in 1976. Whilst holding the post of Assistant / Deputy Director of the Government Information Department,  Mr. Tissainayagam was also appointed as the Competent Authority on Press Censorship at various times of national crisis – prominent amongst them being the assassination of former Prime Minister S.W.R.D. Bandaranaike in 1959, the aftermath of the failed military coup d'etat of 1962 and the first JVP insurrection in 1971.
He also headed the first Ceylon Government Press Delegation to the People's Republic of China in 1958. During his tenure in the Department he was the Editor of 'Ceylon Today' the monthly journal of the Government Information Department from 1954 to 1972 in addition to being Editor of numerous other publications as well
Even though Mr. Tissainayagam retired from the government service in 1978 he was too good a public treasure to be allowed to wither away into oblivion. Thus in 1979, Prime Minister  Ranasinghe Premadasa recalled him  to the Administrative Service by offering him the post of Assistant Secretary in the Prime Minister's Office – which he accepted. For 'Tiss' this marked the beginning of another long innings of 15 years. Once again I had the privilege of working with 'Tiss' when I assumed duties as the Secretary to the Prime Minister in 1983.
For four decades, from 1953 to 1994, Mr. Tissainayagam was an institution in communicating information in readable, lucid prose.
His allegiance and service to the Government were good as those to God. He always acted as the guardian deity of his family; especially his wife Ratnaleela and children Jeyaprakash and Romesh who treasured him and now sadly miss him.
May his soul rest in peace.
K.H.J. Wijayadasa
---
 Remembering her generous ways and dynamic personality
Lady Chrysobel Rajapakse
Yesterday, was 10 years since the death of Lady Chrysobel Rajapakse, who passed away peacefully at the age of 93, in the care of her children.
She is remembered for the social service she rendered through the All Ceylon Women's Buddhist Congress established in 1949, where she served as its first Secretary, and later as the third President between 1957 and 1960.  She held many posts thereafter, and was a Trustee at the time of her demise.
She was a tireless worker and organised mammoth fund raising carnivals in the large garden of the ACWBC.  The Flag Days were also novel methods of bringing in much needed support from the public.  Lady Rajapakse, for many years chaired the Dambuwa Children's Home, presided over the Parappaduwa Nuns' Island activities and aided in the setting up of the Hospice (her brilliant idea) at the headquarters, for Elders needing special care.
Her persuasive charm ensured that all these projects were successful.  Many of her friends joined enthusiastically in her endeavours.  Some of them were the Founder Mrs. B.S. Jayawardene, Lady Evadne de Silva, Miss Cissy Cooray, Mrs Neil Hewavithane, Mrs C.H. Gunasekera, Mrs Lucille Amarasuriya, Mrs Semitha Tennakoon, Mrs Daisy Seneviratne, Mrs Ratna Dias and  Mrs Leela Basnayake.  They, like her, never spared time or money in their desire to ensure a better life for the marginalized Buddhist women.
Lady Rajapakse gave her personal wealth also to projects outside the scope of the ACWBC.  She made some significant donations to the Balapitiya Hospital, Revata Maha Vidyalaya-Welitara, as well as to a few temples outside Colombo. Through the Trust she created in memory of her late husband Sir Lalita, she aided many organisations such as the Cancer Society, HelpAge and the Law College.
In private, she was a favourite aunt, because of her talent to syncopate on the piano at family parties in a sing-along! She was indeed a vivacious person, always elegantly dressed and stood out in a crowd,  and was loved and respected by all who came to know her.
She regularly played tennis at her club the Women's International, and won many trophies at their tournaments.
Lady Rajapakse was a well-rounded personality having been a caring daughter and sister, a devoted wife, a good mother, affectionate grandmother, a loving relation and friend, a dutiful employer, and a social worker of distinction.
May she always be born to happier circumstances, and attain Nirvana!
Chitra Seneviratne
---
To a friendship that was deep and sincere
Bernard Perera
I find it difficult to believe you are now with your Maker having served your time on earth for all of 96 years.
I am so happy, I unintentionally gate crashed your 96th birthday not long ago, giving me quality time with you and Marie and of course, your entire family, including grandchildren and even great grandchildren. It's an evening I will cherish, as it was the last occasion we met. I am so glad for the chance I had to see you, before temporarily leaving the island.
Bernard, you were a true friend in every sense of the word and I did enjoy the near 47 years of sincerity and fondness showered over me, not too different to that bestowed upon your own children. I feel the same way about Marie and the entire family, with whom I have a sense of belonging.
Of course, we had our times of strife, when we felt the need to berate each other, but it was all in the spirit of friendship and fairplay on both sides, which made the bond we shared even stronger.
I feel your passing and grieve your loss and doubt I will find another friendship as deep or sincere as yours, during what is left of my days on earth.
I have absolutely no doubt, you are looking down at your family with the same love you afforded them and at me too, smiling whilst thinking of what you said to me regularly….. "I love you, you rascal".
Farewell my wonderful friend, "I love you too" and look forward to joining you in life eternal in the presence of the Lord.
May the turf lay lightly over you my dear friend.
Ken Sellayah
---