First-ever study on unnatural deaths of women
By Kumudini Hettiarachchi
UNFPA and Kelaniya Uni will present findings on homicides, suicides and accidents tomorrow
View(s):
Mothers, wives, daughters and sisters – they play a crucial and indispensable role in society.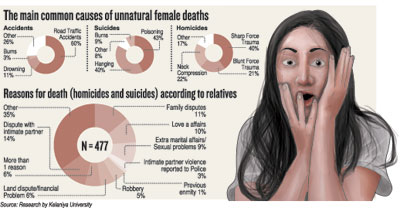 How will we live 'without' them, we often ask, but how do we live 'with' them?
It is to find out the ground reality of their plight, zeroing in on 'unnatural deaths' among them that a team of researchers from the Faculty of Medicine of the University of Kelaniya fanned out across the country to the five provinces of Western, North Central, Southern, Eastern and Sabaragamuwa.
Into remote villages they went, sometimes bumping along not roads but mud-tracks scarred by potholes, to visit those who have lost their loved ones to 'unnatural deaths'. They sat in their humble homes with only the barest of necessities or in their dusty gardens to listen to their agony and give ear to their grievances, while oft holding back their own emotions and tears with difficulty.
Tomorrow, the researchers who have ventured into hitherto uncharted territory will not only make public, the findings of this first-ever major national retrospective study on 'Unnatural deaths of women and girls in five provinces of Sri Lanka' but also launch a policy brief.
The launch being held together with the United Nations Population Fund (earlier known as UNFPA or UN Fund for Population Activities) in Sri Lanka at the BMICH will be followed by a panel discussion.
The researchers have also pored over newspapers to find out how such unnatural deaths are reported in the print media.
The policy briefs titled 'Unnatural deaths of women and girls in Sri Lanka – Prevention and Justice' and 'Reportage of unnatural deaths of women and girls in Sri Lankan newspapers' are the outcome of two years of data collection and analysis.
The next obvious question is: What is an 'unnatural' death?
An unnatural death is a death not caused by disease or ageing but by external causes such as injury, trauma or poisoning where the manner/circumstance could be homicidal, suicidal or accidental or at times even undetermined, the Sunday Times learns.
"The unnatural deaths of women and girls are often the subject of speculation by the public and at times condemned by society due to the gender-role she plays. Research on unnatural female deaths in Sri Lanka is hardly found," says Principal Investigator Prof. Anuruddhi Edirisinghe, Professor of Forensic Medicine, Faculty of Medicine, University of Kelaniya, in an exclusive interview with the Sunday Times on Monday.
Before we delve into the research itself, she explains how it came about. It was in December 2015 that UNFPA Sri Lanka commissioned this research on unnatural female deaths.
Soon after, a multidisciplinary research team of the University of Kelaniya put their heads together to come up with a good project proposal. The team which developed the project proposal had experts drawn from the fields of Forensic Medicine, Gender Studies, Public Health, Paediatrics, Criminology and Computer Statistics. While ethical clearance was obtained from the Ethics Review Committee of the Faculty of Medicine, University of Kelaniya, in August 2016, approval from the Justice Ministry, the Judicial Service Commission and the Sri Lanka Police was also obtained soon after.
The agreement on the research project was signed between UNFPA and the Dean of the Medical Faculty, Prof. Nilanthi de Silva. With funding of US$ 20,000 from UNFPA, the research project consisted of three components:
Quantitative Study on Unnatural Female Deaths
Qualitative Study on the Effects of Unnatural Female Deaths based on family interviews
Qualitative Analysis of the Reportage of Unnatural Female Deaths in Sri Lankan newspapers.
The authors and investigators wereProf. Anuruddhi Edirisinghe, Prof. Maithree Wickramasinghe, Prof. Indira Kitulwatte, Prof. A. Pathmeswaran, Prof. Asvini Fernando, Dr. Anusha Edirisinghe, Dr. Udara Senarathne, Dr. Handun Wijewardena, Dr. P. Paranitharan, Dr. Annista Wijenayake, Dr. Nirmala Perera and Dilini Chamali Walisundara.
The research assistants wereSandaru Jayaratne, Suraj Jayaratne, Dr. Pabasara Wijayarathne, Dr. Sajini Herath, Dr. Bhashantha Jayaweera, Samindi Hewagamage, Dr. Hajamugi Thamilvanan, N. Thamilvanan, Dr. Malitha Hewage, Dr. Amalka Pathmaperuma, Dr. Kumara Senanayaka and Dr. Maduka Samaranayaka.
The objectives of the study were: To calculate incidence rates, examine types, injury patterns and factors; to describe the problems associated with the judicial processes and outcomes; and to provide policy inputs and guidelines to address the problems associated with the investigation and judicial processes, all relating to unnatural female deaths.
According to Prof. Anuruddhi Edirisinghe 729 unnatural female deaths — 243 homicides, 252 suicides and 234 accidents — were included in the study from the five provinces, obtaining data on homicides from crime records from police stations, the Inquirer into Sudden Deaths (ISD) and Judicial Medical Officers (JMOs).
Paying tribute to the Inspector General of Police (IGP), Pujitha Jayasundara, provincial Deputy IGs and Senior Superintendents of Police (SSPs) for their unstinting cooperation, she said that the research team together with the relevant police officers met at a central location in each province, perused the crime files and computerized the data then and there.
Prof. Edirisinghe says the data on suicides and accidents were obtained from ISDs and JMOs, while the qualitative part of the study was gathered from family interviews.
The heart-rending interviews were an eye-opener, says Prof. Edirisinghe, while Prof. Indira Kitulwatte and research assistants Suraj Jayaratne and Sandaru Jayaratne nod in agreement. As they collected data and keyed them in, they could identify patterns how the homicides occurred, depending which province it was.
For these doctors and medical students who usually see people in a different setting such as a hospital, the "real world" out there was a revelation.
"We realized that in cases where women came with injuries particularly after a violent incident it was not just about giving them medication. The treatment entailed much more," says Sandaru with Suraj nodding vigorously.
| | |
| --- | --- |
|  Prevention and ensuring justice   | |
| The study recommends that the population structure and statistics on unnatural deaths should be considered when expanding judicial services. These expansions should be monitored and revised regularly."Prevent, improve quality of death investigations and make the court system more efficient in administering justice," are the pleas of the study team.· Prevention – Empower women, promote life-skills through school-based programmes, strengthen support for women in need and improve road safety.· Improve the quality of death investigation systems – The capacity of investigating officials appointed by the Justice Ministry, Police, Forensic Medicine experts and forensic scientists should be built-up. Quality assurance should also be strengthened by establishing guidelines and institutional standard operating procedures for the investigation of unnatural deaths, promoting accreditation of laboratories, setting down deadlines for report submission and establishing annual/regular audits and feedback from the public.· Improving the efficiency of the court system — A modern court system is essential to deal with the increasing number of new casesand clear the backlog. Capacity building should be carried out at all levels: Non-summary, Attorney-General's Department and High Courts to ensure ethical conduct and quality assurance. Law reforms and timely implementation are also needed for the Criminal Procedure Code, the Evidence Ordinance, the Judicature Act and the Witness-Victim Protection Act. | |