'The Peeping Frogs of Nuwara Eliya'
Photographic Guide launched by Naturalist Ishanda Senevirathna
View(s):
A forest or wetland, contrary to public opinion, isn't silent at night – rather, it is filled with sound, from hushed tones to quick cries. In the manmade wetland behind Jetwing St. Andrew's, Nuwara Eliya, a young man stops and listens intently, to the distinct utterances of the elusive creatures he's come to find; the frogs of the highlands.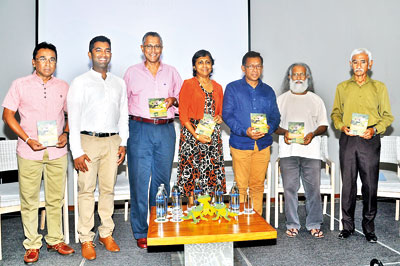 In Sri Lanka, frogs are considered an annoyances. Ishanda Senevirathna, the naturalist at Jetwing St. Andrew's, passionately disputes this – to him, the 119 species of frogs in Sri Lanka are beautiful and to be treasured, particularly as 103 of these species are endemic.
In the wetlands around Jetwing St. Andrew's, Ishanda has recorded six species of frogs over the years; four of which are easily spotted on the daily excursions conducted by him for guests of the hotel.
Wanting to put down all his hard earned knowledge for the benefit of others, Ishanda launched possibly the first ever photographic guide on the subject titled 'The Peeping Frogs of Nuwara Eliya' at Jetwing Colombo Seven last week. The event was attended by nature and wildlife lovers, key members of the hospitality industry, and other guests. A forum discussion was also held with Professor Sarath Kotagama, renowned environmentalist; Kelum Manamendra-Arachchi, amphibian expert, Jagath Gunawardardana, environmental lawyer, Hiran Cooray, Chairman of Jetwing and Shiromal Cooray, Managing Director – Jetwing Travels on the importance of sustainable tourism and ethical wildlife experiences.
To Ishanda, the main purpose of the book is to create awareness – to protect, educate and ensure that frog species are conserved before they are rendered extinct.
Ishanda goes into detail within the book, from diet, reproduction, life cycle, differences between frogs and toads, the threats they face, how we can help to conserve them, etc. The book also includes detailed descriptions and photographs of frogs of the area; to help travellers identify them with ease on future excursions.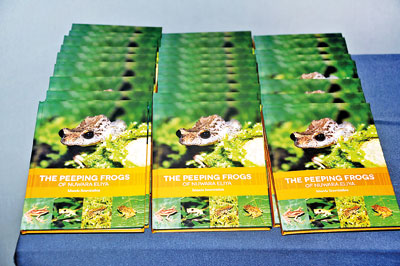 'Ever since I was a child, I've always had a constant curiosity about nature. This curiosity was nurtured and developed from my early school years right through to today. However, it was that initial childhood spark of curiosity and inspiration that has led me to become the naturalist that I am today.My main goal in launching this book is to promote 'frog watching' as a unique tour in Sri Lanka. We have a rich frog diversity, therefore we can definitely promote frog watching as a distinctive nature tour. Promoting such in-house excursions similar to frog watching will minimise wildlife pressure on national parks, and encourage observation and education.
My hope is that it will become a unique ecotourism activity that will benefit the local community which will make them conserve the frog diversity in their area, as we have three critically endangered species for example' said Ishanda, during the event.
Speaking at the event, Hiran Cooray praised the efforts made by Ishanda to explore completely new areas of wildlife experiences. 'Over the years, our naturalists have completely transformed wildlife excursions for our guests'.
'I'd also like to thank Leuke, our General Manager at St. Andrew's and his team for supporting Ishanda in his efforts. With this book, and all the hard work that has gone into creating this, I am positive that we will continue to open up new and exciting experiences for visitors from all over the world'he continued.