The Music Project at Kala Pola
By Oshani Alwis
View(s):
The children's orchestra of The Music Project showcased their skills at the 25th Kala Pola held last Sunday. The well-rehearsed group consisted of students coming from three schools in Kurunegala, Lakdasa  De Mel College, Pothubowa Maha Vidyalaya and Yatiwala Sri Gunananda Vidyalaya.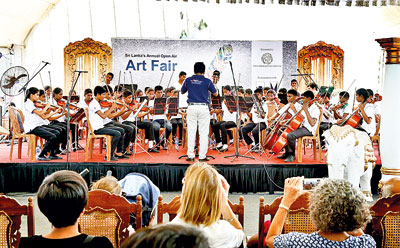 The children playing popular classics and local fusion added colour to the Kala Pola, receiving a lot of attention  from art lovers who flocked to the fair. Shalini Wickramasuriya, a trustee of The Music Project, explained the motive behind the project. It was post war era, in 2011 that the project was initiated with six schools in Kurunegala and Mullaitivu. "It is an attempt to introduce music for social cohesion," Shalini says. To her, music is a link language which connects children coming from different backgrounds.
Music is a happy, joyful and  non-competitive activity that children could engage in freely. The children played musical instruments ranging from violin, cello, viola, flute, clarinet, trumpet, percussion any many more.
Rashmi Senanayake and Dilmini Kaveesha from Lakdasa De Mel College are an enthusiastic duo who play the violin in the orchestra. Both being in Grade 10, they received their first music lessons seven years ago under the guidance of The Music Project.
"It is a good opportunity for us to be a part of the orchestra and we meet students from the schools of Mullaitivu and learned to work with them in cooperation," says Rashmi, smiling.
As she says the whole orchestra gets together on the last Saturday of every month and practice together. Some of the teachers who taught these children the ABCs of music, were proud to see them performing at Kala Pola. "Students are extremely committed and eager to practice and their families support immensely," said the violin teacher Kasun Jayasinghe.