Ginger Cat and Baby Mouse
By Manoshi de Silva
View(s):
A ginger cat was brought home. Timmy the family dog was not worried. He was too old and wise to worry about a cat. All this cat did was sleep. Whenever he woke up he ate. And then he slept again. Nothing changed at home for Timmy. Things were just the same as before.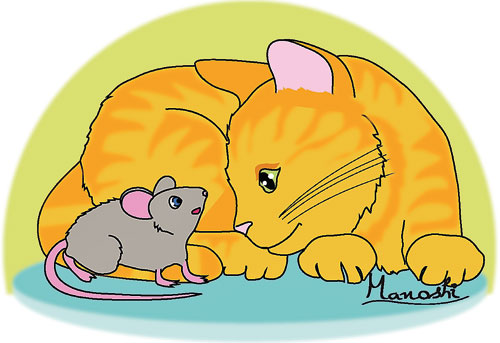 But there was someone who was bothered about the newcomer. And that was Mrs. Mouse who lived in the ceiling. She had nothing to worry for herself. She was a fast runner and a good climber, with good hearing and a good sense of smell. But she was worried about her son. Baby Mouse was still not very fast on his legs.
"I'm worried," said Mrs. Mouse peeping down from the ceiling, speaking to Timmy, who was lying on the kitchen floor. "Well, don't worry," said Timmy, "this is one lazy cat! Haven't you seen how he sleeps the whole day? He only wakes up for his meals!" Ginger was sleeping on the kitchen stool. But because he was lying still, Timmy and Mrs. Mouse didn't notice him. Ginger opened his mouth wide and yawned.
"I can't believe how you two are talking about me!" complained Ginger,
"If I weren't this sleepy, I'd come there and tell you both a thing or two!" And then he yawned again and curled up to sleep again.
"I guess you are right," whispered
Mrs. Mouse. He's too lazy even to scold us!" "See, I told you so," whispered back Timmy, "If I were you, I wouldn't worry at all!"
Just to be on the safe side, Mrs. Mouse decided to advise her baby. "He may seem too lazy even to get-up," she warned, "but you can never be too sure. After all he's a cat!" Baby Mouse looked down at the sleeping cat. He looked like a round cushion of fur. "He looks so soft," thought Baby Mouse, "if he was not so dangerous, I'd jump on top of him from up here!"
One day Timmy was taken out for a bath. Mrs. Mouse was out searching for food. Baby Mouse peeped from the ceiling hoping to see Ginger.
Sure enough, Ginger was sleeping on the stool, as usual.
"His ginger stripes look so fine!" thought Baby Mouse, "and his tail looks so nice with the ginger rings". Baby Mouse wanted to see Ginger's tail more clearly. So he peeped down a little bit more. But he slipped and fell before he could grab anything. He fell on top of
the cat.
It felt like falling on top of a pillow; a very soft one! Baby Mouse was so fascinated by Ginger that he forgot to be scared. He touched Ginger's long tail. Ginger sleepily opened his eyes and looked. "A mouse," he said sleepily, "aren't you afraid of me?" Only when Baby Mouse saw the cat's sharp teeth did he remember his mother's advice. "Are you going to eat me?" he asked.
"What?"scoffed Ginger, "I can't be bothered chewing you. Besides I only eat cooked food. It's easier to bite!" Then he yawned again and kept his head down to sleep again. "I like your ginger stripes. And your fur is so soft," said Baby Mouse, "Do you mind if I cuddle next to you?"
"I don't mind whatever you do as long as you don't wake me," mumbled the half asleep cat.
After awhile, Ginger woke up.
He was surprised to see Baby Mouse
still asleep, clinging onto his ginger fur.
Then he heard some commotion. It was Mrs. Mouse and Timmy.
"I was out being bathed," said Timmy, "I don't know what happened!"
"He's not anywhere to be seen.
I hope that horrible cat didn't catch him!" cried Mrs. Mouse.
"Horrible huh?" muttered Ginger feeling annoyed, "Let me teach you a lesson for scolding me for no reason!"
Ginger curled around Baby Mouse, covering him. Baby Mouse felt very comfortable. So he slept without a sound. Ginger too pretended to be asleep.
"You!" shouted Mrs. Mouse from the ceiling, "what did you do to my baby?"
"Now, let's not accuse him without knowing for sure!" said Timmy.
"I know he has something to do with this!" cried Mrs. Mouse.
"Something to do with what?" asked Ginger without even raising his head.
"Her son is missing!" said Timmy.
"Ah I ate him!" lied Ginger, trying not to laugh, "he was tasty!"
"Oh you horrible beast!" screamed Mrs. Mouse. Her voice woke up Baby Mouse. He peeped out from where he was.
"Mother why are you crying?" he asked in surprise.
"Oh my goodness! He's alive!" squeaked Mrs. Mouse, "what are you doing near that beast? Hurry, come up here!".
"He's no beast!" said Baby Mouse, "he was hugging me and sleeping. He doesn't eat mice!" Baby Mouse climbed up and went near his mother. After making sure that Baby Mouse was ok, Mrs. Mouse started scolding Ginger again.
"Why did you lie and say that you ate him? What kind of horrible joke is that? You should never make jokes like that which make others cry!"
"And you too should not accuse others without knowing the truth!" snapped back Ginger.
"Well, you are both right. What you both did was wrong!" said Timmy. "It's not nice to joke at the expense of others' feelings. And it's not right to accuse others without knowing the truth!" So Mrs. Mouse and Ginger cat apologized to each other and promised not to make those mistakes again.