Mindfulness lessons for politicians
By Alvin Sallay
View(s):
The best thing about us Sri Lankans is that we can laugh at ourselves. And there was plenty of laughter when top Tamil politician and TNA member of parliament M.A. Sumanthiran was holding the floor at the Global Mindfulness Summit which was held for the first time in Sri Lanka and Asia last week.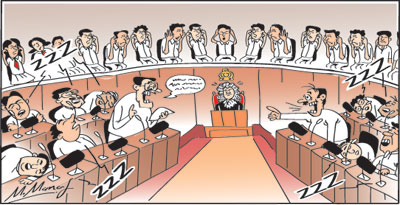 Mr. Sumanthiran was regaling the packed auditorium at the Sri Lanka Foundation Institute in Colombo on how parliament worked while he talked on the subject 'Mindfulness in Parliament' – an oxymoron as he himself admitted, for apparently Mindfulness and Parliament don't go hand-in-hand.
Before we dwell more on our dear members of parliament, let's first clarify what Mindfulness is all about. It is the basic human ability to be fully present, aware of where we are and what we are doing so as not to over-react or be overwhelmed by our surroundings.
Or else, put in another simpler way, it is all about managing emotions, tolerance and understanding, all traits which are found wanting in the well of the parliament according to Mr. Sumanthiran.
The erudite MP using the example of live telecasts of proceedings explained how his peers "played to the gallery" so as to show their constituents that were not "listening" to the opposition.
"When the decision was made to live telecast parliamentary proceedings for the first hour only, everything was intense (with members arguing and shouting) but after that hour passed everyone calmed down and they would step outside to have a cup of tea and pat each other on the back and talk about how well they performed," Mr. Sumanthiran related.
"But now the whole session is telecast live so there is no relaxing. You have to demonstrate that you are not listening. All decisions are reached and made at committee level, out of the limelight. Now there is a call to open committee sittings to the public, if this happens I'm sure MPs will feel compelled to perform to their constituents there too" he remarked.
Earlier, Jamie Bristow, a director of Mindfulness Initiative, a policy institute that works with politicians around the world, revealed that more than 160 members of the UK Parliament had gone through an eight-week Mindfulness course where they were taught among other things, to sit in silence.
What might be good for the House of Lords and House of Commons might not be go down well with our champions who find both sitting and staying silent anathema to their very existence. But Mr. Sumanthiran is a firm believer that Mindfulness would be a useful concept in a forum like the local parliament.
"The realisation of who you are propels you to be mindful of those around you which then brings out the best in you," Mr. Sumanthiran stated.
"Listening to each other is an aspect of Mindfulness which is absolutely crucial for parliamentarians and if it became a "fad" it could have an impact on the future of the country."
The recent cooling-off between the President and the Prime Minister was also used as an example of the value of "listening to each other" by Mr. Sumanthiran, who remarked that two people who didn't seem to talk to each other coming to some sort of a compromise.
"With difficulty they have listened to each other and issues are being resolved," Mr. Sumanthiran pointed out.
"Mindfulness is very important. If the gallery (public) thinks listening is better than conflict, then that will help too. If listening catches on, it will revolutionise the way we talk to each other and decisions can be made quicker. It will change the direction that the country takes," Mr. Sumanthiran predicted.
With all the focus being on our parliamentarians, the chance was lost during the Q & A session to ask Mr. Bristow if British parliamentarians had taken the Mindfulness course before or after Brexit for sometimes it might not run smoothly as in the case of a pilot programme for students at the Sri Jayawardenapura University two years ago. That programme couldn't continue for soon after the students went on strike. They were not very tolerant or caring of others, it seemed.