Appreciations
View(s):

Man of deep learning, absolute honesty, and loyalty to country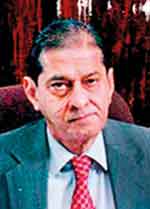 K. N. Choksy
Kairshasp Nariman Choksy, PC, MP (February 7, 1933 – February 5, 2015) the former Minister of Constitutional and State Affairs, former Minister of Finance, and distinguished constitutional lawyer passed on to heavenly courts just two days short of his 82nd birthday.
K. N. Choksy was educated at St. Thomas' Preparatory School, Kollupitiya, shortly after its founding in 1938. He received his secondary education at S. Thomas' College, Mount Lavinia. He had been raised within the intellectually vibrant legal atmosphere of his father's law chambers. So, following in his father's august footsteps, he too attended the Law College in Colombo and, after graduation and apprenticeship, was admitted to the Ceylon Bar as an advocate or attorney-at-law in 1958.
During the early years, he travelled from his parents' home in Kollupitiya to Hulftsdorp . Car, train, and plane took him to courts in Negombo, Kurunegala, Kandy, Trincomalee, and Jaffna, He swiftly established himself as one of Sri Lanka's leading civil attorneys, practising before the District, Appeals, and Supreme Courts.
K. N. Choksy's acute mind, congenial demeanour, and legal prowess led Prime Minister Sirimavo Bandaranaike to place him on the Board of the People's Bank during the 1970s. In recognition of his contributions to the legal profession, he was appointed as President's Counsel (PC) in 1981 by President J. R. Jayewardene. Between 1989 and 1992, as senior counsel, he successfully defended the country's then President Ranasinghe Premadasa against a legal petition to annul the presidential election—that trial lasted 525 days and involved 911 witnesses before five judges of the Sri Lanka Supreme Court. He served as Premadasa's advisor and confidant until the latter's assassination in 1993 with the President calling him early each morning to discuss the day ahead.
By the 1980s, K. N. Choksy had emerged as Sri Lanka's pre-eminent constitutional attorney and constitutional thinker. Offered appointment to the Supreme Court, he declined because he "did not want to be removed from the daily action of Sri Lanka." Instead, he first served as a member of Sri Lanka's delegation to the United Nations General Assembly in New York, which he addressed in December 1984. Then he became a Member of Parliament (MP) in February 1989, when Premadasa took office as Sri Lanka's President, and diligently served his country in that capacity for 21 years until 2010 on the national list of the United National Party (UNP).
During the political period of his life, K. N. Choksy also accepted appointment as Sri Lanka's first Minister of Constitutional and State Affairs under President D. B. Wijetunge and in that capacity served to guide implementation of the nation's constitution from 1992 through 1994. In December 2001, K. N. Choksy was requested by President Chandrika Kumaratunga and Prime Minister Ranil Wickremesinghe to accept the position of Minister of Finance of Sri Lanka because the country needed "an honest fiscal helmsman." He acceded to that appointment and served until April 2004. While in that office, K. N. Choksy functioned as a Governor of the World Bank and of the International Monetary Fund as well. A stalwart of the UNP until the end, K. N. Choksy served the party in multiple capacities, guiding its choices of leaders and candidates for many decades.
As an adult, like his grandfather and father, K. N. Choksy also diligently served the Parsi Zoroastrian community of Ceylon and Sri Lanka.
Passionate about tennis, he played regularly at the Sinhalese Sports Club (SSC). Then he took vigorous walks and exercise around the cricket ground there to keep both body and mind alert. Even during his retirement, his mind remained absolutely alert and always interested in the legal and political matters of Sri Lanka and the world.
K. N. Choksy was survived by his wife Freny, his three sons, two grandsons and three granddaughters.
Their eldest son Jamsheed, a scholar of Zoroastrianism, is Chairman and Professor of the Department of Central Eurasian Studies at Indiana University and a presidentially-appointed member of the United States National Council on the Humanities. Their middle son Khursheed is Vice President for Turkey, Middle East and North Africa Affairs in the International Division of the U.S. Chamber of Commerce in Washington, DC. Their youngest son Vishtasp is a prominent, highly-respected, attorney in Colombo, Sri Lanka, following in the dignified footsteps of his father and grandfather at St. Thomas' College and the Sri Lanka Law College, within the legal profession since 1993, and hopes to go into politics shortly.
K. N. Choksy believed strongly in the virtues of hard work, thorough preparation, deep learning, absolute honesty, and loyalty to country. Those ideals guided his entire life.
He always practised the three precepts of his faith: good thoughts, good words and good deeds. These were his guiding principles throughout his life and in his professional duties and State duties. His faith in God ran as deep as the cosmos.
His beloved wife and lifelong partner, Freny, joined him in his heavenly abode on January 19, this year. Now they walk again hand in hand over the Elysian fields of Avalon.
Sirini Choksy
---
We thank God for having  loaned you to us  in this lifetime
 Deivanayagam Eassuwaren
Deshabandu  Deivanayagam Eassuwaren was a unique personality – worthy friend, successful businessman and a deeply religious person who proved beyond any reasonable doubt that he stood tall  in every sphere.  He was the eldest son of the business icon V .T.V. Deivanayagam  Pillai  whom he emulated in most ways. Humility to the extreme and showing love and concern for his fellow beings came from father to son.
Eassuwaren entertained everyone in his home most times not bothering to venture out to 5 star hotels.  He gave out the message that it is the person and not the ambience that counts. Starting off from humble beginnings like most greats, he worked hard to set up his business empire. Together with his brothers he formed the well-known firm Eswaran Brothers. He travelled out to meet his buyers, made strong lasting friendships with them and having won their confidence, he was able to improve his business vastly.
After the death of his father, the brothers moved out on their own and Eassuwaren went ahead with his two sons, well educated, dedicated and with plenty of vision. He  educated his two daughters too who are now recognized  professionals having excelled in their areas of work.
Eassuwaren due to his immense capacity for making friends had a wide circle of friends. It is due to his ability to integrate that he was elected president of many organizations.  He was blessed with  uncanny  vision that spelt success for him in many areas.
I was blessed to meet him and work along with him from 1983 when the Duty Free Shopping Complex  opened in Colombo. He instantly went about making friends with us all and before we knew what was happening, he had turned my home into a club house where all the directors from the many business firms just ate, drank  and enjoyed themselves thoroughly almost every weekend. As an alternative we used to meet at his home too. It was such a pleasure to be bonded with this remarkable family and see the children grow into adulthood – intelligent high achievers, mostly influenced by their father to remain humble, to integrate  and value friendships  and mostly to give back to the country in  every way.
Eassuwaren unwittingly had embarked on  a socializing project within the Duty Free community  and  succeeded in breaking down barriers thus preventing a cut throat style of business taking place We were trading dollar to dollar under one roof and we could have caused a  situation where some of us would have had to close shop and leave – but this friendship and close bonding  meant we shared and competed within decent acceptable norms and helped one another too and where we all earned the dollars.Both Eassuwaren and I served as Presidents of the association and our terms were very successful due to the fact that there was so much support and sharing with the sole intent of further developing  the duty free trade in Sri Lanka.
Eassuwaren had also had sufficient vision to note that after a prolonged war  certain things have to be done to win the lost confidence and friendship between the two communities He then took it on himself to construct the tallest Buddha statue in the island at Kurunegala. He brought down craftsmen from India and worked on it for a long time and I am glad he was able to complete it and have the joy of being present at the dedication of this statue.   He believed in religious harmony, supported many religious beliefs and he knew that religious harmony is the only means by which we can remain an united Sri Lanka.He proved to be a true son of Sri Lanka regardless of having being born an Indian Tamil.
Eassuwaren has left behind many legacies. There are material monuments by which he could be remembered  and his family – his devoted wife who was always beside him and four children  who will do all they can to emulate their precious father together with the extended family who more than complete this exceptional family. His daughter Lalli who is resident in UK  had organized a pilgrimage to St Anthony  at Padua and he was over the moon when he returned.  St Anthony was so special to him and he made constant devotions to the saint.
To a very special friend Eassuwaren I would like to say  we miss you so much for your sense of humour and the fun we enjoyed  both here and when abroad as the duty free community and for your sincere friendship.  You have run the great race of life which was set before you and have completed the course with honour. As  stated,  for whom much is given much is expected; you have given amply from what you received in abundance and I have no doubt whatsoever that you have now won the crown. We celebrate this victory and, we thank God for having  loaned you to us  in this lifetime.  May your soul forever rest in the peace and glory of God.
Christine Fernando
---