Rebirth of Sri Lankan Tamil Cinema
"Komaali Kings": First Tamil Film made after four decades
View(s):
From February 23, in 50 Cinemas nationwide!
After almost four decades a Sri Lankan feature length Tamil language film, 'Komaali Kings' made with an all Sri Lankan cast and crew will hit the screens nationwide in over fifty cinemas – including those in the North, East and the Hill Country region from February 23.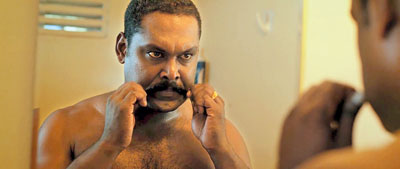 An important milestone in the rebirth of the Sri Lankan Tamil film industry, 'Komaali Kings' is a debut feature direction by young and talented filmmaker King Ratnam. Hailing from a family with a background of art and cinema, King is the grandson of famed stage, radio and film artiste M. S. Ratnam. He is also the brother of Jude Ratnam whose maiden film 'Devils in the Paradise' made it to last year's Cannes Film Festival in France and several other film festivals.
Produced by PictureThis Production, in association with Arokya International, M Entertainment and Wine Creative Networks, 'Komaali Kings' producers include Ganesh Deivanayagam, Deputy Chairman of Eswaran Brothers Pvt Ltd, R. Selvaskandan and Chairman of Ceylon Theatres Pvt Ltd and Dharani Rajasingham, 'Komaali Kings' has been made with the sole intention of being an all-out family entertainer.
Falling to the category of dark comedy, the screenplay was designed with elements of comedy, romance, action, suspense and thriller. Subtitled in Sinhala and English and released in a large number of cities, the film can be enjoyed by all Sri Lankan movie fans of all ages.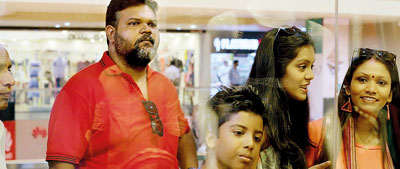 'Komaali Kings' revolves around Siva Sithambram (Raja Ganesan), an average next-door neighbour whose mundane life takes a hilarious turn when a distant relative Pat (King Ratnam) and his family from London decide to stay with him for the duration of their trip to attend a family wedding. Riddled with financial problems, an aging, unmarried daughter and a nagging wife, expectations run sky high in anticipation of the timely arrival of his diasporan guests. But little does he know, that all is not what it seems with the Pat family.
"One of the key highlights of the film is the abundant usage of the diverse set of Tamil dialects and accents spoken across the nation. Absolute importance was given to the portrayal of this diversity throughout the film. It will no doubt be one of the key features of the movie that would transport and delight the Sri Lankan Tamil speaking audience," says director King Ratnam.
A notable musical score with some memorable songs made by young musician Shriraam Sachi give added colour to 'Komaali Kings'.
The technical crew behind 'Komaali Kings' comprises of all Sri Lankan nationalities including Tamil, Sinhalese and Muslims. Mahinda Abeysinghe served as the film's cinematographer, while the role of editor is by Anjelo Jones. Art direction is by Dasun Ravinath Asela and the associate art director Goabi Ramanan, assistant make up by Asanka Colombage and make up is by Vasantha Poornawansha.
The film features an all-star cast including King Ratnam himself in the title role of Pat, as well as Kalabooshan Raja Ganeshan, Dharshen Dharmaraj (Best Actor 'Ini Avan' – Hiru Golden Film Award 2014), Niranjani Shanmugaraja (Best Supporting Actress 'IniAvan' – Hiru Golden Film Award 2014), famed "Pravegaya" villain Gajan Kaneshan and television anchor and presenter Sathyapriya Ratnasamy.
The others in the cast are David, Raja Ganeshan, Kamalasiri Mohan Kumar, Daya Wayaman, Priyantha Sirikumara, Adri Abilash, Enoch Akshay and Anushyanthan. B. H. Abdul Hameed, legendary announcer, broadcaster and star of the hit 1976 Sri LankanTamil film, 'Komaligal', serves as the honourable patron of this landmark movie.
(SRF)