Game of Thrones star Emilia Clarke speaks for the first time about her character Qi'ra in 'Solo: A Star Wars Story'
View(s):

Details of her role as femme fatale Qi'ra in upcoming space saga Solo: A Star Wars Story have been kept tightly under wraps.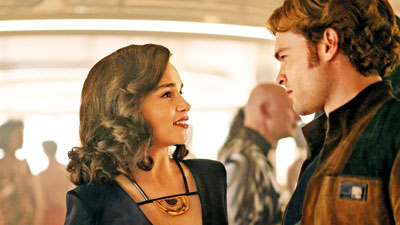 And Game of Thrones star Emilia Clarke has spoken for the first time about the 'strong' character in the Han Solo movie, as well as dishing on Qi'Ra's relationship with the Millennium Falcon pilot.
The 31-year-old actress told Entertainment Weekly: 'Han Solo's movie, this girl gets to be badass. And strong. And has her own journey. Qi'ra's journey is definitely one of survival and strength. The way that I felt about her was yeah this girl has got a core of steel.
Speaking about her 'tough' character's complex relationship with space smuggler Han, Emilia said the pair had grown up together and become partners-in-crime in later years.
She said: 'You see the beginnings of him, this loveable rogue. You get it fine-tuned throughout these relationships, and Qi'ra is one of those relationships that has an impact on him as a character. 'The goal is that the shadow of Qi'ra is there in Han as a character that we know. This girl is another texture that makes up who he is when we first meet him.'
The film, due out on May 25, 2018, sees Alden Ehrenreich transform into the feisty Han Solo.
The interview comes on the heels of the release of the first official trailer for Solo: A Star Wars Story. It show Ehrenreich getting behind the wheel of the Millennium Falcon for the very first time. The 85 second preview gave fans their first look at some of the films characters, including Lando and Qi'Ra. Early on in the preview we see the young Solo showing his piloting skills, with a voiceover telling fans he had been running scams on the street since he was ten years old.
Admitting he was kicked out of the flight academy 'for having a mind of my own', he says his main goal is to be 'the best pilot in the galaxy.'
The handsome rogue was a far cry from the rebellion-leading man who falls in love with Princess Leia in the original trilogy. Later in the trailer, under a snowy landscape, Woody Harrelson's Beckett tells Solo he wants them to team up, and after an accepting cry from Chewie, Solo says: 'He means yes.' In a slew of shots for the film, Donald Glover's Lando is briefly seen, along with a masked character who has been hinted to be the film's villain, and Thandie Newton's mystery character.
Fans have been eagerly awaiting their first look at this film since it was announced in 2015, after being shroded in secrecy due to a messy production.
Original directors Phil Lord and Christopher Miller were fired from the project in June 2017 due to 'creative differences', according to Variety, leading Ron Howard to step in for extensive reshoots. Solo will the second Star Wars anthology film following 2016's Rogue One, and the next film to follow Star Wars: The Last Jedi, which was absent of Harrison Ford's incarnation of the character due to his passing in 'The Force Awakens.'
©DailyMail
The synopsis of the film officially reads: 'Through a series of daring escapades deep within a dark and dangerous criminal underworld, Han Solo meets his mighty future co-pilot Chewbacca and encounters the notorious gambler Lando Calrissian, in a journey that will set the course of one of the saga's most unlikely heroes.'