A generous concept
By Nirmalie Alahakone
How generous would you be if you had to pick the price for a meal? Shanaka Fernando, founder of Australian restaurant chain 'Lentil As Anything' says experience has taught him that people can been very generous
View(s):
It really is a gamble, to run an enterprise with no price list. But it seems to have paid off. At 'Lentil as Anything', a chain of vegetarian restaurants founded by Shanaka Fernando, diners pay what they think the meal is worth. "I've never had any experience with restaurants. I'm passionate about people and bringing people together.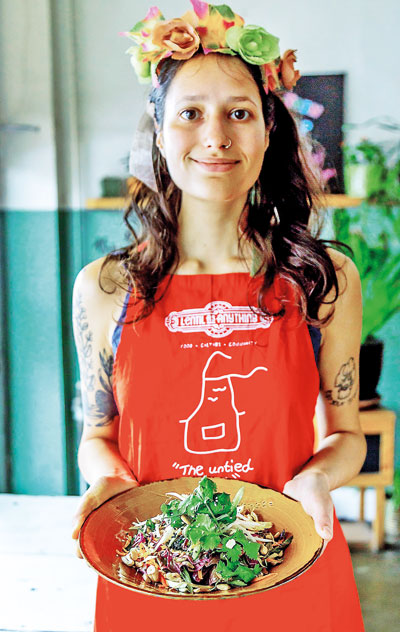 To celebrate their differences and be able to share their uniqueness," Shanaka admits. And a restaurant is the perfect place for people to come together. Each person brings to the table his or her unique persona. He goes on to explain, "Because I grew up in Sri Lanka during the war, I was quite passionate about building trust between people. The war was a result of trust breaking down between communities."
The absence of a price list is not the only novel concept at 'Lentil As Anything.' It's a not-for-profit. Staff include volunteers, the long-term unemployed and the marginalised in society. As stated on their website, the underemployed, the homeless, refugees and the disenfranchised are all given an equal opportunity to gain skills and help their fellow humans at Lentil as Anything. "We are trying to create a ripple in the community, where people take responsibility for their actions."
"I can't cook to save my soul. But I do have an opinion on food. And I value good food. I was a guest on MasterChef Australia, with the Dalai Lama. I value healthy food more than tasty food," he says.
The restaurants were named 'Lentil As Anything' based on a popular band called 'Mental As Anything' in Australia. It's a play on the name. "And also because Lentil is a very strong staple of the vegetarian community. Lentil would announce that we are a vegetarian restaurant, and As Anything evokes that you can come as anything or anyone and participate in the culture of eating and sharing. We are not worried about the money you have. We are concerned about the uniqueness you bring to the table. "It's an attempt to recreate the dansala in Sri Lanka," Shanaka enthuses.
"I love dansalas. I was in Sri Lanka once with my wife and children and they were simply amazed by the almost violent kindness: the flag waiver would stand in the middle of the road and not let you go past without a meal or a drink. Sri Lankans are an incredible group of people. In the World Giving Index we [Sri Lanka] always rank very high. It's a shame that people in charge of policy don't activate that generosity for the good of the country."
There are four 'Lentil As Anything' restaurants and a catering service in Australia. On the cards for the future include one in Northern Italy, and one in England. And Sri Lanka? "Yes!! Definitely. Before the end of 2019."
So does this open environment translate to financial profit? "We do very well financially, touch wood. It's a very powerful model of social development where the community generosity is activated on behalf of the community. People who have goodness in their heart are given the opportunity to express that through the money box." Places with high unemployment statistics prove to be viable places for the restaurants, like in Northern Italy where major companies like Fiat have relocated.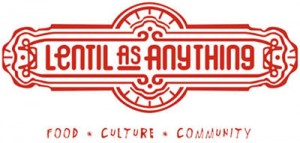 Winner of the Australian of the year – local hero award in 2007, Shanaka is passionate about people. "I really like the model of encouraging people to think for themselves, because society has taken away that capacity to think for themselves. They have entrusted politicians to think for them," he says.
Shanaka grew up in Colombo, Sri Lanka and was a past pupil of Royal College. "I see these people who are entrusted with guiding Sri Lanka to a more equitable and prosperous situation, and from a practical sense I don't see the policies and practices that support this desire."
So what path led Shanaka to where he is today? "After O/Levels and failing miserably, I went to Wycherley International School Colombo for A/Levels. My passion wasn't academia. It was creativity, arts, performances, dancing. And sport," laughs Shanaka who comes from a family with a strong sporting influence.
Shanaka says his upbringing influenced his decision to open his chain of restaurants. "I was quite concerned about the social gaps. I felt that, that community had an unfair access to the fiscal and material wealth of the country. Because I grew up near a slum, I was struck by how the social fabric of Sri Lanka seemed quite imbalanced."
Shanaka took a year off from running the restaurant last year to spend time in Sri Lanka working on a rainforest project; trying to create a rainforest corridor between Sinharaja and Kanneliya. "I was really deeply touched by the village culture of Sri Lanka. The Veddhas, and especially in the rural communities. The calmness, that generosity of spirit. It was this generosity of spirit that led me to start the restaurant in Australia. When I was growing up we had help in our house, and whenever they would take me to their homes in the village that's when I experienced the most generosity. These people knew me very little but they would share everything they had with strangers and newcomers. This is my focus in the restaurants in a business context. And it has worked."
His business model has proved a success financially. "Of course, Yes. We consistently turn over a profit now. And because we are a not-for-profit we can support other social programmes." Shanaka explains they have been able to expand into other areas. "As well as the restaurants we now have our own farms, where we grow our own produce. We fund tree planting weekends. We take asylum seekers to the farmers in a trust building experience. Farmers host the refugees in their homes for the weekend. And in return they plant trees for soil regeneration."
Shanaka doesn't hesitate to express his disappointment with the Sri Lankan education system, which he points out needs to look at nurturing talents of students. "I'm a good example. I failed my O/Levels twice. I put my talent into other things; I wrote plays and songs. I choreographed. My talents found other outlets. I worked as a copywriter. Today the philosophy of our restaurant has been developed by the Department of Education in Australia into a teaching unit and distributed throughout Australian primary schools. There was even a question on me in their equivalent of our O/Levels. So for someone who failed O/Levels twice, Australian students are now learning about me and answering questions on me and our restaurant's philosophy. I think that's an indictment on the local education system. We need to tap into the talents of the children and use that for the benefit of the country."
You can read more about Lentil As Anything on their website http://lentilasanything.com/