Election musings
View(s):

My dear chandadaayakaya,
I thought I must write to you because you had caused a 'revolution' last Saturday by exercising your vote at the 'punchi chandey'. Various people give various interpretations of what you told us and this has become quite confusing, if not exciting- and that is what I wanted to write to you about.

We can all agree that there was one message that was clear: that Mahinda maama's 'pohottuwa' won the election without a shadow of doubt. That they did so just a few months after forming their party means that either they are very good or their alternatives are very bad – and we know which one it is.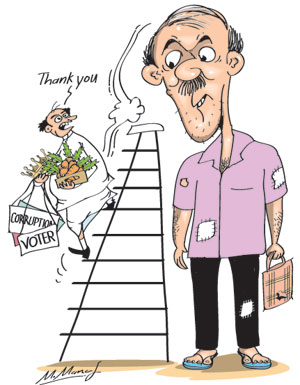 There is also no doubt that the Greens emerged only a distant second in most places. They did hold on to the big cities but their margins had narrowed even there. It tells us that whatever it is that they are doing is not good enough – or that that their message is simply not trickling down to the masses.
It could also be that they now have to pay the price for the billions 'taken' from the big bank under their watch – with interest! If that is the case, they have only themselves to blame because the Green Man didn't crack the whip when the scandal first broke and kept appointing committees instead.
However, you reserved the biggest slap on the face for Maithri and his Blues. Maithri went about the campaign claiming that he will punish the corrupt – not having done so for three years except to unearth the big bank bond issue – and anger the Greens whose votes placed him where he is today.
In the end, the Blues ended up with just over a tenth of the votes. Just a few weeks ago, Maithri was obviously entertaining thoughts of running again for the top job because he was asking the big court whether he could stay on the job for six years. He was told that the contract was only for five years.
What you have told Maithri in no uncertain terms, chandadaayakaya, is that if he runs again all that he will get is about ten per cent of the vote because the Greens will not support him now. If you have convinced him to keep his promise to be a single term captain, you have achieved something!
What amuses me though is the way our chaps analyse the results. Take Mangala, for instance. He says that the 'pohottuwa' didn't really win because they only got a little less than half of the total votes. He argues that therefore, more than half the people who voted, voted against Mahinda maama.
If you apply Mangala's logic, that would mean the Greens who got a little less than a third of the total votes should be very worried because more than two thirds of the people have voted against them! Ah, sometimes you wonder whether it is Mahinda maama who has put Mangala among the Greens!
Then, Anura sahodaraya says they are happy because they got more votes and seats this time though they failed to win a single council. Surely, the rathu sahodarayas must realise that something is seriously wrong when they can't win even when the Greens and Blues are so unpopular.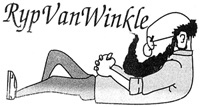 The 'pohottuwa' chaps and even Mahinda maama himself seem to have lost the plot after their win. He wants Parliament dissolved and elections held when the Constitution does not allow it. At this rate our cricket team will demand the world cup because they won a few matches in Bangladesh!
Arguing about losing the so-called 'mandate' is all well and good but if they want people who lost the polls to resign, surely the first person who should go should be Maithri with his measly share of the vote. Still, Mahinda maama and the 'pohottuwa' chaps aren't making that demand, are they?
Instead, they are saying they will support roly-poly Nimal being appointed PM but at the same time they also want the opposition leader's job handed over to the 'pohottuwa' chaps. So, we might be the only country in the world where the leader of the opposition and the PM are from the same party!
Chandadaayakaya, your vote has been an eye-opener. At least now, we hope the Greens and Blues come to their senses and do what they were elected to do. As for Mahinda maama, although he seems to be surrounded by the same people, I hope he doesn't make the same mistakes he did before.
Yours truly,
Punchi Putha
PS: The way Maithri has been acting recently, it seems as if he has been having 'aappa' for dinner every day this week. As a result, if Siripala ends up becoming PM, it will give the Green Man a much needed break to look back and work out what went wrong. What's more, we will have a really 'siraa aanduwa' or a serious government with Sirisena as President and Siripala as Prime Minister!