Crisis changes from day to day, nation awaits its future course
By Our Political Editor
View(s):
Sirisena faces two options — continue the consensus coalition with the UNP with Ranil as PM, or form an SLFP Govt.  with Rajapaksa's backing
Undercurrents of a numbers' game with speculation of crossovers from SLFP to UNP and vice versa
Ranil confident Yahapalana Govt. could continue but agrees to major restructuring of the party; Cabinet reshuffle also likely, Temple Trees dinner for select SLFP ministers tonight
With the gusto of a king in the days of yore, President Maithripala Sirisena declared ahead of the local polls he would not hesitate to wield a sword to fight corruption. Such was the dedication of the Sri Lanka Freedom Party (SLFP) leader to battle a malaise now grown to cancerous proportions.
At least figuratively, this is what he did during the polls campaign. The climax was a public pledge — not to work after the polls with those corrupt politicians in either the Opposition, or the United National Party (UNP), his coalition partner for three long years. The polls have ended with a record 65 percent of the country's 15.7 million registered voters making their choice. This has opened up newer battlefronts for Sirisena. Governing the rest of his term with a new leader and a new Government has become both his new challenge and the biggest obstacle.
His request for Prime Minister Ranil Wickremesinghe to step down and name a successor from the UNP was rejected by the latter. Also rejected was a request to effect a ministerial re-shuffle. And in this pursuit, Sirisena is leaving no stone unturned, not even approaches to the former President Mahinda Rajapaksa. His previous attempts to re-unite came to nought but this did not deter him.
Earlier, he spoke with Speaker Karu Jayasuriya and urged him to take over the Premiership. The Speaker, however, turned it down politely saying he would not do so unless his party supported him. The drama has been playing out for the past seven days. The political direction the country is headed has been changing every few hours, as one tense chapter packed with suspense replaced another.
Ranil's challenge to Sirisena
Premier Wickremesinghe literally threw a challenge to President Sirisena during a news conference on Friday. Under the law and the country's Constitution, he said, there was no reason why he should not continue as Prime Minister. That is in effect a snub to Sirisena who had told him that his SLFP Ministers had asked that Wickremesinghe steps down as they were not willing to work with him. The remarks signalled that the current political stalemate would continue for a few more days. The acrimonious dialogue between Sirisena and Wickremesinghe, during a journey of a week after local polls, has laid bare the myths and truths at the highest levels of governance. The myths have been liberally dished out whilst those responsible have been economic with the truth.
If Sirisena expected more votes for his Sri Lanka Freedom Party (contesting some areas as United People's Freedom Alliance – UPFA) his campaign tirade brought ignominy instead. They polled only 1.4 million or 13.38 percent of the votes winning just ten local authorities (from a total of 340) and just 674 seats. Thus, Sirisena's party, as was widely expected, was placed third in many areas and fourth in a few. One such case where it came fourth was the polls to the Ja-ela Urban Council. The SLPP won seven seats, the UNP 6, JVP 2 and SLFP 1. In the SLFP pocket borough of Attanagalla, it lost all the wards and came third with only 5,000 votes more than the Janatha Vimukthi Peramuna (JVP).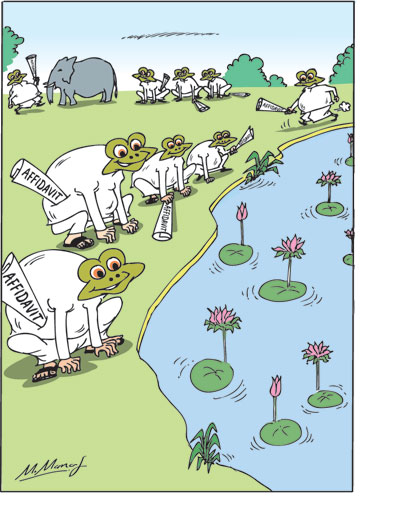 The vote base of Sirisena's faction of the SLFP, contrary to claims, has dwindled denying him a wider support base. This has come as a handicap for the rest of his term as President, lowering his bargaining power and weakening his authority as the party leader. It has also cast serious doubts on his advisors and senior party office-bearers. In fact, one of them from the latter, sought permission from Sirisena to support the UNP only to be rebuffed. That he had angered thousands of paddy farmers was not lost on the President. On Friday night, the same top office bearer offered to deliver a group of SLFPers to the UNP so they may comfortably form a Government should the SLPP join hands with the SLFP.
It was double political tragedy for the United National Party (UNP), which has remained the focus of the Central Bank bond scam despite strong denials. If the UNP had believed that Sirisena's campaign rhetoric was to add to its votes that was not to be. The UNP polled 3.6 million or 32.63 percent of the votes and won only 41 local authorities or 2,385 seats. That too mostly in the Municipal and Urban Council areas of Colombo, Dehiwala-Mt Lavinia, Galle, Kandy, Badulla, Hambantota and Puttalam.
For UNP leader Wickremesinghe, who is likely to be his party's presidential candidate at the polls in 2020, it was a big blow. He has come under pressure from Sirisena, SLFP Ministers and from within his own ranks to resign as Prime Minister and even his party leadership. He has so far resisted such moves and countered accusations. He is insisting that he would continue though some of his own party members dislike the move. Most appear to be reluctant to speak openly about his role or that of the cabal round him who UNP deputy and state ministers and MPs say 'built a wall around the leader.'
The JVP showed a marginal increase in the 699,875 votes gained or 431 seats. As revealed last week, 'protest votes' from electors who opposed other mainstream parties contributed to the increase, but the party failed to win a single local authority. The JVP must remain grateful to its arch political foe, former President J.R. Jayewardene for introducing the proportional representation (PR) system for its seats in the councils.
The JVP's image suffered considerably in the past many months after accusations that the party was a passive backer of the UNP earning for it the sobriquet "Rathu Ali" or Red Elephants. The Ilankai Thamil Arasu Katchi (ITAK) secured 339,675 or 3.07 percent of the votes and bagged 34 local authorities — three times more than Sirisena's SLFP. The ITAK won 407 seats. The Ceylon Workers Congress led by Arumugam Thondaman secured five councils and Minister Rauff Hakeem's Sri Lanka Muslim Congress (SLMC) three.
A larger than estimated number of voters turned up at polling booths, contrary to expectations. They gave the less than a year old Sri Lanka Podujana Peramuna (SLPP) an overwhelming victory in terms of the wards won in the councils though with shaky total number of seats in some councils. It, however, paved the way for the return of Mahinda Rajapaksa, their de facto leader, to more active Sri Lankan politics. The SLPP obtained 4.9 million or 44.65 percent of the votes or came first in a record 239 councils with 3,369 seats. In reality, Rajapaksa and his party have a broader footprint countrywide. That the SLFP and its leader Sirisena have had to turn to a political archenemy for support only hours after polls results were known speaks for itself.
It has to be borne in mind that there are also hung local authorities though technically one party or another is in the majority in them. For example, in the Dehiwala-Mount Lavinia Municipal Council, the UNP won 19 seats, the SLPP 19 and the UPFA 6. In the event the SLFP (UPFA) and the SLPP get together, they outnumber the UNP. In Galle, the UNP won 14 seats as against SLPP's 13 and SLFP (UPFA) 3 seats. Here again, the UPFA and the SLPP together outnumber the UNP strength. In the Uda Dumbara Pradeshiya Sabha where the SLPP now holds seven seats, the UNP has six and the UPFA has one. That would bring about a tie. Such hung local authorities are said to number more than 150 and challenge the majority seats held by different parties in local authorities.
Theories on why the Govt. lost
For most, particularly in the SLFP and the UNP, the Rajapaksa victory was unbelievable. So much so, theories were abound, both in official statements and otherwise, that he had not made any gains or his party achieved victory. It seems politicians treat reality as a plague. They, as well as the others, were also not alive to another sweeping new reality — the rapid growth of mobile phone usage. Smart phones are in use not only in urban areas but also in the rural hinterland. The UNP campaign to expand Wi-Fi usage was a correct decision badly marketed by its campaign handlers. It eventually turned out to be ridiculed on social media itself. Users of these mobile phones have become politically literate about the goings on in power centres. They have been ably assisted by the advent of many apps which the social media exploit to relate a story, sometimes spiced with humour. Claims that complex issues, like for example, the bond scam did not reach the countryside were largely disproved. Of course, an average (like most in urban areas) person did not know the intricacies of bond issues, what a secondary or primary issue meant. The message yet spread of a "banku horakama" or bank robbery.
In marked contrast, the media campaigns of some political parties were patently outdated. Standing out in this regard was the UNP which used the print and electronic media to remind voters of the so called white van era or the time when there were enforced abductions. This was a resurrection of their campaign during the presidential and parliamentary elections in 2015. That campaign ensconced them in power and the Government vowed to deal with those responsible. Alas, there was little or no action and now why harp on an old issue? This is despite help from foreign propaganda advisors. The UNP's propaganda campaign was handed over to those backing Rajapaksa on the warped belief that that would neutralize the Rajapaksa promotion. The UNP paid for it – in kind and in cash. The SLFP campaign was mostly limited to leaflets whilst the SLPP was even much less confined to a few advertisements. The SLPP did not embark on a Rs 150 million campaign binges like the UNP. Onetime UNP General Secretary Tissa Attanayake told a local television channel this week it was not so long ago that the party was unable to pay the telephone or electricity bills every month for its headquarters, Sri Kotha at Kotte. How then could the party spend so much, he asked. A senior UNPer defended his party claiming there were campaign donors, as always, to a ruling party.
Meetings with Sirisena
When the announcement of results, unexpectedly delayed, trickled in last Sunday, President Sirisena sat down with his SLFP ministers to discuss the situation. Present were Nimal Siripala de Silva, Anura Priyadarshana Yapa, Susil Premajayantha, Mahinda Samarasinghe, Duminda Dissanayake and Dayasiri Jayasekera.
A post-mortem examination got under way. The SLFP Ministers were of the view that the local polls were lost because of the misdeeds of the UNP Government and argued that they did not have a mandate to do most things. They said the SLFP policies were ignored. One of those who came in for severe criticism was Law and Order Minister Sagala Ratnayake. They accused him of allegedly suppressing high profile investigations against the Rajapaksa family and his close associates although public pledges had been made during both presidential and parliamentary elections to bring offenders to book. The Ministers cited several instances and insisted that Ratnayake should not hold the portfolio of Law and Order. They also charged that their previous appeals had not been heeded. Otherwise, they would not have lost the polls, they pointed out. Ratnayake, has denied the accusations, first raised at a meeting of the Cabinet of Ministers last year, that he was scuttling investigations by passing information to those in the Rajapaksa family.
A bigger shock came when the Ministers said President Sirisena should ask Prime Minister Ranil Wickremesinghe to step down since they were "no longer willing" to serve under him. One Minister pointed out to Sirisena that he was aware the President had raised Ratnayake's matter with the Prime Minister on many occasions. Sirisena declared that he would make the ministerial changes. That he was contemplating such changes was disclosed in these columns last week. He would meet Premier Wickremesinghe and tell him the reasons necessitating the proposed changes and also why he had to exercise more authority.
Sirisena also noted that neither the SLFP nor the UNP was in a position to obtain the support of 113 MPs in a 225 seat Parliament. Hence, he would like to give both sides a fair chance to prove to him which one would be in a position to form a Government. He did acknowledge that some SLFPers including Ministers wanted to sit in the Opposition benches if Wickremesinghe was to continue as Prime Minister.
Wickremesinghe also had his own meeting to assess the outcome of the polls with his Ministers, MPs and party seniors. He opined that the elections were lost only due to two main reasons — the rising cost of living and the non-availability of fertilizer for paddy production. Minister Patali Champika Ranawaka, whose Jathika Hela Urumaya (JHU) backs the UNP, countered the argument. He pointed out that in elections to the Maharagama Urban Council, the SLPP nominations were rejected. As a result Mahinda Rajapaksa backed an independent group (Group 2) which had the motorcycle as its symbol. He said Rajapaksa had gone for their rallies riding a motorcycle. They had won the election. He pointed out that Maharagama was not a paddy producing area. He said unless dramatic changes take place in the party, there was no hope. At present, he described the party as "Walking Dead."
A more disturbing note was struck by Deputy Minister Harsha de Silva and State Minister for Foreign Affairs Wasantha Senanayake. Both shocked those present by asking that Wickremesinghe step down from the post of Prime Minister. This was bearing in mind the "future interests of the party." Both claimed that they had no personal reasons for speaking out but felt 'genuinely' that the time has come for change in the party. Later, de Silva was in for a verbal barrage from UNP Chairman and Minister Samarawickrema for making those comments. Only three years ago, de Silva publicly said how honoured he was to work as the Prime Minister's deputy minister.
Ministers Rajitha Senaratne, Harin Fernando and Navin Dissanayake also criticised Minister Sagala Ratnayake. In their view, he had been responsible for the crisis with the President worsening. They were alluding to the inability of the President and the UNP Government to deliver on their election pledges. Minister and UNP General Secretary Kabir Hashim said there were a number of reasons for the UNP's defeat. He said the leadership had done little for the party supporters and they had veered away. The party has antagonised the media and overall "did not do anything."
Media plants
As this went on, different sides were leaking different stories to the media. The UNP it was claimed was going to form a Government with support from MPs from the Mahinda Rajapaksa faction, said one such report. The SLFPers (pro Sirisena) were angry. Their rivals in the SLPP said it was to checkmate efforts by them to form one. The move was at a preliminary stage then. By hindsight, both turned out to be 'plants' but those responsible succeeded in their tasks. For the media, this has become an occupational hazard at times of crisis.
When Sirisena met Wickremesinghe on Sunday (Feb. 11) night, for the first meeting after the polls, it was brief but tense. The President told him that ministers in his SLFP were not in favour of him continuing as the Prime Minister and wanted him to step down. They had urged that another person from the UNP be nominated as they would not serve under him. He also told the Premier that he planned to effect a ministerial re-shuffle. One source familiar with the talks said he named four portfolios whose current incumbents he sought to change. Among them — Law and Order Minister Sagala Ratnayake and Highways Minister Lakshman Kiriella. Like his SLFP Ministers, Sirisena pointed out; there were also those in the UNP who felt Wickremesinghe should resign as Prime Minister.
At a second meeting on Monday, Feb. 12, the Premier, according to the source, was emphatic that there was no reason for him to resign, pointing out that it was a prerogative of only his party to make such a request. He took a more assertive stance and said that no one else outside was empowered to make changes in his own party. He also declared that he was not willing to change any of his ministers. As for claims that he had no support of his Ministers, Wickremesinghe declared that he was in a position to prove otherwise. He said he would bring along his Ministers in the Cabinet and confirm to Sirisena they were supportive of him. A meeting was fixed for 8.30 p.m. on Tuesday (February 13).
Ahead of this meeting, Sirisena met five SLFP Ministers. They were Nimal Siripala de Silva, Mahinda Amaraweera, Duminda Dissanayake, Mahinda Samarasinghe and Sarath Amunugama. Earlier, in the afternoon the same day, this group had met at a private residence in Colombo to discuss the political situation. With the future of the SLFP dim, their options were whether to join hands with the SLPP in forming their own Government or remain loyal to Sirisena. Of course, this group was largely not in favour of the pro-Rajapaksa group wielding influence in a new Government. They expressed the view that they would not 'abandon' Sirisena and 'let him languish' under pressure — either from the UNP or the SLPP. During a near two-hour meeting with the President, they discussed measures necessary to deal with the current situation. So, here was a group within the SLFP that was in favour of the UNP than a new Government.
Sirisena disclosed that he proposed to name a six-member committee — three each from the SLFP and the UNP — to identify areas where the two sides failed during the local elections. Such a committee, he said, would examine the shortcomings that led to the polls defeat. Each side would take immediate steps to correct its faults and accelerate the implementation of its election pledges, he said. Sirisena said he would name the committee and expect it to complete its findings by Friday (February 16). He said that the current political stalemate had led to the crash of the stock market and posed threats to the economy. The rupee had also taken a post-election tumble.
A formidable section of the SLFP, Sirisena disclosed thereafter, had told him that they could not work with Wickremesinghe as Prime Minister. If he continued, they said, this group would sit in the Opposition. Other sources, however, said they would join the SLPP, clearly a development that would further weaken and even isolate Sirisena. The name of Speaker Karu Jayasuriya as a UNP Prime Minister had been floated, but Jayasuriya played down the move publicly saying "no one has told me about it".
The UNP Cabinet Ministers then met Sirisena as agreed on Tuesday night for a discussion that lasted some 105 minutes. As they talked, they ate Chinese spring rolls, tala guli (Gingelly rolls) and cutlets. Besides tea and coffee, they were also served two fruit juices – mango and lime. Deputy Minister Ranjan Ramanayake was the only one of non-Cabinet rank taking part. He had made a request from President Sirisena, with whom he has a close dialogue, to turn up and it had been granted.
Sirisena was to tell the UNP Ministers that both sides, the SLFP and the UNP, were to blame for the local polls defeat. He said they would have to address the causes. He wanted to name a committee of six, three from each side, for this purpose. When Wickremesinghe replied that he would have to consult his MPs, Sirisena responded that the matter could not be delayed. He said within five days answers would have to be found.
Several Ministers spoke. Minister Kabir Hashim, who is General Secretary of the UNP, made an appeal that the present 'National Unity Government' should continue. Minister Rajitha Senaratne declared that "we have to be together." Minister Malik Samarawickrema spoke on the need for the UNP and the SLFP to have a dialogue and resolve differences. Minister Champika Ranawaka, whose Jathika Hela Urumaya (JHU) supports the UNP, declared that there was an urgent need to accept "grassroots level realities" and noted that "structural changes" were imperative. Minister Daya Gamage complained there have been attacks on UNP supporters allegedly by those who backed the SLPP. Actor turned politician Ramanayake, all too familiar with romantic roles in movies, wished that Sirisena and Wickremesinghe love each other. It was Valentine's Day, after all. He said rogues must be caught after all cases are investigated. It should not only be the Central Bank bond scam, he said and made a scathing attack on the Rajapaksas asking if the two leaders were going to support their return to office.
Committee not appointed
Sirisena turned somewhat serious when it came to winding up. He said he would ensure that mistakes of the SLFP would be corrected and wanted the UNP to do the same. The remarks were an indication that Sirisena was giving the nod for the coalition to continue. Yet, a senior UNP Minister, who did not wish to be identified, later lamented, "the President keeps changing his mind by the hour." Sirisena declared that at next morning's weekly ministerial meeting (put off from Tuesday on account of Maha Sivarathri holiday), that he would name the joint SLFP-UNP committee.
Though it was to happen at the weekly ministerial meeting after the business on the agenda, it did not. Ministers taking part in the discussion noted that there was a striking difference in the tenor of conversations between President Sirisena and Premier Wickremesinghe. One such instance, they noted, was when the ministers were discussing a memorandum by Education Minister Akila Viraj Kariyawasam, which proposed that students be given an electronic tablet each. Kariyawasam is a confidant of Wickremesinghe. The cost of the entire exercise was five billion rupees. Sirisena declared that it was a large amount of money. He asked whether it would not be advisable to spend a billion rupees first on a pilot project and later expand it. This was because there were several schools in the country without tables and chairs. Others lacked buildings and other amenities, he pointed out. However, Wickremesinghe was not in favour. He declared somewhat tersely that the necessary funds for the purpose have been allocated in the 2018 budget and he had made personal pledges that such a project would be implemented. Sirisena then gave in saying if the Premier insisted he had no option, said a Minister present.
By Wednesday afternoon, there were a string of other important developments. It was Minister Susil Premajayantha, who played the unsuccessful role of broker to bring about SLFP re-unification before the local polls, who conveyed to Sirisena that they (SLFP) could form a Government of its own. This was if Wickremesinghe is not willing to step down as Premier and nominate a successor. As the hours went by, Premajayantha's appeal was to assume bigger proportions. He went around collecting signatures for an affidavit expressing support for Transport Minister Nimal Siripala de Silva as the Prime Minister. A handful of UNPers had also signed it.
Together with Mahinda Amaraweera, General Secretary of the UPFA, they hand delivered a letter to President Sirisena. The letter in Sinhala, translated into English, said:
"After the last General Election, the United National Party (UNP) and the United People's Freedom Alliance (UPFA) agreed to form a consensus government for two years. This period has now elapsed. During the past 2 1/2 years, main subjects in the consensus government, including economy, constitutional reforms, foreign affairs, judiciary and law and order came under the responsibility of the UNP and Prime Minister Ranil Wickremesinghe.
"While it was difficult for us to agree in principle to some of the decisions taken in relation to these subjects, our ministers respected collective responsibility.
However, it is no secret that one of the main allegations levelled against the government during the recent Local Government Elections was that instead of cracking down on fraud and corruption, large scale frauds such as the bond scam had been committed with the direct knowledge of the Prime Minister.
"The LG Election results have laid bare the people's verdict regarding the government's economic management, turning its back on good governance principles, and for following a programme we could not agree, a programme which was completely opposite to one which sought to protect the national interest.
As such, our party cannot accept a situation where the government continues to be managed by the Prime Minister based on the number of votes obtained by the UNP. Therefore, it is our intention to form a new government and instal as Prime Minister, an MP who could win the trust and respect of the majority of Members in Parliament. "We respectfully request you to grant the SLFP and the UPFA this opportunity"
Premajayantha-Rajapaksa meeting
Minister Premajayantha met former President Mahinda Rajapaksa, the de facto leader of the SLPP, for talks to clinch a deal. The latter agreed that the SLPP would support the Government in Parliament but would not accept any portfolios. It is, thereafter, that Sirisena told Premajayantha and his backers to prove he had the numbers. The President declared that he would hold a news conference on Friday (February 16) and announce whose claims he had accepted for the formation of a Government. This was on the basis of who held the backing of the larger number of MPs to command the majority of Parliament.
At the eleventh hour, Sirisena, however, ordered the cancellation of the news conference fixed for Friday morning. Editors were called at 10 the previous night and informed accordingly. This is after claims on a television channel on Thursday night by UNP deputy leader and Minister Sajith Premadasa that "everyone expressed their desire to continue with this government. As such, we decided today to continue with the government in its current form." A Sirisena aide said "they created the impression they have won and the President had relented." The remarks came after Premier Wickremesinghe, UNP Chairman Samarawickrema, Mangala Samaraweera, Akila Kariyawasam (deputising for indisposed Kabir Hashim, the party secretary) and Premadasa had just ended a meeting with the President.
An infuriated Premjayantha protested to Sirisena that the UNP was making misleading statements. The remarks had come when Premajayantha was collecting signatures to an affidavit. And at the news briefing that follows ministerial meetings, SLFP's spokesperson Dayasiri Jayasekera was absent thus preventing an input on behalf of his party. That would surely have given the SLFP's version. UNP Minister Rajitha Senaratne used the opportunity to claim that Sirisena had not asked Wickremesinghe to step down and declared the Government would continue. Factual accuracy and Senaratne are poles apart. If indeed, as he claims, there was no request to step down, there would be no political crisis now.
This was whilst Mahinda Rajapaksa told the Sunday Times, "our decision to back the Government was based entirely on the gloomy economic situation that is damaging the country. We did say that in return for our support, we wanted the Government to stop the sale of public assets. We also want uniforms to be issued to school children, instead of the present coupon system." It was the late President J.R. Jayewardene who introduced free school uniforms for needy children.
Education Minister Akila Viraj Kariyawasam (UNP) changed it to a system where students were issued coupons to obtain the uniforms from designated outlets. Parents have complained that they encountered a number of difficulties. Some outlets said stocks were not available whilst others had issued poor quality material. In yet others, the uniform material was not available. The unofficial demand would be to stop "harassing" the Rajapaksa family with court cases, said a UNP leader.
In a separate development, Rajapaksa also telephoned Premier Wickremesinghe. The conversation had related to current political developments.
Sirisena's phone call to Rajapaksa
The same Thursday night President Sirisena reached out to Mahinda Rajapaksa. He made a telephone call. It was, however, answered by the son Namal Rajapaksa MP. Rajapaksa Junior said his father was busy over some important matter and Sirisena spoke to Namal on issues related to SLPP support for a new SLFP Government and related matters.
This was to see an immediate thawing of the UNP's strong position. Whilst the UNP still insisted that Wickremesinghe continue as the Prime Minister and would take corrective steps over the polls debacle, the UNP was now in favour of a Cabinet reshuffle. This was one of the highlights of Sirisena-Wickremesinghe discussions on Thursday night. It was noted that a major ministerial reshuffle would send the right message that the Government was responding positively to the verdict of the voters by taking corrective action. Even Law and Order Minister Sagala Ratnayake had declared he was willing to step down in the "interests of the party." It was said he had earlier complained to the Prime Minister that he had too much on his plate as Law and Order Minister, Southern Development Minister, MP and Chief of Staff at the Prime Minister's Office.
Playing out separately on Wednesday was another event. A group of UNP parliamentarians turned up at the Rajagiriya residence of Minister and party secretary Kabir Hashim. Among them were Sajith Premadasa, Ranjit Maddumabandara, Ravi Samaraweera, Chandrasiri Gamage, Sujeeva Senasinghe, Ajith Perera and Nalin Bandara.
Hashim had not attended that day's Cabinet meeting due to an ailment for which he had been advised bed rest. Most participants voiced concerns about the future of the party since they said the current situation could not be ignored. Some urged that Speaker Jayasuriya be made the Prime Minister. Whilst a few said Wickremesinghe should step down from the Premiership, others opined that he should give up the party leadership so someone else could reform the party. Sajith Premadasa argued that the Government should be strengthened. Speaking in Sinhala, he asked what the purpose was of being in the Opposition. Is it to Pol Gaannada or scrape coconuts? Noting that the party should be 'stabilised', he added that there were now difficulties in finding candidates even for the upcoming
Provincial Council elections.
A concerned Hashim telephoned party Chairman Samarawickrema. He briefed him on the goings on and urged him to come over. He had replied that matters have now been resolved. A while later Premier Wickremesinghe had telephoned and asked Hashim to request those present to meet him. He had said there was no need for Hashim's visitors to raise queries since matters have been resolved.
On Friday afternoon, Sirisena met a delegation of leaders of the 'Joint Opposition' partners. It comprised Dinesh Gunawardena (JO leader in Parliament), Pavithra Wanniaratchchi (SLFP), Kumara Welgama (SLFP), Gamini Lokuge (SLFP), T.B. Ratnayake (SLFP), Udaya Gammanpila (Pivithuru Hela Urumaya), Vasudeva Nanayakkara (Democratic Left Front) and Chandrasiri Gajadeera (Communist Party).
Associated with the President were Nimal Siripala de Silva, the prospective SLFP Prime Minister, and Deputy Speaker Thilanga Sumathipala.
The SLPP delegation formally conveyed their willingness to support a new SLFP Government. However, they did enumerate some of their demands. One was a letter from the President addressed to the Speaker of Parliament that the SLPP would be recognised as the main Opposition party in Parliament. Dinesh Gunawardena, 'Joint Opposition' leader in Parliament, told the Sunday Times, "President Sirisena will appoint a six member committee, three from each side, to study the formation of a new Government. All issues connected with it will be discussed at the committee, he said. Sirisena also revealed to the 'JO' delegation that he had sought the advice of the Attorney General on the constitutionality of removing the Prime Minister. Gunawardena said they had the required numbers though the 'JO' would not accept portfolios. That meeting made clear that Sirisena was now playing with two options.
Thus, it is also evident that Sirisena, who has bought time since the local polls results were announced, and despite his own party's debacle, had two different choices. One is to accept the SLFP proposal to form an SLFP Government. For this, they would have to prove that they have the required numbers and convince the President. Judging by developments yesterday, this does not seem an easy task. Yet, the movers say they are confident they could convince Sirisena.
The other is to allow Premier Wickremesinghe to continue in office but effect a major cabinet reshuffle. UNP parliamentarians have been invited to lunch at their headquarters Sirikotha by General Secretary Kabir Hashim today. The purpose is to obtain their signatures supporting Ranil Wickremesinghe to continue as the Prime Minister. Attendance is being closely monitored to ascertain the number of absentees. Will that include the handful who have signed Premjayantha's affidavit?
UNP accord on two issues
On Friday morning, hours ahead of Wickremesinghe's news conference, a group of UNP parliamentarians met him at Temple Trees. Among them were Kabir Hashim, Ranjit Madduma Bandara, Talatha Athukorale, Sujeeva Senasinghe, Ajith B. Perera, Ruwan Wijewardene and Ravi Samaraweera.
They reached accord on two main issues. In the event of President Sirisena agreeing that Prime Minister should continue in office, to make sweeping changes in the Government structure. This was to address people's needs. The other was a change in the party leadership — a matter on which one of those who attended said Wickremesinghe agreed in principle. However, no time frame has been set.
Tonight, Wickremesinghe will meet with leaders of the UNF at Temple Trees.
If other fast changing events do not overtake, the UNP proposes to hand in the list of signatures to President Sirisena tomorrow (Monday). In such an event, its continuance as a Government seems assured. The flip side of the move will be the exodus of SLFPers including ministers who want to sit in the Opposition benches. The latter claim they will, however, not join Mahinda Rajapaksa's SLPP, an assertion that appears flimsy. It would leave only a handful of ministers remaining with Sirisena.
On the other hand, if SLFPers led by Minister Premajayantha perform a political miracle by proving they could form a Government, there will be other casualties. It will see the exit of Premier Wickremesinghe and Cabinet Ministers from his party. The chain reaction will unseat all their supporters holding top positions and spark a further crisis within the UNP. The next few hours or days will tell which way things will settle, if they will settle at all.
The first show of strength for both the SLFP as well as the UNP in Parliament could be tomorrow (Monday). That is when they meet to continue the debate on the bond scam for two days. However, there is no vote. Speaker Karu Jayasuriya has summoned a party leaders meeting for 9 a.m. tomorrow to decide whether a debate should be held. The nation awaits the political direction the country is headed.