The Education Ministry-SLC Cricket paradox
View(s):

School cricket in Sri Lanka is, indeed, a unique entity which originally evolved under an unplanned structure that involved a few schools such as The Academy (Royal) and S. Thomas', which played their first inter-schools match way back in 1879. Other schools such as Wesley, Kingswood, Ananda, Nalanda and Richmond, to name a few, followed suit.

Yet, the magic is that the school authorities at that time realised it was a good vehicle to promote the extracurricular activities of their respective schools, and took inter-school cricket seriously. Thus, the trinity that comprised school cricket, club cricket and national cricket, grew in stature — like a fine art of tapestry. So much so that work of art was so beautifully woven, that each entity though a different segment of the game, became an inherent part of the bigger picture.

However, as the game took its path more and more towards professionalism, Sri Lanka's national cricket and club cricket came under one umbrella, while school cricket remained under the Education Department's purview. It stayed in that manner until individual's of the calibre of Neville de Alwis, former Warden of S. Thomas' College, Mt. Lavinia and Angelo Rayer, former Master-in-Charge of Cricket at St. Joseph's College, worked tirelessly to bring that segment of the game also under one banner – thus the Sri Lanka Schools' Cricket Association (SLSCA) became a reality.

Nevertheless, what those doyens created was a unique module — a concept and an execution which is one hundred percent Sri Lankan. The vision of the module was to bring school cricket under one umbrella and thus add value to the merchandise. Yes, by the turn of the millennium, it was on par with the rest of the top cricketing nations, and in 2000, they were runners-up to India in the ICC Under (U)-19 World Cup held in Sri Lanka.

In reality, these were Sri Lanka's days of cricket euphoria, after having won the ICC World Cup in 1996. Yet, instead of riding on that wave of success, the Lankans lost the cue and, at present, the Lankan U-19 team has to be satisfied with the Plate title — an accolade which should go to a team that is still learning the basics of cricket.

Where did Sri Lanka's Cricket take the wrong turn? Seemingly, the SLSCA has done itsjob by broadbasing the game and, at present, the country has around 600 cricketing schools, with a structure that runs from U-13 to U-19.

We asked Carlton Bernadus, Operations Manager of the Education Department's 'Schools Cricket National Operation Plan' (SCNOP), about the situation and where we went wrong. Bernadus explained, "The SLSCA broadbased the game, but where we went wrong was when we lost the plot by losing its real vision and focus. School cricket is the cradle where a junior cricketer learns his basics, for which the focus should be undiluted. Especially, at the U-13 stage, a young cricketer should be learning his basics and be less competitive. The focus should be on grasping the proper techniques, because it is at that point the individual cricketer's game is inculcated as his own. So, it is wrong to indulge in tournament cricket at that stage. The same applies with U-15 cricket, but the module is a bit upgraded with more than two years of cricket behind them. Junior cricket should be played on 20-metre wickets using 4¾ oz balls, instead of the 22-metre wickets and 5½ oz balls."

"Though the SLSCA made the right move by broadbasing the game and giving it more edge by making it more competitive with an added tournament, there were many occasions when the coaches adopted the win-at-all-cost attitude. This infused a lot of negative features into the game. Under-prepared wickets, negative bowling, wrong shot selection and sometimes, the encouraging of bowlers with suspect actions, which all became a part of school cricket. This came as a result of the coaches having to prove their worth with positive results at the end of the season, to seek renewal of their service contract.

"Besides, the overdose of cricket, where a teenager has to play non-stop cricket all year around, with the two-day season running into around 20 matches in most cases. This is followed by the Limited-overs season. Now Sri Lanka has added the Provincial U-19 tournament which follows SLSCA tournaments. All this became a part of a chain reaction that has affected Sri Lanka school cricket in a negative manner."

While school cricket was meandering with quantity against quality, cricket's governing body – Sri Lanka Cricket (SLC) — also had its own ongoing programmes involving district and provincial coaches. However, neither the school authorities nor SLC has ever tried to sit together and draw up a cohesive plan, so that, they could identify the root causes for the seeming slump and take remedial action.

The repercussions of this rather satirical situation gradually began to reflect with the performances of the higher grade of cricket, thus culminating right at the national level. To explain the paradox in plain cricketing parlance – the Lankan U-19 cricket is in disarray and consider beating Kenya in an ICC tournament match is an achievement. In the same breath, cricket in India, Pakistan, Bangladesh and Afghanistan is more competitive than in Sri Lankan. A few notches higher at the main senior level, Lankan cricket may be competitive playing against Bangladesh and Zimbabwe, but when it comes to competing with a top cricketing nation such as India or South Africa, they get exposed.

After a series of mishaps initially, the biggest stakeholder of the exchange, the general public, began to react, and then, the officialdom began to take notice. This culminated in the Sports Ministry setting up a high powered committee comprising Aravinda de Silva, Anura Tennakoon, Mahela Jayawardena and Kumar Sangakkara, to look into the top segment of cricket. The outcome of this probe is still to see the light of day.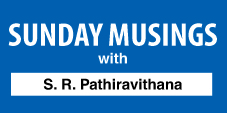 Quite rightly, someone of authority also convinced Education Minister Akila Viraj Kariyawasam that school cricket too has played a huge role in this paradoxical situation. So, he set up a committee comprising a gamut of SLSCA members headed by Ministry appointee Ashoka Senani Hewage, along with a set of advisors comprising Sidath Wettimuny, Roshan Mahanama, Kushil Gunasekera, Mahela Jayawardena and Muttiah Muralitharan. Former national cricketer Jayantha Seneviratne will act as consultant to drive the programme while Carlton Bernadus will handle the operations aspects, with Roger Wijesuriya handling the coaching aspects of the programme. The three-year programme, initially, will see the light with the U-13 and U-15 cricket programmes coming under a brand new cover version. This would be followed by the well managed U-19 tournament run by the SLSCA, under the guiding eyes of the Education Department's National Operations Plan.
Yet, inexplicably, SLC, which could really profit from this situation, is making excuses and looking at ways of evading a role for it in this novel feature. Why? So far no moves have been made to initiate even a discussion, so that school cricket would be a rich feeder vessel to the national grid. We are not talking about individuals and their cricket ideologies! We are just discussing "what's good for the goose!".