Sanjeewa ranked No.1
By Dian Abeywardena
Cat Solar Grand Prix Golf 2017
View(s):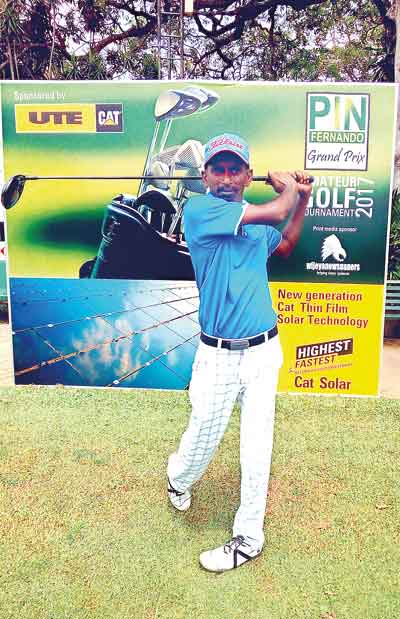 The Pin Fernando Grand Prix, the amateur ranking for Sri Lankans sponsored annually by UTE, powered by CAT SOLAR, is counted for the World Amateur Golf Rankings (WAGR), providing a great opportunity for the top Sri Lankans to be invited to participate in the Asia Pacific Golf Championship played yearly.
It was played in 2017 in Wellington, where B A Sanjeewa, was the only Sri Lankan to make the Cut and was tied 58th among the top 120 Amateurs in the World.
J M D Indika and N Amarapadma, were also invited for their performances , but failed to make the final two rounds at the APGC finale.
As the curtain came down with the PFGP December edition played in early January 2018, due to a tight schedule the Final December edition played at the RCGC, Sanjeewa clinched the # 1 Rank for Sri Lanka Amateur Golf prompting him to attempt Q School, to qualify for the Professional Golf Tour of India 2018, played in Ahmadabad, also in early January.
Sanjeewa's dominance in the Grand Prix event was evident by the clear margin of 556 Grand-Prix points ahead of 2nd placed M H Chalitha Pushpika. M U Chanaka Perera ranked third, 221 points further behind, though very few points separated the following 4 places in the Top 10 Ranked Amateur Golfers of Sri Lanka for 2017.
The fresh year 2018 was unveiled at the picturesque VGCR, with the January edition played under the watchful eye of the SLGU. G P Sisira Kumara was off to a flying start playing good Golf and won the event from regular Amateur on the block J M D Indika and promising youngster M U Chanaka Perera.
Cat Solar PFGP 2018  Top 10 Amateurs
Rank Name Points
1: B A Sanjeewa 4708
2: M H Chalitha Pushpakumara 4152
3: M U Chanaka Perera 3915
4: Navinda Ranga 3694
5: G P Sisira Kumara 3679
6: J M D Indika 3571
7: N Amarapadma 3529
8: D M P Pradeep Bandara 3181
9: R Sureshan 2880
10: G M Pradeep Kumara 2711