Rashmin rides high at Pondicherry Equestrian Challenge
View(s):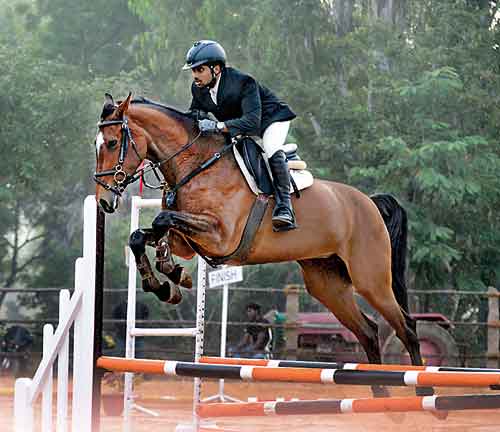 Rashmin Tirimanne de Silva became the first to represent Sri Lanka at the Pondicherry Equestrian Challenge 2018 held at the Red Earth Riding School from January 25-28, and win.
He won the 80cm Table 'A' Open Class, riding 'Caveman', and finished third in the same class in the second round on 'Cassina Nagra', from among 35 riders. Rashmin also claimed fourth and fifth positions in the 75cm Table 'A' Open Class, on 'Caveman' and 'Cassina Nagra' respectively.
Prior to this event, Rashmin made a perfect warm-up at the Setalvad Equestrian Challenge 2018 held on January19, at the same venue. He had a clear round on 'Cassina Nagra' in the 80-90cm category, as Rashmin completed his international competition list with four appearances at Pondicherry.
"I trained at the Embassy International Riding School for a month from January 5, under coach Zeeshan Malik. When I went to France in July 2017, I won two events, and it was the first time a Sri Lankan won an event under the Sri Lankan Equestrian Association banner. I'm proud of my achievements and hope this will contribute towards giving equestrian sports a boost in the country," a proud Rashmin stated. ​
Rashmin has been on the front line among Equestrians in Sri Lanka, winning many local events, prior to his recent wins at international level.